Takeaways
Pro refuses to reveal trade secret, NeSmith goes nuclear and a pain-free Webb Simpson returns to the fold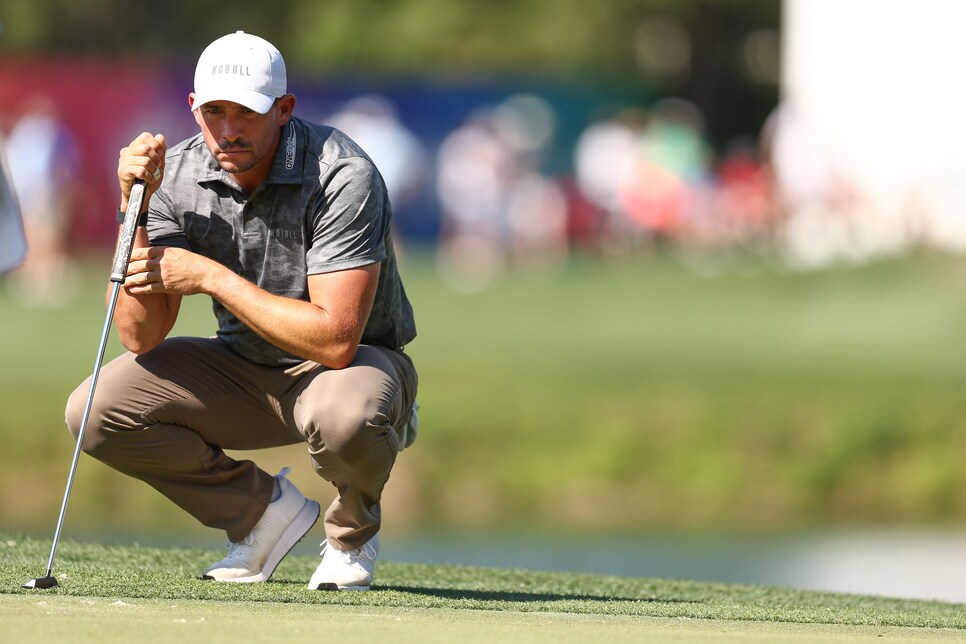 Scott Stallings lines up his putt on the 13th green during the second round of the Valspar Championship.
Douglas P. DeFelice
In the last eight seasons, three-time PGA Tour winner Scott Stallings has finished each ranked no higher than 101st on tour in strokes gained/putting. As of this writing, he currently ranks 60th in that same category for the 2021-22 season.
On Friday at the Valspar Championship, Stallings revealed that he'd stolen a trade secret from Tyrrell Hatton, who is, no offense to Cameron Smith, the No. 1 putter on the tour right now, statistically. Stallings has a long way to go to catch the Englishman on the greens, but at Innisbrook Resort outside Tampa he's done his best Hatton impression, gaining an astounding 7.3 strokes putting over two rounds, which ranks first in the field. It's helped him shoot rounds of 65 and 66, putting him at 11 under for the week, tied for third heading into the weekend.
So what's the big secret? Stallings will never tell.
"I'm going to keep that one to myself," Stallings said when asked what he borrowed from Hatton. "He probably doesn't even notice it. But I've played with him enough, and anyone that's ever watched him play understands that he putts about as good as anyone in the world.
"I just noticed something in his setup that, right before he took the putter back, and I just tried to putt like that, I came to the putting green on Tuesday and I'm like, 'Man, I'm going to figure this out,' and I kind of added that into my setup, as far as right before I take the putter back. Thankfully, it worked."
Fair enough. Believe it or not, guarding secrets like Bill Belichick guards game plans is nothing new in professional golf. Just last week, Paul Casey said that he and his former caddie John McLaren used to have a number of notes specifically for playing TPC Sawgrass. When asked what they were, Casey said, simply "top secret."
Hey, as long as it works for Stallings, he should keep it to himself and only himself. Perhaps if it keeps working, somebody might steal it from him next.
Another course record tied on tour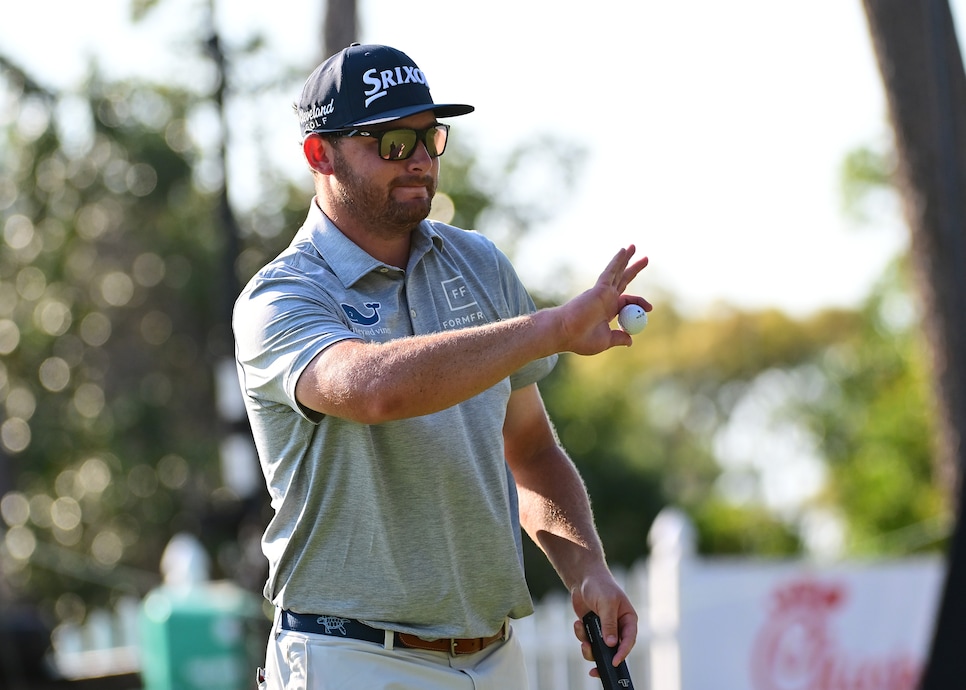 Matthew NeSmith waves after putting on the ninth green during the second round of the Valspar Championship.
Julio Aguilar
This past Monday, it was Dustin Johnson who tied the course record of 63 at TPC Sawgrass thanks to a 29 on Sawgrass' front nine. A few days later, on Friday, Matt NeSmith tied the Innisbrook course record with a silly 10-under 61 that featured just 27 putts, including birdie from 40 feet at the par-3 fourth.
But it's been NeSmith's strength—his approach play—that has him at 14 under through 36 holes, enough for a two-shot, solo lead. Surprisingly, those scorching-hot irons have netted him just three career top-10s on tour in his career, none of which have come this season. Should he remain the best iron player in the field on the weekend like he was on Thursday and Friday, he'll be aiming much higher than top 10.
"It felt great," NeSmith said of his career-low round. "I was just doing exactly what you were supposed to, hitting the ball in the fairway, hitting it on the greens. And I've been working really, really hard. I've been working on my game for a long time and finally started to see a little bit of, just some trajectory. I've been playing great and I've just been kind of getting in my own way for, gosh, for awhile."
NeSmith, 28, is happy to report he might finally be done "getting in his own way," which would lead to a life-changing weekend.
"It's something I've been working on, something I've been really going through in my life, is just trying to relax a little bit, take everything as it comes," he said. "If I play great, awesome. If I don't play great, awesome. It's just kind of where I've been at in my life, and I'm excited to play great, and it was really fun to play great, but everything's going to be all right.
"It's fairly new, it's quite uncomfortable, to be honest with you, but I'm excited to go through this weekend and try it and see what happens."
Adam Hadwin is getting cocky with the putter, which is scary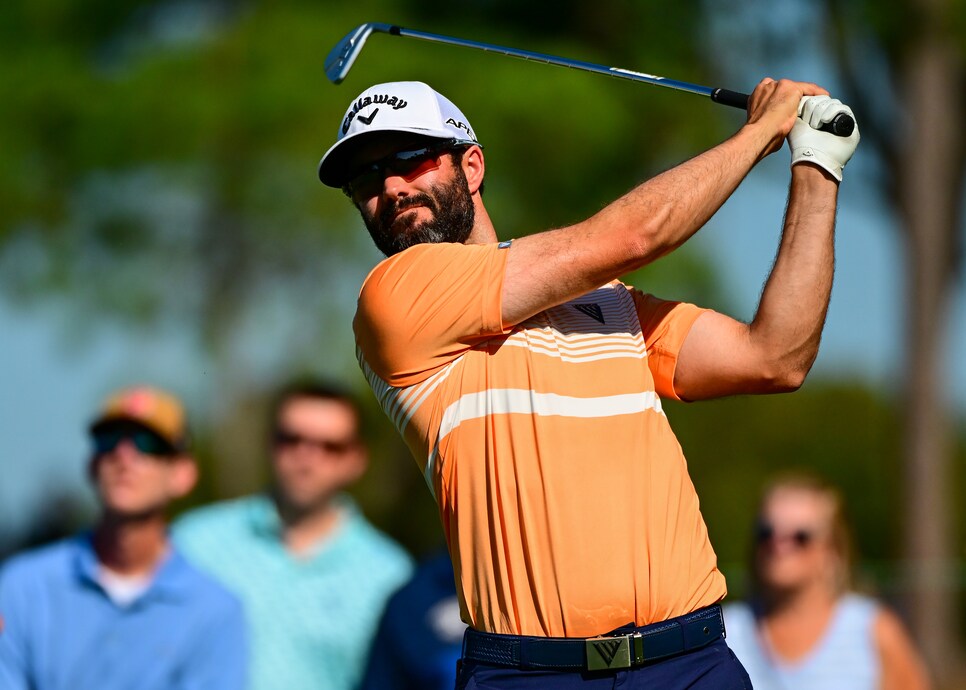 Adam Hadwin plays his shot from the eighth tee during the second round of the Valspar Championship.
Julio Aguilar
Unlike Stallings, Adam Hadwin is and will likely always be an elite putter, even moreso at courses he likes. Innisbrook, where Hadwin's lone tour win came in 2017, is most definitely one of those courses.
So it should come as no surprise that the Canadian has been cooking this week, shooting rounds of 64 and 66 to reach 12 under, which has him in solo second and in Saturday's final group alongside NeSmith. He's not quite in Stallings territory, but he does rank 14th in the field in SG/putting through two rounds, and it sounds like he's just getting started. Here's what he had to say when he was asked if his putting, which is usually good, has been normal or exceptional this week: "Would it be bad if I said this was usual?"
OK, we see you, Adam. If he gets more of the "usual" on Saturday and Sunday, all he'll need to do is keep up the strong off-the-tee and tee-to-green play—two areas in which he ranks top three in the field. Hadwin at Innisbrook was already a dangerous man. A confident Hadwin at Innisbrook could be downright scary.
Pain-free Webb Simpson back in the fold
A number of gamblers would have appreciated this news Wednesday, but sometimes it takes a few good rounds (or a few really bad ones) for a player to be asked and/or reveal that he's hurt or pain-free. Webb Simpson, who had taken nearly two full months off with a suspected injury before returning at the Players last week, has played two solid rounds in Florida, and naturally confirmed that it's likely because he's feeling a lot better.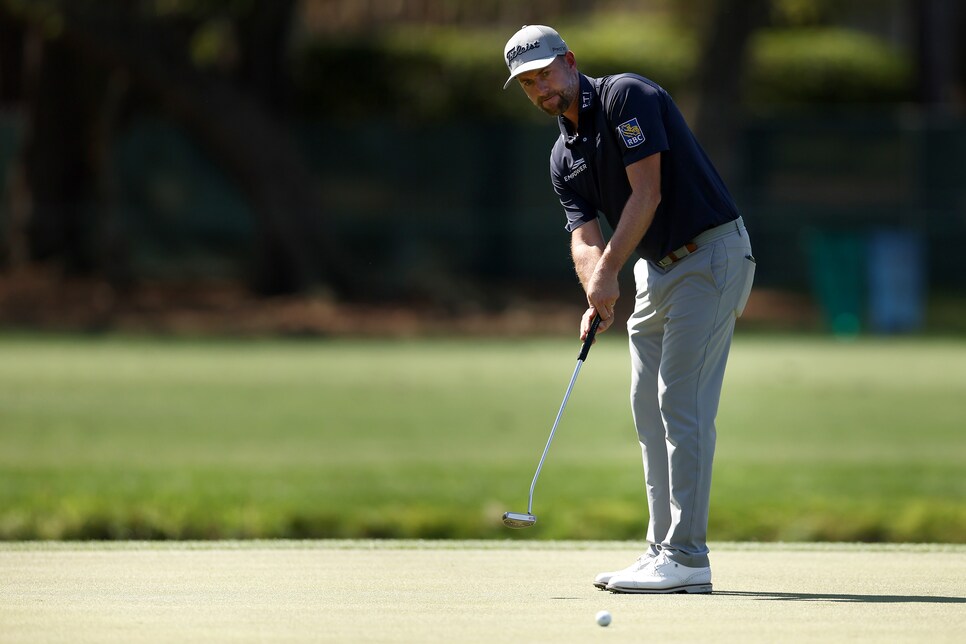 Webb Simpson putts on the 13th green during the second round of the Valspar Championship.
Douglas P. DeFelice
"I was really excited about the year [in January], and then I get acute herniation the week before Phoenix," said Simpson, who is eight under and tied for seventh. "So I sat at home, and then last week just wasn't a great week to come back to after seven weeks off."
The acute herniation, Simpson explained, came from golf, causing a disk in his neck to degenerate over time, according to his surgeon. The quest for more distance, all the rage in today's game, played a key factor.
"I think three years ago is when I started trying to hit it further, and I got a lot more side bend this way, and my neck had more tilt," Simpson said. "We looked at video of me from '11 to 2014 and my head really doesn't move that much.
"So I think that over time, trying to hit it as hard as I can, just made it a lot worse. The surgeon told me eight weeks off, which brought me back to Augusta. But the more they had a bigger picture of ... I have a trainer full-time that I can see all the time, they knew I could devote all my time to getting it ready. That's when they said the Players was a possibility. And I played last week with no pain, full range of motion. So I was really thankful."
Asked if the cold bothered him a week ago, Simpson said no, all good, which is great news for him (and any of you looking to place an early wager on him for that tournament in Georgia next month).