News & Tours
Propane torch likely cause of Oakland Hills clubhouse fire as club awaits USGA championship news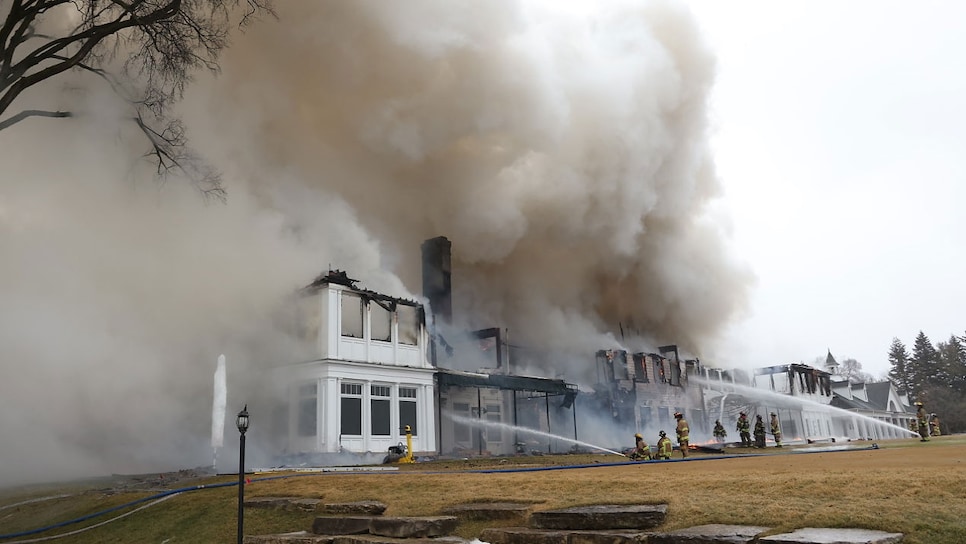 Local authorities say evidence from an ongoing investigation points to a propane torch used by construction workers as the cause.
Bloomfield Township Fire Chief John LeRoy spoke at a news conference on Thursday and described surveillance camera footage that showed the workers using the torch to install rubberized flashing during a rebuild of a patio on the east side of the clubhouse. LeRoy said the heat from the flame dries the flashing in the cold weather. The workers eventually saw smoke coming from the wall and attempted to use a hose put it out.
Firefighters were called to the scene, and when they arrived and took an axe to the wall, flames burst out. The fire spread through the walls and into the attic, eventually engulfing much of the 90,000-square-foot building. It took almost a day to get the entirety of the fire extinguished. Firefighters on the scene the day of the blaze took propane tanks, a heater and a torch from the building as evidence, according to the Detroit Free Press.
No one was injured but the building suffered $80 million in damage, according to Oakland County Sheriff Michael Bouchard. The Oakland Hills Country Club board has voted to build a replica of the building.
After the fire, it was unclear how it might impact the club's attempt to bring a seventh U.S. Open to Oakland Hills. The club has been lobbying the USGA, targeting the next two open spots on the U.S. Open calendar in 2028 and 2031. It appears the efforts have paid off as the USGA is planning a "major USGA championship announcement" for March 22 at the Detroit Athletic Club with John Bodenhamer, USGA chief championships officer, and Andy North, winner of the 1985 U.S. Open at Oakland Hills, in attendance.
Last fall, Oakland Hills, which boasts two courses, completed a $12 million renovation to its South Course, overseen by Gil Hanse, with the purpose of returning as a venue for golf's biggest events. Beyond the U.S. Open, Oakland Hills had previously hosted three PGA Championships, two U.S. Amateurs, two U.S. Senior Opens and a Ryder Cup. The last U.S. Open held at Oakland Hills, however, was back in 1996, and the major championship was the 2008 PGA.