Takeaways
Davis Riley scrambles to the 54-hole lead with buddy Justin Thomas watching, and Matthew NeSmith cools off after heater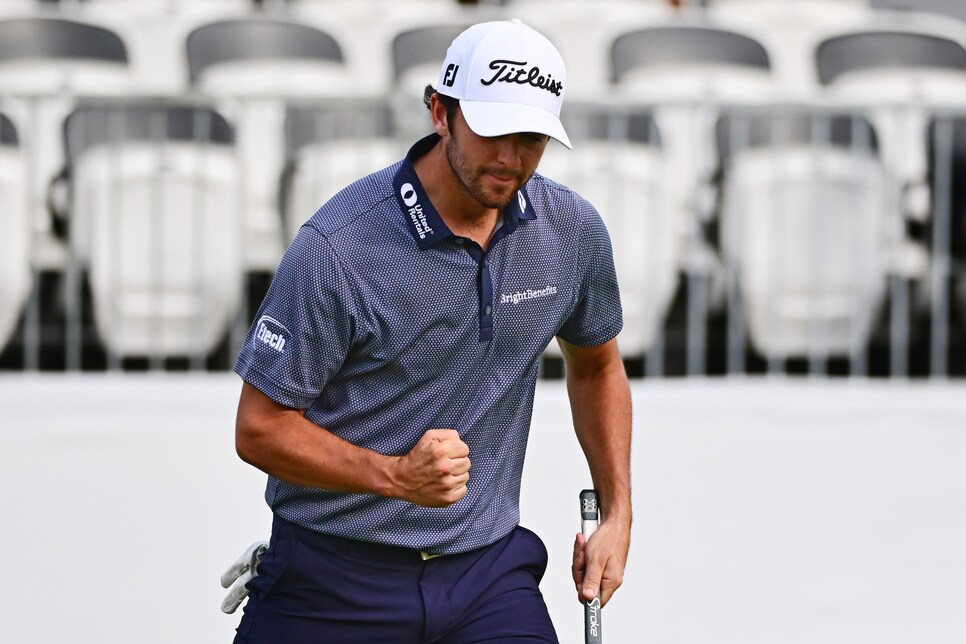 Davis Riley reacts to his birdie on the 17th green during the third round of the Valspar Championship.
Julio Aguilar
Problem: How do you catch the tournament leader who set the course record at Innisbrook on Friday?
Solution: Simple. Just go and tie his course record the next day.
That almost happened for 25-year-old Davis Riley on Saturday, and though he came up a shot short of matching Matthew NeSmith's 61, his 62 vaulted him into the lead at 18 under, two shots ahead of NeSmith and three clear of Justin Thomas, his playing partner on Saturday.
Riley, an Alabama alum who belongs to that group of golfers who are distinguished by the fact that they don't yet have a Wikipedia page, won twice on the Korn Ferry Tour in 2020 but has not yet broken through on the PGA Tour. He did notch a T-7 last fall in the Bermuda Championship, but to say that holding a 54-hole lead is uncharted territory for Riley is understating the point. In fact, before Saturday, his professional low round was a 65, shot this past January at the Sony Open. This 62 obliterates that mark and puts him into that terrifying position where one more brilliant round could completely change his life.
This is not a 62 that always came easy to Riley. More than once, he had to scramble, as on the ninth hole when he followed up a shot sprayed into the trees with a second into a bunker. As to what happened next, well, it's only appropriate that on the opening Saturday of March Madness, we got a swish:
"It was on the upslope of the bunker, so I knew I had to hit it pretty hard to get it back there to a back pin and I actually clipped it pretty good," he said. "I don't know exactly how far it would have been, I feel like it would have stayed pretty close, had a lot of spin. But for it to slam dunk that was icing on the cake ... that's one you don't see very often. It was funny because I was walking up to get it out and Justin is just looking at me laughing. I'm like, 'yeah, that's pretty lucky.'"
What's even funnier about that hole is that Riley's ball never touched a blade of normal grass—it went from tee to the woods, from the woods to the sand, and the sand straight into the hole. Pretty great.
To win Sunday, he's going to have to hold off Thomas, another 'Bama man who just so happens to be one of his good friends on tour. Thomas had a front-row seat for Riley's play on Saturday, and after the round, he gushed about the 62 in tough conditions.
"It was just really impressive," he said. "Obviously had the crazy bunker shot on 9, but he made a lot of those mid-range putts that are kind of you can make or you can miss. And he made it seem like he should be making 'em. They were all going in. They were going in with great speed right in the middle. Very, very effortless, for sure."
Thomas, who is a few years older at 28, first met Riley when Riley came on a recruiting visit to Alabama, and the two had an instant rapport based on their shared work ethic, among other things. Their time at the school didn't overlap, since Thomas turned pro after his sophomore year, but when he came back to the school to visit, Riley was his closest friend among those still playing for the Tide.
Riley hopes that his experience winning on the Korn Ferry Tour will pay dividends on Sunday.
"It was a really good experience for me, just getting in contention," he said. "No matter the stage, it's hard to win a golf tournament. Just being in contention and having that blood flowing is huge. Any time you can get just a pinch of that and get that experience is huge."
He also pointed to his pairings throughout the year, including those with with Jon Rahm, Adam Scott, and Jason Day, that acclimated him to the idea of big crowds, and helped him on Saturday while playing with Thomas.
Zen and the art of golf maintenance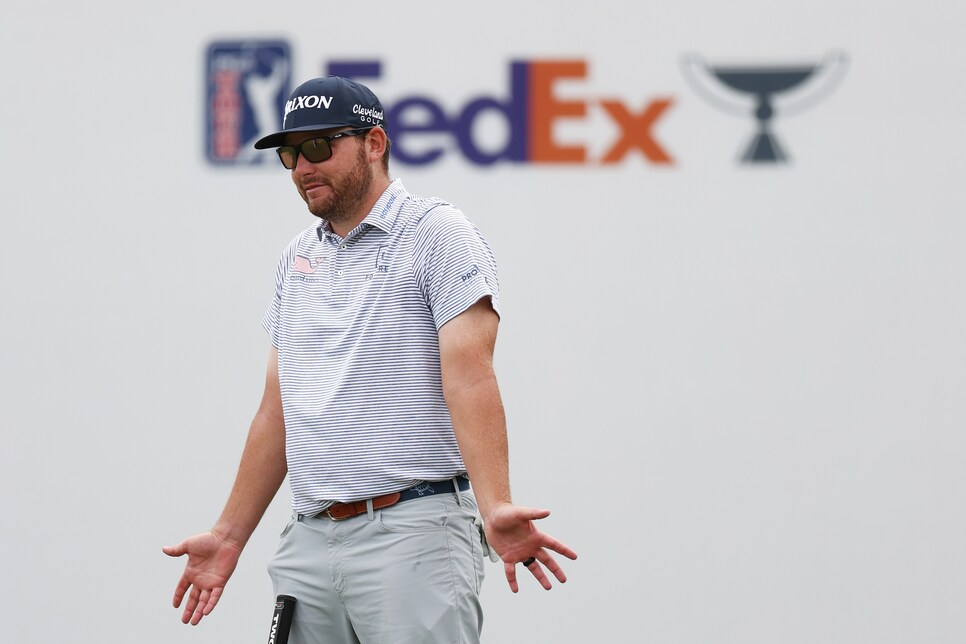 Matthew NeSmith reacts on the 18th green during the third round of the Valspar Championship.
Douglas P. DeFelice
As for NeSmith, he made it 45 holes at the Valspar before suffering a bogey, and seemed to be almost as hot on the front nine as he was on Friday. But when he lost the touch, he lost it comprehensively, making four bogeys on the back nine en route to a 37. His overall score, 69, was not quite disastrous, but it was nowhere near good enough to keep pace.
Still, he maintained the Zen attitude from Friday, proving that his even keel works just as well in tough times as good.
"It's fine," he said of his back-nine struggles. "I played really good golf all the way through nine holes and probably some adversity's going to come, whether or not it be making bogeys or making pars or whatever. And I was totally OK with whatever happened. What did I make, four bogeys on the back? I'm not going to sweat it."
Despite the hiccups, he'll still be in the final group, which he said he "dreamed of as a little kid." NeSmith, 28, will also be looking for his first PGA Tour victory. He does not seem the least bit afraid.
"If you don't enjoy it and you want to run from it," he said, "you need to do something else. It's obviously a little uncomfortable at times, but this is what I've wanted to do my entire life, so I'm excited."
Speaking of basketball, how about a little English?
No, not Harris English, but his Georgia Bulldog counterpart Brian Harman, who used a little English—as in, the perfect amount of sidespin—to make eagle on the 14th:
Golf Perspective, featuring JT
Thomas has been open about being frustrated with his recent dry spell—he hasn't won in more than a year, which would be no big deal for most players, but represents a kind of drought for him—and on Friday, he had more to say now that he seems to be on the verge of another big result.
"I haven't been out here a crazy long time, but I've been out here long enough to know that stuff like this happens," he said. "You're going to go on times where things maybe aren't going as well. ... But you just have to be in the right frame of mind for it to happen. I can't be all pissed off and moping around the golf course and somehow expect things to start going my way. I just have to stay in that positive frame of mind, so that way when it does happen, I'm expecting it."
Thomas followed those remarks by shooting a third straight 66, and he said Saturday's 66 was better than the others because of the windy conditions. His own shot of the day came on the par-5 11th, when an absolute dart from 246 yards set him up for an easy two-putt birdie:
"Respectfully," he said, "I hope I destroy him tomorrow."