Takeaways
Matt Kuchar seeks a last-minute Masters invite, a Texan holds the lead and Kevin Chappell is fighting back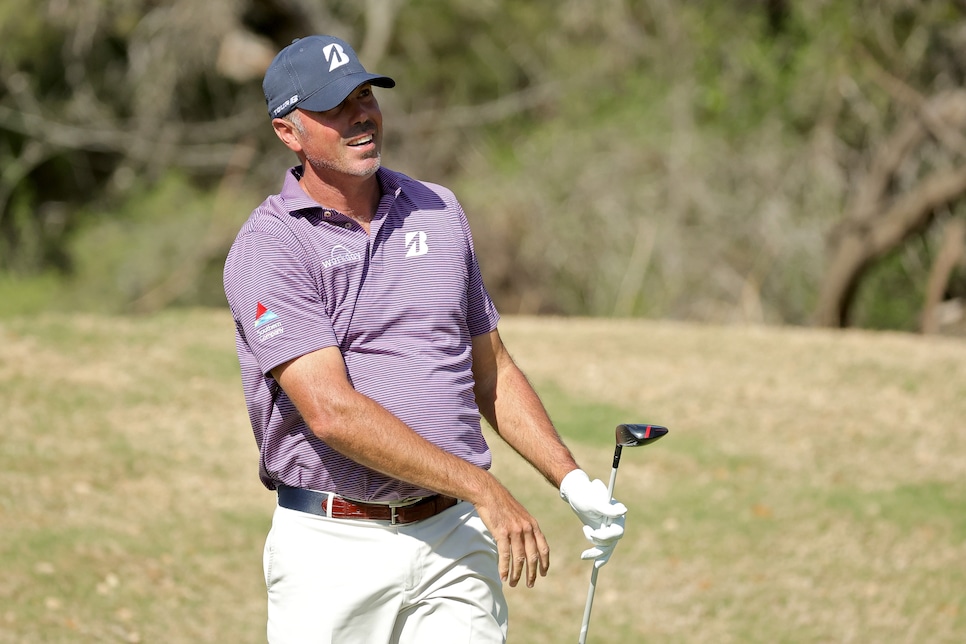 Matt Kuchar follows his shot from the 13th tee during the second round of the Valero Texas Open.
Stacy Revere
Matt Kuchar has played in 27 consecutive major championships. He hasn't contended in all of them. Heck, he's missed every major cut since the 2019 Open Championship, where he finished T41.
But the kind of consistency it takes to qualify for every major since the 2015 Masters is not so common on tour. Kuchar, now the No. 148 player in the World Ranking, is not qualified for the Masters next week, but looks up for the task of playing his way in, which only comes with a win this week.
The 43-year-old has never been known for being a long hitter or a flashy player, rather a target golf aficionado who could ride a hot putter to a "W" any week of the year. It just so happens that Kuchar picked up 2.3 strokes on the field on the greens in the second round of the Valero Texas Open, en route to a three-under 69, his second consecutive sub-70 round.
Kuchar enters the weekend two strokes behind leader Ryan Palmer, who sits at 10 under.
"I think I'm a guy who tends to keep the ball out of trouble and this place you have to do that," Kuchar told reporters after the round. "The trouble that lies around here can really cost you a big number and hurt your round significantly. So I enjoy when accuracy is a little bit more of a premium than other places."
Should he come up with an invitation-clinching win for the Masters, it actually wouldn't be surprising to see Kuchar contend. In 15 starts, he's got four top-10s and tied for 12th in 2019. He's been cut two times in a row since then, but the Georgia resident has clearly found something in his game at the right time.
Deep in the heart of Texas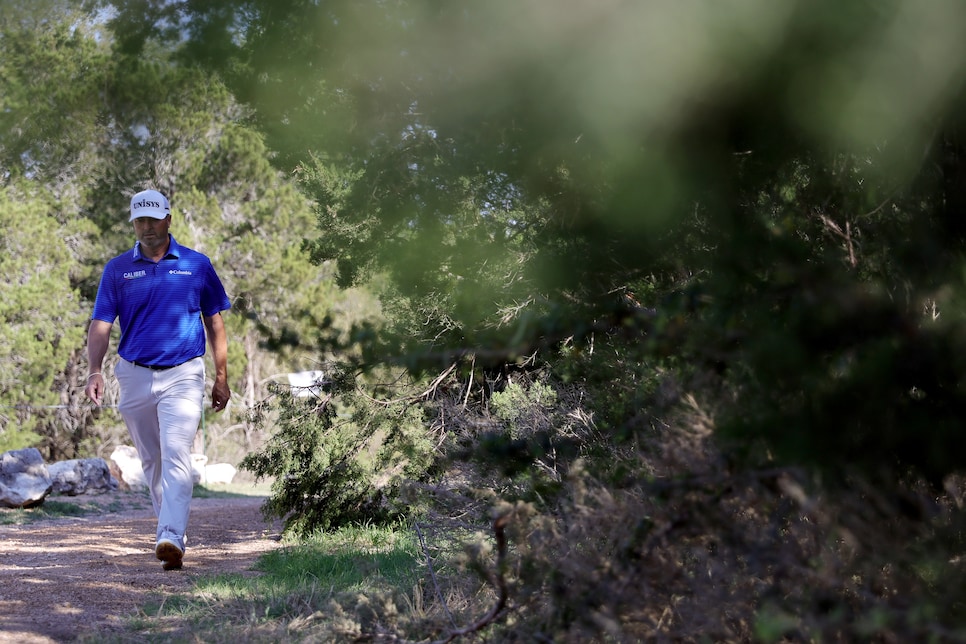 Ryan Palmer walks across the 15th hole during the second round of the Valero Texas Open.
Carmen Mandato
"Home cooking" is an oft-cited thing in golf. The thought is this: The PGA Tour makes stops all over the country, but players competing in their home state, or at the very least, in a place familiar to them, have the upper hand. Does that always hold true? Of course not.
But it is worth noting that Amarillo, Texas, native Ryan Palmer, is leading the tournament by two heading into the weekend at TPC San Antonio. The geographically inclined among us may be wont to point out that Amarillo is about an eight-hour drive from San Antonio. And they'd be correct, but this is an internet "thing," which does not always follow logic. They're playing in Texas. He's from Texas. Home cooking.
Regardless, the 45-year-old Texan—one of the few main characters of the week who's already invited to the Masters—is playing some outrageous golf. He's made one bogey through 36 holes and has gained nearly 2 1/2 strokes on the field with the putter this week.
A bogey-free six-under 66 in the second round was good enough for a two-shot cushion as Palmer sleeps Friday night. It was his lowest round in the tournament since 2010. It also couldn't come at a better time with the Masters coming up. Palmer's best finish is a solo 10th at Augusta.
Kevin Chappell is back in contention on the PGA Tour thanks to his surgically repaired back. For the uninitiated, the 2017 Valero Texas Open winner announced in November 2018 that he had been playing through injury for most of the season and subsequently underwent microdiscectomy surgery.
He's had a couple career highlights since then, most notably shooting the 10th 59 in PGA Tour history at The Greenbrier in 2019. But none would be as sweet as getting to play at Augusta National again, where he hasn't played since 2018, when he was cut after finishing in a tie for seventh in 2017.
He'd need a win this week to punch his ticket to Augusta, and through two rounds he's set himself up nicely to do that. Chappell was bogey-free Friday morning, carding a seven-under 65, which tied him for the lead at the time. It was also his best round ever at the event.
"It's been a battle. Last few years have been a grind for me," Chappell said after the round. "I'm excited to be here and seeing some form and excited for the opportunity this weekend."
He'll begin the weekend in Saturday's final group, two shots back of Palmer, with whom he'll share the final tee time in Round 3.