Broadcasting
With broadcast in East Coast primetime, U.S. Women's Open draws highest ratings since 2014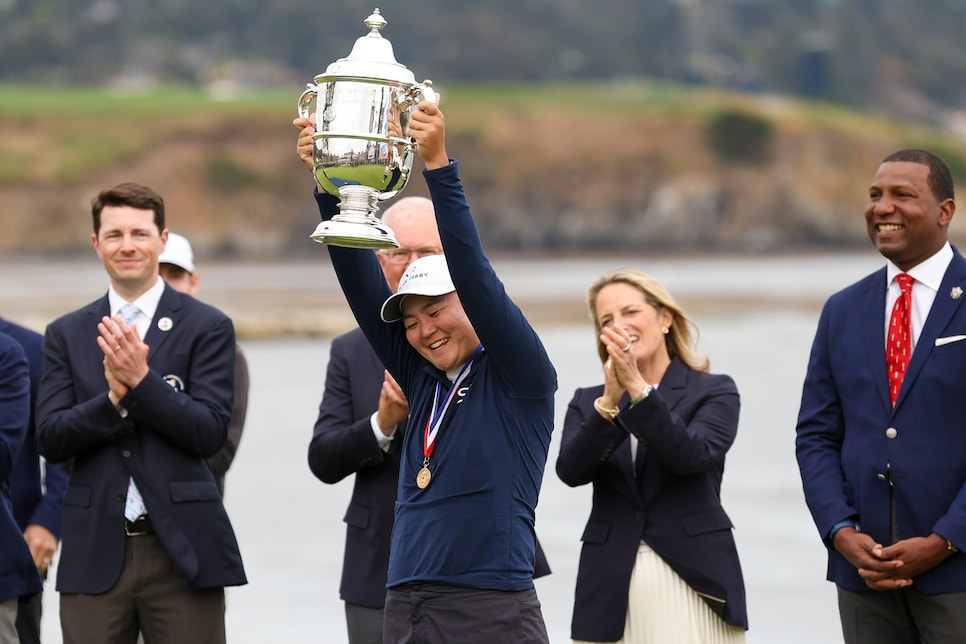 Allisen Corpuz celebrates with the Harton S. Semple Trophy after winning the 78th U.S. Women's Open at Pebble Beach.
Ezra Shaw
The first U.S. Women's Open played at Pebble Beach Golf Links was expected to be a big win in raising exposure and awareness for the female side of the game, and the television numbers confirm that it was a success.
Allisen Corpuz's steady handed play Sunday led to a three-stroke victory as she broke away during the back nine to win for the first time in her career. But despite the anticlimactic finish, the tournament hit numerous ratings milestones.
According to an NBC press release, the final round averaged 1.58 million viewers between NBC and Peacock. Per Sports Media Watch, the Sunday linear broadcast nearly captured more viewers than the PGA Tour's John Deere Classic on CBS, with an average audience of 1.55 million viewing the U.S. Women's Open compared to 1.58 million tuning in for the PGA Tour.
NBC noted that the major had its best viewership since Michelle Wie West's victory at Pinehurst No. 2 in 2014, played the week after the men's U.S. Open at the same course. The broadcast ranked as the second-most watched U.S. Women's Open since 2009.
Per NBC, viewership for the U.S. Women's Open peaked on Sunday between 8:15-8:30 p.m. ET, with more than 2.2 million viewers. The major, across 20 hours of coverage on NBC and USA Network, averaged 895,000 viewers, up 118 percent versus 2022, which averaged 410,000 viewers.
In addition, NBC said the championship shattered previous streaming records, tripling the consumption from last year and becoming the most-streamed women's golf event in NBC Sports history.