U.S. Women's Open
Eight years after her record-setting U.S. Women's Open debut, Lucy Li is on the verge of a big-league breakthrough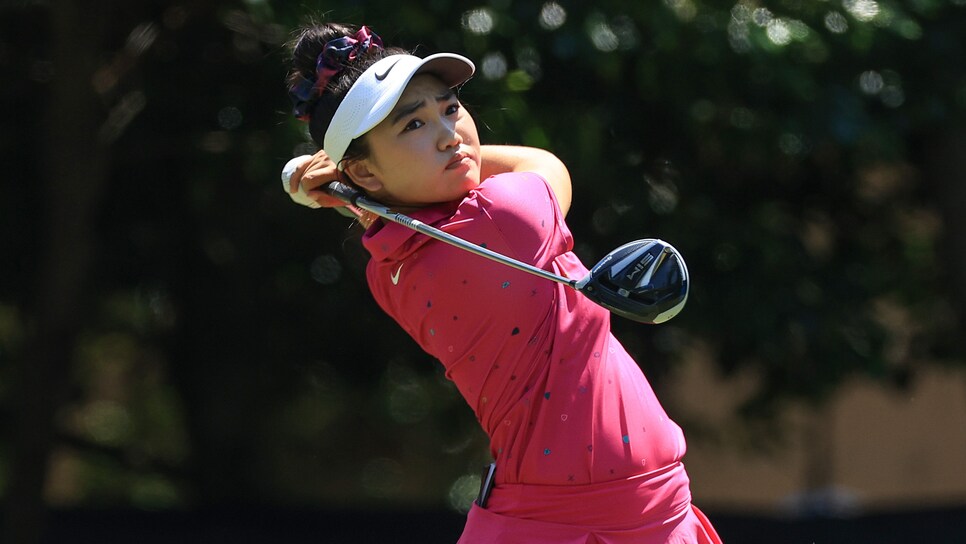 Lucy Li plays a shot on the 18th hole during her final practice round for the 2022 U.S.Women's Open.
David Cannon
SOUTHERN PINES, N.C. — At this point in her career, Lucy Li must wonder if she'll ever escape the haunting specter of ice cream.
Eight years ago, at nearby Pinehurst, she narrowly broke Michelle Wie's record as the youngest player to ever qualify for a U.S. Women's Open. Li was 11 years old then, and she missed the cut, but at one of her press conferences, she wore pigtails and chewed on a pink ice cream bar. That image served to highlight her youth, and became an indelible part of the Lucy Li experience, to the extent that the outfit she wore that day is now in a USGA museum.
This week, eight years later, as Li prepares for the 2022 U.S. Women's Open at Pine Needles, ice cream seems to be referenced everywhere, and the clip itself appeared on the Golf Channel ahead of her press conference on Wednesday afternoon.
There was no ice cream this time, but Li, now 19, didn't have to wait long before it came up.
"First question's a tough one," a journalist began. "Do you still eat ice cream?"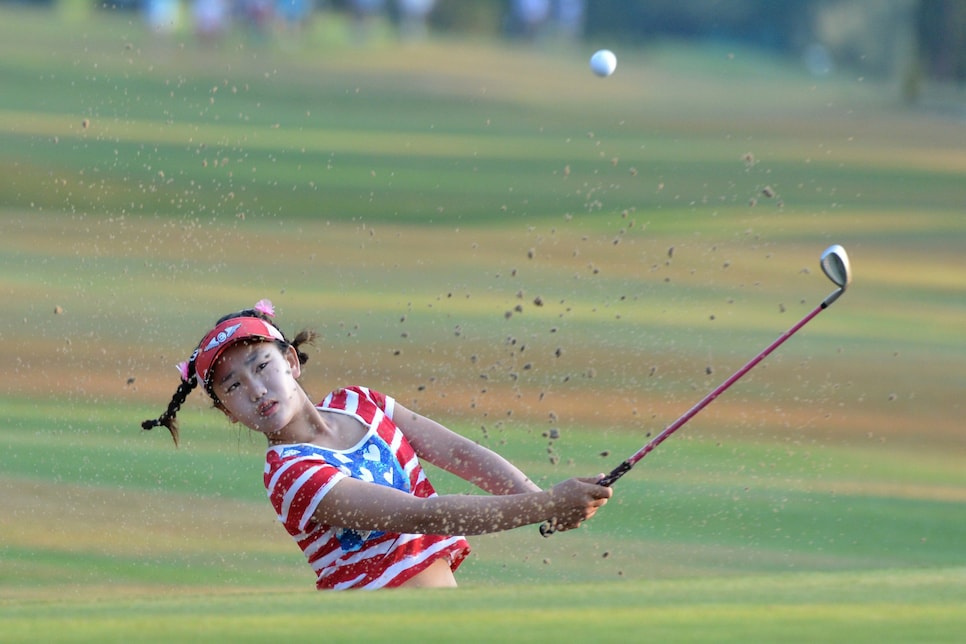 Lucy Li was 11 years old when she palyed in the 2014 U.S. Women's Open at Pinehurst.
Raleigh News & Observer
She answered in the affirmative—"who doesn't eat ice cream?"—but this seemed to be about more than just food. Ice cream, as it relates to Li, is a useful metonym hearkening back to that moment at Pinehurst but may also unintentionally box her in as that same child who briefly emerged on the golf scene in 2014.
At 19, Li is not quite a seasoned vet, but she's also no longer the same person she was at Pinehurst; less novelty, and far more seasoned. After turning professional in 2019, she excelled on the Epson Tour in 2020, finishing eighth, but was unlucky to make her debut during COVID-19, when fewer LPGA Tour cards were available. She struggled in 2021, but currently sits second in this year's Epson Tour standings (the top 10 players on the money list at season's end qualify for the LPGA Tour), and playing on a sponsor exemption at the Honda LPGA Thailand in March, she finished 12th. As she prepares for another U.S. Open—she finished T-16 last year at The Olympic Club—she's also on the verge of fulfilling a lifelong dream of making the LPGA Tour.
"That's been my goal since I've turned pro," she said on Tuesday at Pine Needles, though she wouldn't engage in further speculation about her future. "I think it's really important to just take every shot, every week at a time."
Those shots, and those weeks, have been going very well for Li lately. She has yet to finish outside the top 25 on the Epson Tour and hit her stride at the end of March, when she turned in three top-five performances in three weeks. She's bullish about her chances at Pine Needles, too.
"I've been hitting my irons really good, which is, I think, really good for this golf course," she said. "It's another Donald Ross course, so it's kind of similar [to Pinehurst No. 2] in the sense that there's a lot of kind of runout areas and false shoulders, false fronts, false backs. But it's not quite as intense as No. 2 around the greens."
While fielding questions about 2014, she acknowledged the influence of that coming-out part—"that's why I'm standing here, I guess; it was a big confidence boost for me"—but was also careful to emphasize that she's changed ... and not just in the sense that she hits the ball 50 yards farther.
"I feel like I've done a lot in my amateur and pro career since then that's gotten me to this point," she said. "What you learn as a junior and amateur and pro, but it just becomes a lot more emphasized as a pro is the importance of being patient. I think that's something you keep learning over and over and over again."
She'll put that to the test on Thursday in a group that features two other young players in 19-year-old former U.S. Amateur champion Rose Zhang and Anna Davis, winner of this year's Augusta National Women's Amateur. And while the keen-eyed fans will remember the name from 2014, the game and the maturity will be unrecognizable.