U.S. Women's Open
Anna Nordqvist is a career Grand Slam contender, but insists she's never thought about it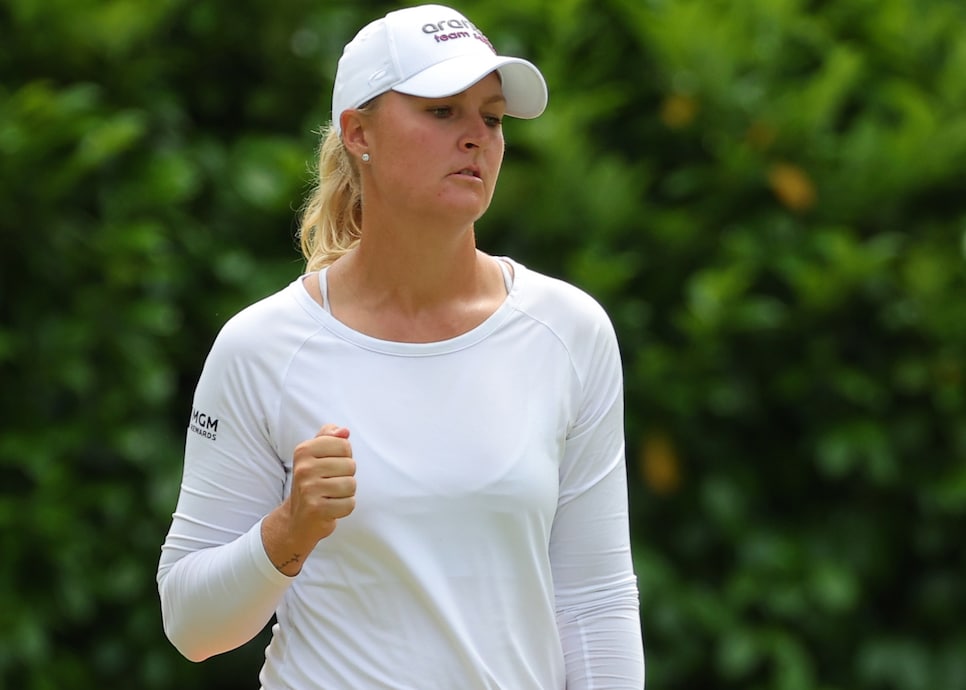 Anna Nordqvist reacts after making a putt on the 15th green during the second round of the 77th U.S. Women's Open.
Kevin C. Cox
SOUTHERN PINES, N.C. — The list of women who have won a career Grand Slam is just seven players long, and that number dwindles all the way to one—Annika Sorenstam—when you consider the modern, five-major era. Last August, another Swedish star, Anna Nordqvist, would not have been anywhere near the Grand Slam conversation. Sure, she was a highly successful player, but at age 34 and with just two major wins, there was no reason to think that a slam was even a remote possibility.
Then she won the Women's British Open, and suddenly she had three of the five, with the U.S. Women's Open and ANA Inspiration as the trophies still needed.
That's still a long way from a complete set, but after rounds of 67 and 68 to start this week's U.S. Women's Open at Pine Needles, it may be time to start cranking up the hype machine. Despite feeling ill on Friday morning, Nordqvist was solid all day long, making just one bogey to four birdies, including a bomb on 7, her second-to-last hole of the day. That brought her to seven under and tied for for third place below only co-leaders Mina Harigae (69), who has never had a top-10 finish in almost 50 major starts, and Minjee Lee (66), the winner of last year's Evian Championship.
(The putt at 7 was one of four that Nordqvist has made from longer than 20 feet this week, a remarkably hot stretch considering she's not within the top 100 putters on the LPGA Tour.)
Despite other major victories in the 2009 Women's PGA Championship and 2017 Evian, Nordqvist isn't eager to talk about the Grand Slam and seems to be thinking about it a lot less than the rest of us.
"It never really crosses my mind at all," she said. "I guess I've been lucky to win three majors so far, and it just so happened to be three different ones. Even if I would have won three of the same I would have been extremely proud of myself."
Nordqvist was so ill last week that she had to sit out the LPGA Match Play after playing in the pro-am. That's a tough decision ordinarily, but more so because the tournament is sponsored by MGM Grand, also one of her main sponsors. She stayed in bed until Saturday night, and barely practiced in the leadup to Thursday's opening round; in fact, she didn't see her clubs for almost a week.
Even up to Friday morning, she slept as long as she could in order to restore her energy. But she managed a tidy 67 Thursday, and on Friday, with the wind gusts picking up at the turn, she played a mostly conservative game, hitting her mid- to long irons to safe spots on the greens, where she could safely two-putt. Patience was her byword, and she was rewarded with a handful of birdies to launch her close to the lead. This is her 14th U.S. Open, and the experience prepared her well.
"Usually, I love a bit of a challenge," she said. "I think at those times you just have to trust the work that you've been doing and the experience you might have from playing in those 13 previous championships."
She knows, too, how punitive the course can be. On the fourth hole, the site of her lone bogey, she played what felt like a good bunker shot that kept rolling and rolling until it was off the green. The rain that threatened all afternoon didn't come down until after her round was over, and though she was grateful for that, she won't mind if it pours overnight, softening up the course for the weekend.
Among her challengers on Saturday will be Thailand's Moriya Jutanugarn (in seventh place at five under), which is notable for the fact that Jutanugarn's veteran caddie is Kevin McAlpine, who just so happens to be Nordqvist's husband. But neither family, nor weather, nor the tempting thoughts of a career slam will keep Nordqvist from attacking on the weekend. For her, there's only one goal that matters, and it's not something she ever has to write down.
"I can dream of things," she said. "The feeling when you win a major, there's just nothing else that can describe it."