News
Teen contender Megha Ganne loves spotlight in U.S. Women's Open, but you won't see her chirping on social media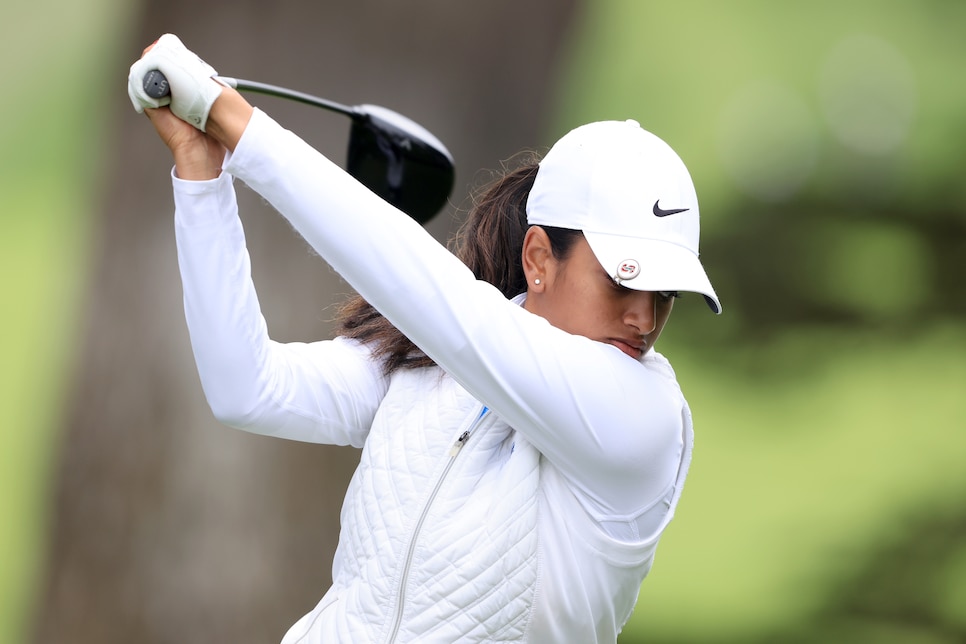 Megha Ganne plays her shot off the sixth tee during the second round of the 76th U.S. Women's Open.
Sean M. Haffey
SAN FRANCISCO—It was at the 2019 U.S. Women's Amateur at Old Waverly in Mississippi that Megha Ganne figured out that she's a bit of a ham. In a march to the semifinals as a 15-year-old, she happily soaked up the adulation and attention as she seized one dramatic win after another. She was sorry to see it end when she lost to eventual runner-up Albane Valenzuela.
Imagine, then, how Ganne is relishing this week's U.S. Women's Open. The 17-year-old upcoming high school senior was the shocking contender in the first round by shooting an afternoon four-under-par 67 that put her tied at the top. The reaction from most golf insiders was probably: Nice round kid. Good luck backing that one up.
To maybe everyone's surprise except for Ganne, she did just that. Playing early on Friday and starting on the ninth tee, Ganne looked like she might fade away by making three bogeys in her first 10 holes. But she responded with two birdies and pars the rest of the way to score even-par 71. At the end of the day, she was tied for third at four under, two shots behind Yuka Saso and one back of Jeongeun Lee6.
"I love it so much," a very chipper Ganne said of the reaction her play is getting. "I wish every event I had a gallery watching me, because it makes me play better, I think. And I love being in the spotlight, so it's been really fun."
Ganne's impressive encore puts her in an entirely different breakout category. In less than 24 hours, she went from curiosity to legit contender. Going into the weekend, she has the chance to become the youngest winner in the event's 76-year history. Inbee Park was 19 years old when she won in 2008 for the first of her seven major titles. Also, as a player who emerged from a playoff in qualifying, Ganne would be the first since Birdie Kim in 2005 to take the non-exemption route to victory.
The attention on Ganne is coming from all walks, including the shoutout she got on Friday from New Jersey Gov. Phil Murphy. Ganne is from Holmdel, N.J., about 45 miles south of New York City.
Ganne's father, Hari, said he's hearing from people as far away from his native India. "People who don't even play golf," he said.
Not that Ganne would notice Murphy or anybody's social media post. In a refreshing turn for a person her age, she has never been one to stare at the screen of her phone or computer for hours, though she does do occasional silly dances with her friends on TikTok.
"Yeah, so it started off not as on purpose. I just guess I didn't get into it when everybody else did," Ganne said of social media. "And then I went through middle school and high school not having it, and I didn't really feel like I was missing out on anything. And of late, there's so much negative effects that I see on teenagers of social media, and it's, one, a distraction, I think.
"Obviously, it has its positive effects and there's a lot of people who manage it really well, but it's not something I want to try to experiment with, at least right now."
Apparently, Ganne is a bit of an old soul, with the help of parents who haven't made golf a live-or-die pursuit.
"My parents are really easygoing and not what you would have in mind for like a typical golf parent, I guess," she said. "Their number one goal is for me to just have fun, and that's what I'm doing. It doesn't really get too stressful. It's the game I love playing, so it's not that hard."
So far, she's making this look way too easy.