Four Dreams Realized, 71 Crushed, Two Pending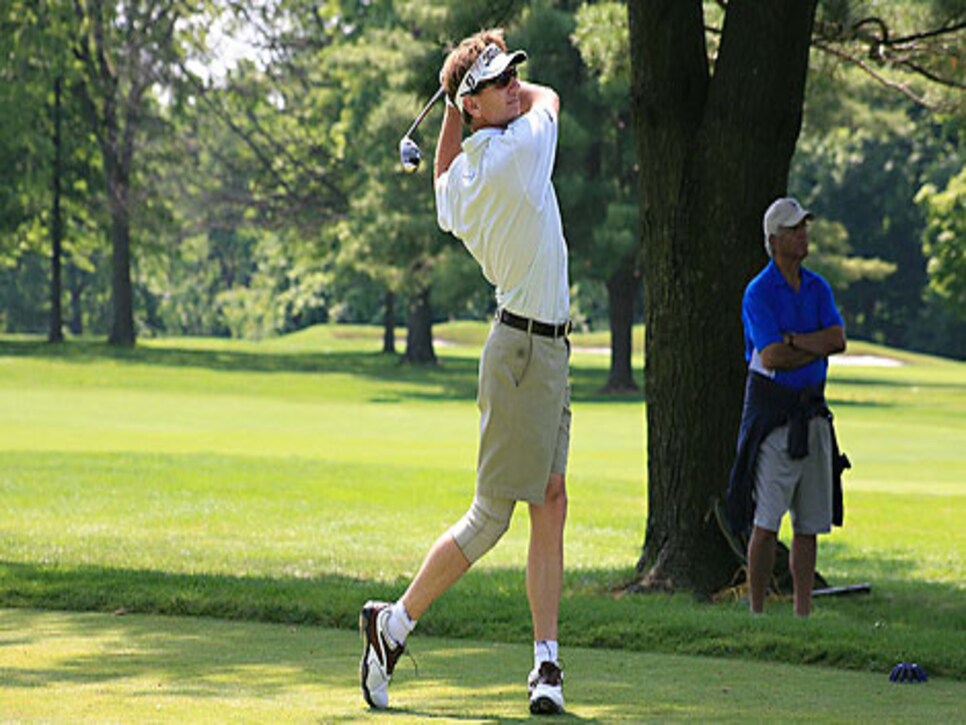 Even established players like Brad Faxon had little to show for their 36 holes of qualifying.
PURCHASE, N.Y. -- Between the hours of 5 and 7 p.m. a number of hot foots could be heard exiting the ambling driveways of Century Country Club and Old Oaks Country Club, co-hosts of one of 13 U.S. Sectional Qualifying sites. No competitors were so rude as to actually make rubber squeal, but in the raced lilts of their engines -- and there were many sporty, high-end engines given the predominantly local Metropolitan field -- personal frustrations resonated like slammed clubs, quick and unsatisfied.
Leaving slower, conveying the more conditioned mood of the downtrodden, were the out-of-state cars of journeymen pros, in whose backseats hung precariously wooden dowels with their month's golf wardrobe. On to the next tournament.
Though the collective disappointment of 71 golfers was the vibe in the parking lot, for four impressive individuals "on to the next tournament" means the U.S. Open. Medalist Kevin Silva at 137 (-4) as well as three at 138 (-3) Micheal Welch, Trevor Murphy, and Sean Farren all move on to Bethpage Black. Andrew Svoboda at 139 (-2) chipped-in on the first playoff hole to beat out Greg Bisconti for the first of two alternate spots. Their national championship dreams remain in purgatory.
"Tonight I'll call the USGA to see which alternate I am nationally," said Svoboda. "If I'm eight or better, I'll probably go to Bethpage and see what happens. If I'm higher than that, I probably won't bother." Svoboda is no stranger to the psychological limbo of the alternate situation. Last year, as the sixth-ranked first alternate, Svoboda flew to Torrey Pines with no guarantees, hung around the practice tee. At the last possible moment, his number was called and he played well enough to make the weekend.
"On the tee I said, 'Let's win this playoff because it'll be a lot cheaper to go sit on the tee at Bethpage,'" remarked Svoboda's caddie. Svoboda lives in nearby Larchmont, N.Y., less than an hour's drive from the national championship site.
Asked if he'll hang around for Bethpage, Bisconti, who played a perfectly tidy par-4 playoff hole only to watch Svoboda rescue an improbable birdie after tanking his tee shot behind trees in the left rough, said, realistically, "We'll think about it, but probably not. I mean, there are fourteen first alternates ahead of me."
At a regular tour event half the players make the cut on Friday. And on Sunday, regardless of expectations, everyone at least makes a check. But when 77 golfers play 36 holes in one day for only four berths, there isn't a lot of happiness to go around. While Bisconti has yet to fully wake, the U.S. Open dreams of so many others crashed steadily yesterday, like beach waves, as all 13 remaining Sectional sites were conducted across the country (the two international sites had already been played). A couple of early double-bogeys did it for some. Perhaps a disaster hole for others. Some knew when they reported to the scorer's table and saw the board. Others had to wait and watch as more scores trickled in.
Said eight-time PGA Tour winner Brad Faxon, who finished at a respectable 140 (-1), with half the field still out. "That won't make it. I guess I'll stick around in case there's a playoff. Though I should probably start driving back home." He lamented the traffic that would likely encounter him northbound to Rhode Island.
In actuality, people started waking from their U.S. Open dreams in Purchase as early as 7 a.m., the headcount a tad higher than aforementioned. That's because a total of five alternates also showed up and checked-in with officials at Century, hoping for last-minute withdrawals. One of them, Kirk Oguri, the second alternate from the Laurel Links Local Qualifier, actually got to play. Over the weekend Frenchman Jean Van De Velde had called to say he wasn't bothering to make the trip. Why Oguri? Based on strength of field calculations, Laurel Links ranked the toughest of all the Local sites in question. The first alternate from there, former European Tour player Rick Hartmann, was not present, otherwise he would have gotten the spot.
"I knew he wouldn't bother coming all the way up here," said Oguri, who knows Hartmann from past competitions, "so in a way I kind of felt like first alternate coming here, like I had somewhat of a chance." Oguri ended up finishing at 151 (+10).
As for the four alternates who showed up and didn't get in the field, their alarm clock buzzers sounded precisely at 9 a.m., the time the last quad of twosomes teed off across the two courses.
I was one of these four. It was at this time I went to my truck and exchanged my clubs for my reporter's notebook, my golf shoes for my black loafers, took off my glove and slung on my media credential. And with this finality, I was free to ponder my first ever U.S. Open Qualifying experience.
Of course, I wasn't surprised for it to end. Ever since May 21st, when I shot 70 (+1) at Misquamicut Golf Club in R.I., and won a three-man playoff for second alternate, I knew my chances of getting into Sectionals, of getting to play in the same event as some golfers who have career earnings in the millions, perhaps even be paired with them, were slim to none. Since that day I've played three rounds, all of which have been mediocre. It's hard to stay prepared and motivated when you know it's over. The strength of field at my Misquamicut qualifier, which had 57 players (including 40 professionals) going for four spots, was ranked 102 out of 112 sites. If the log of my Sunday before the Sectional is telling in anyway, I hit balls for thirty minutes in the morning, didn't play, did some yard work and had some beers in the sunny afternoon.
Golf feels different when you have your big tournament ahead of you. You have a reason to find time to practice after work. Miss an opportunity to play on the weekend, and you get nervous you're letting your game slip. Every bad shot feels like a warning and every good one hope. The game becomes more stressful, but in a good way. My first round post-Misquamicut, the day I shot a carefree high seventy-something on an easy, short muny course with my two older brothers and a co-worker buddy, not concentrating on a single shot, was fun but not as interesting as feeling you've got a shot for the Open.
In the end my biggest thrill was showing up at Sectionals, somewhat looking the part, and getting to warm up on the range next to some guys with names stitched on their staff bags. A sad, small victory, but I enjoyed it. Actually had a pretty smooth session. Was even thinking, "Geez, if I could just get in this thing today ..." The fact that Oguri, who like me had won his second alternate spot in a playoff, had just got in did make my heart skip a beat, if just for a moment.
So to rekindle this adrenaline, I've decided to sign up for the U.S. Amateur, the U.S. Public links and the state open. And while these events will be more than enough to get me keyed up about golf all summer, three chances to dress up and pretend I'm the guy on the other side of the reporter's notebook, it should be noted that yesterday Faxon switched to shorts in the muggier second round. Sectional Qualifying is about as casual as it gets for a player like him.