News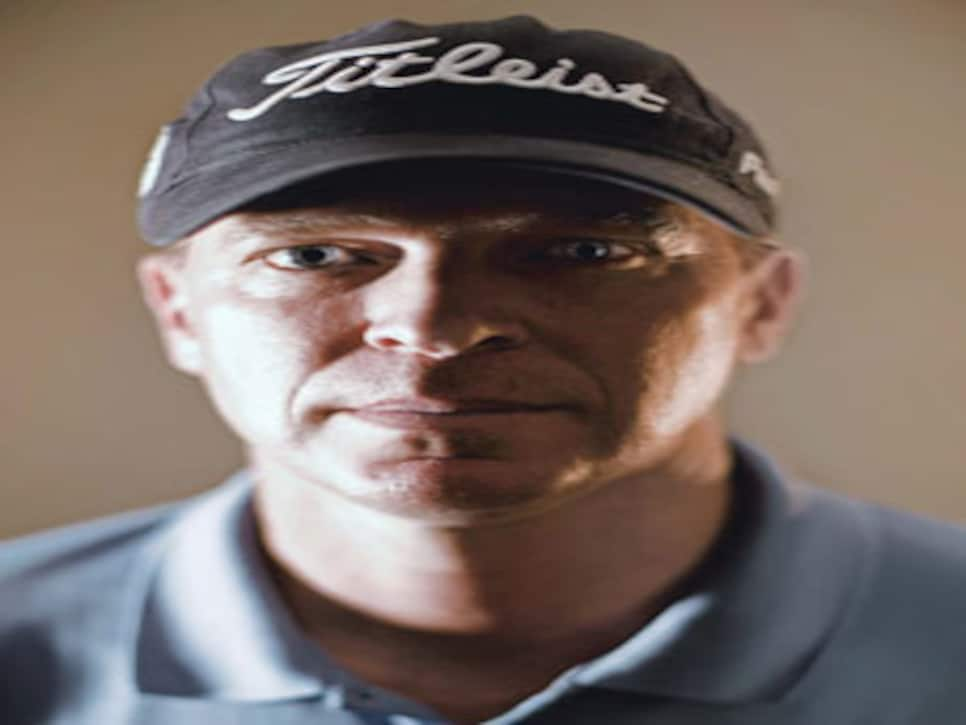 Steve Stricker isn't sure what has been his best moment in the past couple of years.
It might have been the birdie-birdie-birdie finish at Westchester last August for his first PGA Tour victory in almost seven years.
It could have been the look on the face of longtime pal and fellow Wisconsin native Jerry Kelly during a tearful hug as Stricker came off the green that day.Jump Start Your Game This Winter Perhaps it was the coterie of friends and family who greeted him at the airport when he flew back with the trophy.
Maybe it was going from wondering if he could play enough to stay on tour to making more than $7 million on the golf course in 2007.
Or maybe it was what Tiger Woods said after Stricker had been named the PGA Tour's comeback player of the year for a second consecutive year. "You realize," Woods said, "that you've done something no one will ever do again."
Stricker hadn't thought of it that way. But hearing it -- especially from Woods, who had stuck with him during the bad times -- made it pretty cool.
"It also tells you how far I had to come back that I had the chance to win it two years in a row," he says. "In the past, when I've played really well I might have gotten a little satisfied. I don't want to do that this time. My goal was to win again; I did it. Now I have other goals: win a major, make a Ryder Cup team. There's plenty to work on."
Stricker has become the most recent tour symbol of hard work paying off, bringing a career back from near-dead. On a breezy December day in Florida in 2005, he walked off the 18th green at Orange County National Golf Club after flunking Q-school finals thinking he might be finished as a serious golfer.
"The thought had crossed my mind during that year that maybe I should think about doing something else," he says. "The first few days at Q school I couldn't hit a ball straight off the tee. Everything was short and crooked. I had that shot down. The guys I was playing with were hitting it 50 yards longer than me and straighter. I was thinking, What's going on here?"
That last day at Q school might have been a turning point. He hit the ball a little straighter, made some putts and shot 67, missing getting his playing privileges back by two shots.
"It made me realize that there was some kind of a golf game still locked inside me," he said. "I was actually kind of fired up when I went home for the winter, wanting to work on my game. That day was really a starting point."
When Stricker went home to Madison, Wis., for the winter, he talked about his golf swing -- as he always had -- with Dennis Tiziani, the longtime Wisconsin golf coach and his teacher since college. Tiziani didn't want to tell Stricker what he thought was wrong. He wanted Steve to figure it out on his own.
"That way he wouldn't have any doubts," Tiziani says. "I had to stop being a teacher and become a resource. He asked me questions, I answered them. Steve's always been streaky. Some of that's because he's so anal. If something is off just a speck, it can really throw him off. He hadn't lost his golf swing. It was still in there. He just had to find it."
Stricker first made it to the tour in 1994 and was labeled a future star. He wasn't great off the tee, but he was solid with his irons, and he could really putt. And he was completely comfortable with Nicki, his wife, on his bag. They had met when Stricker began taking lessons from Tiziani.
"We were sitting on a cart after I'd taken a lesson," Stricker says. "Nicki walked by. I elbowed Tiz and said, 'Hey, who's that?'
"He said, 'That's my daughter.' "
Steve and Nicki still argue about who asked whom out first, but they became partners -- on and off the golf course -- not long after that.
Stricker played well his first two years on tour, then won twice in 1996 and was fourth on the money list. That was the first time he felt satisfied. He signed one of those big-money contracts with an equipment company and spent the next year trying to find a driver he could hit straight, plummeting to 130th on the money list. A year later, he almost won the PGA Championship at Sahalee (second to Vijay Singh) and was 13th on the money list. Then came more ups and downs -- he won the Accenture Match Play in 2001, but four years later he had dropped to 337th in the World Golf Ranking.
"If there had been something else I was dying to do, I might have gone and done it," he says. "But there wasn't. What I was really thinking was, if I could make a couple hundred thousand a year playing 10 to 12 times on my past-champion status, maybe that was enough. Maybe that was all I had left."
Nicki didn't see it that way. She knows her husband and his golf game. When he talked about quitting, she mostly listened. "He needed a sounding board, someone to vent to," she says. "I've always thought that guys will do the opposite of what you tell them, so I just told him he should do whatever he thought would make him happy.
"I think he got to a point that a lot of guys get to: When he started on the tour he wanted to make money, make a living. He did that. Once he did that, things changed. He needed to find a way to motivate himself again. What people don't understand is, it wasn't something that just happened. It was gradual."
What helped Stricker when he began searching was knowing exactly what was wrong with his game. He could still make putts, but making putts for bogey didn't do a lot of good. His iron game was OK, but hitting greens after pitching out of the rough wasn't of much use, either. It all came back to driving the golf ball.
"It had gotten to the point where I dreaded walking onto a tee box," he says. "I would stand there saying to myself, When will this be over? It was like going to the dentist. I was gripping the club so tightly there was no way for me to have any tempo at all in my swing. I would stand there fiddling with the club hoping to find a comfortable grip, but I couldn't do it. Sometimes I'd walk off the tee, and my hands would be sore from gripping the club so tight. I just couldn't make myself relax."
Stricker is one of those people who almost always appears calm. With his blond hair, friendly smile and quiet demeanor, he can appear almost placid on the golf course. But he has a temper and, according to his wife and father-in-law, a tendency to get down on himself quickly.
"That's one reason he's so streaky," Tiziani says. "When he's going good and he's confident, especially with the way he can putt, he's absolutely one of the best out there. But if he makes a few bad swings and the ball starts going in the wrong direction, he can start to doubt himself. That's why it was so important that he figure this one out himself. Now, if something does go wrong, he knows that he can fix it."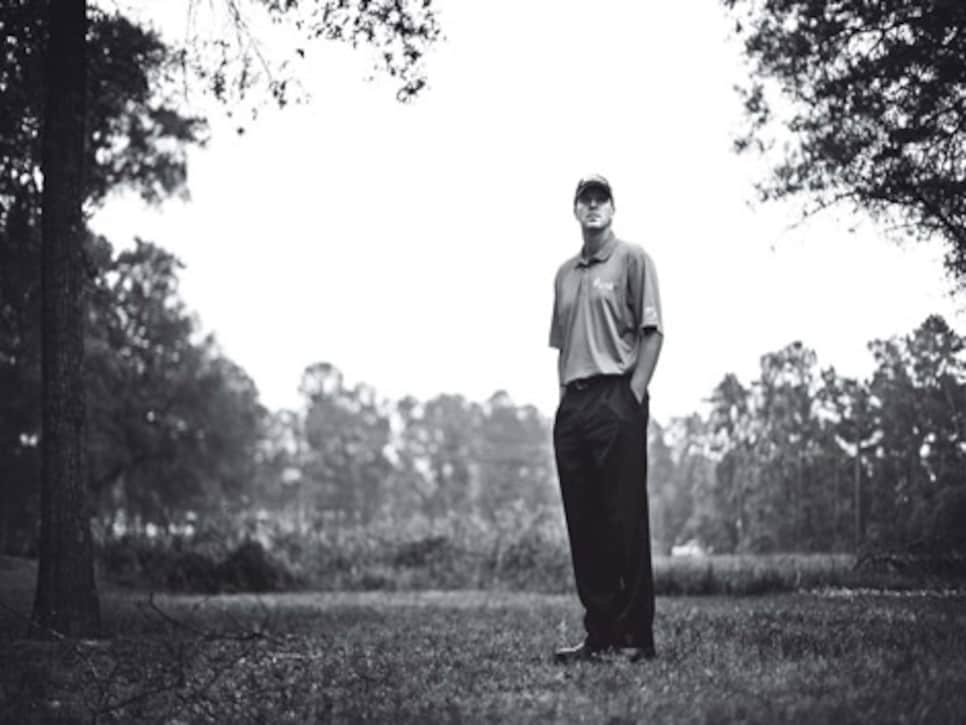 The story of Stricker's winter in Wisconsin after that Q school in 2005 has been told (see the March issue, "Jump Start Your Game This Winter"): the regimen of hitting balls from inside a heated trailer, the talks with Tiziani, the decision to rededicate himself one more time.
"He did this all on his own," Tiziani says. "He had to. He would come to me and say, 'I hit on something! I hit on something!' Then, finally, it was, 'I've got it.' I didn't doubt him when he said it.
"It wasn't easy, though. Steve's always been a feel player. Now, you had a feel player trying to learn mechanics and the process of how to be correct mechanically. That's a complete oxymoron right there. But he did figure it out."
Tiziani has never believed in video; he thinks it fortifies what isn't good in a player's mind. Instead, he had Stricker swing the club for him and told him what he saw (a grip that was too tight, tempo that was too quick and a takeaway that was too steep).
"He was my eyes," Stricker says. "I needed him to tell me that what I thought was right was right -- if it was right."
The comeback began with a 14th-place finish at Pebble Beach. Then there was a third-place finish in Houston, where he got a last-minute sponsor's exemption. "The first couple of years I wasn't exempt, sponsors were pretty good about giving me chances," he says. "But I think that lasts a year, maybe two. After a while they feel like they've given you a shot to come back, and they move on to other guys. I kept writing letters in '06 but kept getting turned down. I understood. That's how it works. I hadn't been a good player for a while."
He was turned down in Houston by tournament director Steve Timms, who told him that if something did open up, he would call him. Stricker was getting a bagel on the Saturday morning before the tournament when Timms called. He had an open spot if Stricker could get to Houston to play in the Monday pro-am. "I'll be there tomorrow night," Stricker said.
The real turning point, though, from Stricker's point of view, was the U.S. Open that year at Winged Foot. He led after 36 holes before tying for sixth. On a golf course where driving the ball was almost impossible, he drove it well enough to contend.
"For some reason, the Open has always been a good major for me," he says. "Maybe it's because everyone struggles to hit fairways there, and the difference between me and the really straight hitters is cut down. But when I came out of Winged Foot, I felt as if I could score anywhere."
On the phone, Nicki could hear a different tone in Steve's voice. "There were less negatives when he talked about his round," she says. "It wasn't so much about the scoring -- that helped -- as it was about him starting to feel better and better about his golf."
He tied for second the week after the Open and, playing only 17 times, was 34th on the money list. Going from 162nd on the money list and non-exempt to just missing the Tour Championship made him the comeback player of the year.
Then came 2007, when he came back even more: He was one stroke out of a playoff at Honda and could have won at Charlotte but finished second behind Woods after finishing with a double bogey and a bogey in the final three holes. "I goofed up there," he says in Midwestern Strickerese.
He shared the U.S. Open lead at Oakmont with nine holes to play before fading. "That really made me angry," he says. "I just got really, really nervous."
Nicki remembers how frustrated he was after the Open. "He said he couldn't get hold of his emotions when he got into contention," she says. "He'd start thinking about what winning again would mean or about me and the kids [the Strickers have two daughters], and he wouldn't be able to focus on his golf. It was really bothering him."
Then came Westchester. Stricker had played there once, in 1995, and played poorly. "Hated the golf course," he says. "When we finished I said to Nicki, 'Honey, take a picture, because we're not coming back.' "
He came back in '07 only because the tournament was the first in the tour's new playoff system. Stricker was 11th in the standings going into Westchester. This time, though, he had help.
"Don Edwards," he says. "We were teammates at Illinois, and he's a member at Westchester [and a managing principal of an equity investment firm]. After the Open he gave me a ride on his plane from Oakmont back to Madison. On the plane he started telling me I was going to win Westchester. And he kept at it from that moment until the end of the tournament. He put together a map of the entire course for me: what were the holes to shoot at flags, what weren't. There were holes he labeled par holes, holes he labeled birdie holes. He told me when to gamble, when not to gamble. If nothing else, it made me feel a lot more confident going in there."
It looked as if Stricker was going to finish second to K.J. Choi after bogeying the 13th hole on the last day. Then came the birdie-birdie-birdie finish and a two-shot win. "When the last putt went in, it hit me how far I'd come from that Q school in '05," he says. "That's probably why I got so emotional."
He got more emotional when he returned to Madison that night. He had expected Nicki and the family to be at the airport, but a couple dozen friends had driven up from Edgerton. They papered the windows of the terminal with signs congratulating him and showered him with applause and love as he walked off the plane.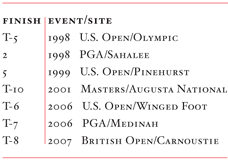 Three of Steve Stricker's seven top-10 finishes in majors have come in the U.S. Open, including a T-6 in 2006 at Winged Foot that led to two consecutive years as the PGA Tour's comeback player of the year, pushing his World Ranking from 337th to fourth.
"The look on his face was great," Nicki says. "He was completely surprised."
It was one of those victories that was very popular on tour. Woods was one of the first people to congratulate him the next week. Others left notes in his locker. It was very satisfying.
But, Stricker insists, not enough.
"I worked just as hard this winter as the last two," he says. "My goal going to Hawaii was to win at least once."
He almost pulled it off, losing a four-hole playoff at Kapalua. He's still upset with himself for not asking Daniel Chopra to use a different ball mark on the first hole of the playoff. Stricker's long approach putt hit the mark, bounced and came up about six feet short. "If it doesn't hit the mark, I think it's real close to the hole," he says. "It's my fault. I saw that the marker was a little raised, not like a coin. I should have asked him to put a coin down."
Stricker missed the second putt, extending the playoff. Chopra won three holes later. Even so, Stricker's confident he'll win again, and keep winning. "I never dreamed that I'd be playing the best golf of my life at 40," he said before adding another birthday in February. "But I am."
As with everyone on tour, Stricker can measure his game by how he feels these days about playing with Woods. Nicki still remembers the first time Steve played with Woods, at Pebble Beach not long after Tiger turned pro. "He came home and said, 'I don't feel that far away from the other guys, but this guy is so much better than me," she says. "Now he wants to play with him. Not because he thinks he's as good as Tiger is, but because he likes playing well enough to be in his group, and he believes he can do his own thing and do just fine.
"Plus, they like each other. He really appreciates the fact that Tiger gave him a hard time when Steve was playing well, kept giving him a hard time when he was playing badly, and is still giving him a hard time now that he's playing well again. When you play poorly, you find out who your friends are. Jerry, J.P. [Hayes], Tiger, a few other guys, never changed the way they acted around Steve that whole time when things were bad."
Stricker, Woods says, "was at a point where he had a hard time taking the club back. He couldn't keep the ball in play. To go to No. 4 in the world is pretty phenomenal. He drives it on a string and is one of the best putters out here. Combine that with confidence, and there you have it."
Those who know Stricker best aren't surprised that he's back.
"I've always said, to make a good pot, you need good putty," Tiziani says. "That boy has always been good putty."
And now, finally, he has become a very good pot.