News
USGA invites 16 players to U.S. Walker Cup practice session in preparation for 2021 match at Seminole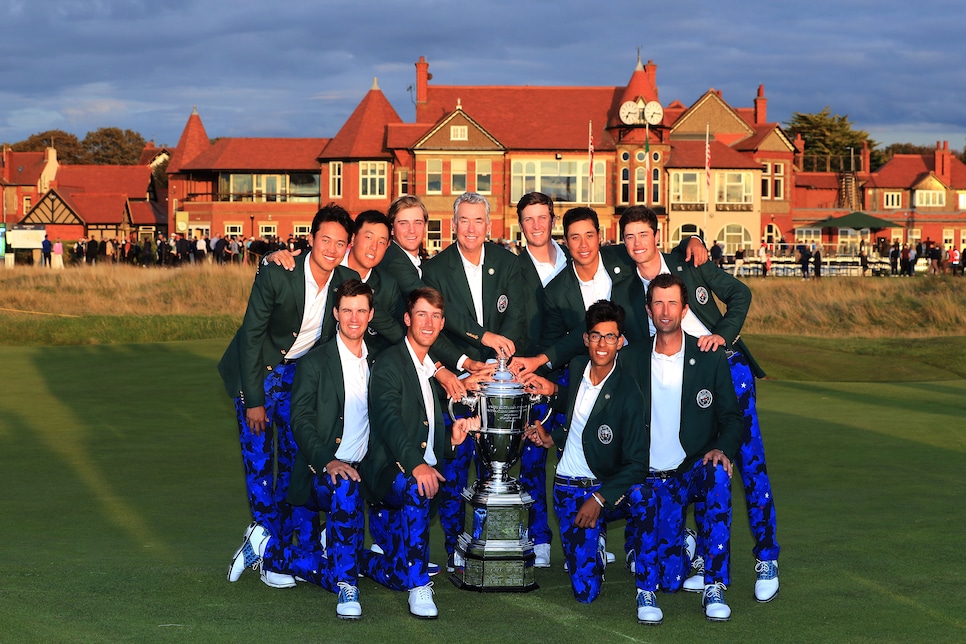 The victorious U.S. Walker Cup team at Royal Liverpool in 2019.
David Cannon/Getty Images
To get an early glimpse of who likely will be competing for the United States at the Walker Cup in May at Seminole Golf Club, look no further than the 16 players the USGA just invited to participate in next month's three-day practice session. Seven of the 10 members of the winning U.S. team in 2019 were invited to a similar session ahead of the 2019 matches at Royal Liverpool.
USGA officials announced on Tuesday that they'll hold this year's practice session Dec. 16-18 at Bay Hill Club and Lake Nona in Orlando. The session comes in advance of the Palmer Cup, a college version of the Walker Cup that is being played at Bay Hill Dec. 21-23. Eight of the 16 players invited by the USGA are also competing in the Palmer Cup, helping limit travel during the COVID-19 pandemic.
Here is the list of invited players and their World Amateur Golf Ranking (those in college have their schools listed in parenthesis, and seniors also have their ranking for PGA Tour University):
Ricky Castillo, 5 (Florida)
Pierceson Coody, 10 (Texas)
Quade Cummins, 18 (Oklahoma, 9)
Cooper Dossey, 34 (Baylor, 16)
Austin Eckroat, 19 (Oklahoma State, 5)
Stewart Hagestad, 11
Cole Hammer, 26 (Texas)
McClure Meissner, 23 (SMU, 8)
William Mouw, 16 (Pepperdine)
John Pak, 7 (Florida State, 1)
David Perkins, 40 (Illinois State, 46)
Garrret Reband, 13 (Oklahoma, 7)
Cameron Sisk, 30 (Arizona State)
Tyler Strafaci, 25
Davis Thompson, 2 (Georgia, 3)
Michael Thorbjornsen, 32 (Stanford)
"The process of team selection continues with this practice session and is an opportunity for all involved to become more familiar with each other and create team camaraderie while adhering to health and safety protocols," said John Bodenhamer, USGA senior managing director, Championships in a press release. "These accomplished individuals represent a talented group of potential USA Team members, but we expect others will be considered as the selection process moves toward its conclusion."
The date for the 2021 match (May 8-9) marks the first time the Walker Cup will be played in the U.S. in the spring, in part to help secure Seminole as the site for the competition. By being in the midst of the college golf season, seniors who had to wrestle with whether they remain amateurs during the summer to compete in a fall Walker Cup won't have that decision to make.
The U.S. holds a 37-9-1 advantage over Great Britain & Ireland in the overall series, but only a 9-7 lead since 1989.