Amateurs
USGA invites 12 players to Curtis Cup practice session ahead of 2022 match at Merion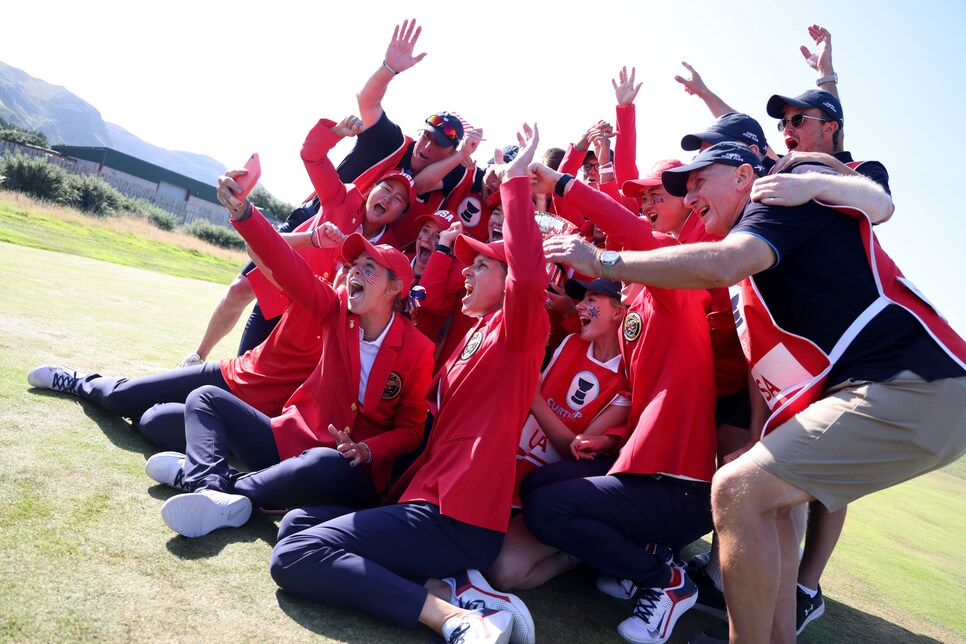 Team USA and Captain Sarah LeBrun Ingram celebrate with the Curtis Cup trophy after their win in August at Conwy Golf Club in Wales.
Matthew Lewis/R&A
For the third straight year, U.S. Curtis Cup captain Sarah LeBrun Ingram is making a winter trip to Florida to help scout American players for the upcoming match.
The USGA announced on Tuesday the 12 invitees who will be to participating in a practice session ahead of the 2022 Curtis Cup at Merion Golf Club in June. The dozen players will get together with Ingram at Mountain Lake Golf Club in Lake Wales, Fla., Jan. 15-16.
They are (college affiliations in parenthesis):
Jenny Bae, 20, Suwanee, Ga. (Georgia)
Jensen Castle, 20, West Columbia, S.C. (Kentucky)
Megha Ganne, 17, Holmdel, N.J. (Signed with Stanford, Class of 2026)
Rachel Heck, 20, Memphis, Tenn. (Stanford)
Julia Johnson, 22, Saint Gabriel, La. (Mississippi)
Gurleen Kaur, 22, Houston (Baylor)
Rachel Kuehn, 20, Asheville, N.C. (Wake Forest)
Emilia Migliaccio, 22, Cary, N.C. (Wake Forest)
Brooke Seay, 21, San Diego (Stanford)
Aneka Seumanutafa, 21, Emmitsburg, Md. (Ohio State)
Erica Shepherd, 20, Greenwood, Ind. (Duke)
Rose Zhang, 18, Irvine, Calif. (Stanford)
Ingram oversaw her first practice session in December 2019 in anticipation for the 41st Curtis Cup, which was scheduled for August 2020. That match, however, was postponed due to the COVID-19 pandemic, so Ingram was part of a similar practice session in January 2021.
When the match was played in August 2021, the Americans pulled off a 12½-7½ victory over Great Britain & Ireland in Wales. The USGA and R&A decided to keep the biennial match on a schedule of being played in even-numbered years, meaning the 42nd match would stick to its dates of June 10-12, 2022, at the venerable club outside Philadelphia.
Two of the 12 players in the practice session have already locked up automatic spots on the 2022 team: Castle, the reigning U.S. Women's Amateur champion, and Zhang, the top player in the Women's World Amateur Golf Ranking. Both played for the U.S. team in Wales, as did Heck, Kuehn, Migliaccio. (Ganne was an alternate on the team and traveled with the squad.)
"The amateur talent in the United States is so incredibly strong right now, and it's an honor to gather with this group for a practice session next month," Ingram said in a press release. "We have a great mix of young women, including many players who helped lead us to victory in Wales just a few months ago, and some players who have played fantastic golf this fall on the collegiate level who I am excited to get to know. I'm very much looking forward to our time together and I know the players are as well."
The USGA said that players not invited to the session will still be considered for inclusion on the team.