Curtis Cup
No surprises as the U.S. dominates singles to beat GB&I in Curtis Cup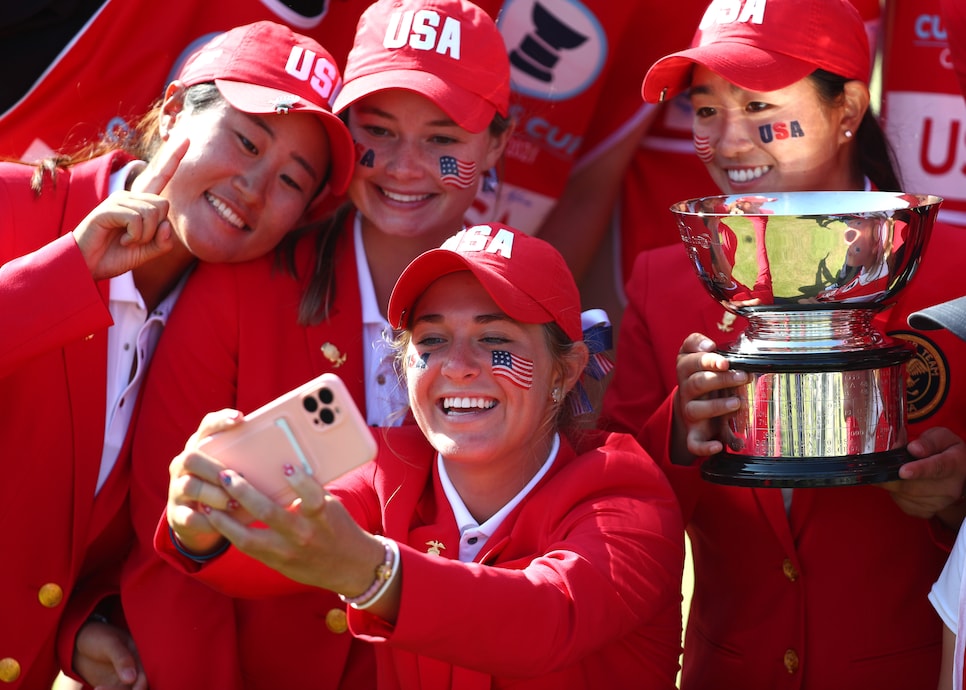 Rachel Kuehn of Team USA takes a selfie with her teammates after the Americans won the Curtis Cup.
Matthew Lewis/R&A
It's a theme followers of trans-Atlantic team contests have seen many times. It goes like this: More familiar with the intricacies of foursomes and four-ball strategies and rhythm, the Old World underdogs battle their way to parity—or close to it—before the final-day singles. It is then, however, that the (on-paper) greater depth of the American side really begins to tell. By close of play, the trophy either stays in the States, or heads west across the Atlantic.
Welcome to the 41st Curtis Cup at the Conwy Golf Club in northern Wales.
Tied 6-6 with eight points to play in head-to-head, the U.S. team cruised to an eventually comfortable victory on Saturday. With the Americans taking the singles 6½-1½, the final score was 12½-7½. Which is not to say that it was all easy sailing for the visitors to this picturesque part of the Principality. Of the eight matches, six went as far as the penultimate green, a sure indication of an overall competitiveness that was a far cry from the previous Curtis Cup at Quaker Ridge, where the home side won by the embarrassing score of 17-3.
Two straight victories by the Americans gives them three wins out of the last five meets and 10 victories in the last 12 matches.
The traditional grittiness displayed by the U.S. team was personified by national champion Jensen Castle. Three-down with four to play in the top match against a seemingly rampant Hannah Darling, Castle eked out tie and a half point that, at the time, seemed vital to the American cause.
"It was awesome," said Castle, who, as 63rd seed, was an unlikely winner of the U.S. Women's Amateur earlier this month. "It was such a battle. But I kept trying and was never out of it. I was playing well today, but Hannah was playing so great. So, I just had to keep giving myself opportunities. I'm pretty excited. The crazy thing is I didn't think I was any good at match play until the Am. My key this week was to focus on myself. Fairways and greens."
Still, the overall star of the winning team was, predictably, World No. 1 Rose Zhang. The incoming freshman at Stanford was top-scorer with 4½ points from her five games. Allisen Corpuz was the other unbeaten American, winning all of her three matches. Only the unfortunate Gina Kim did not contribute to the eventual 12½-point tally.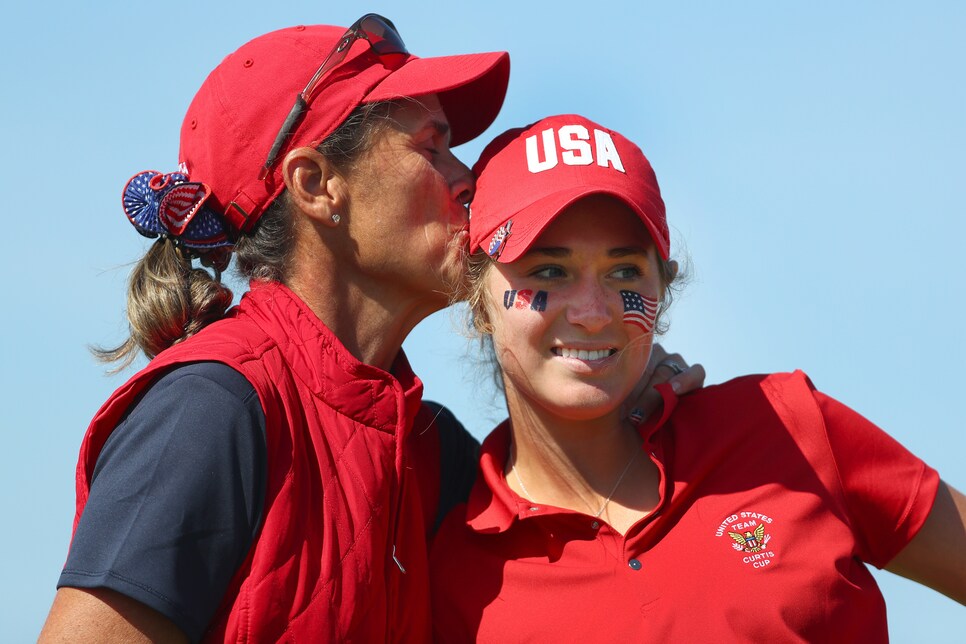 Rachel Kuehn gets a hug and kiss from her mother, Brenda Kuehn.
Matthew Lewis/R&A
For the losers—five of whom are at college in the U.S.—Oklahoma State student Casey McGinty was the biggest scorer with 3½ points. Annabell Fuller—the only returning member of the team—notched three points from her five games, as did Darling with a 2-0-2 record.
Best story of the final day, however, was provided by Rachel Kuehn. Back in 1998, Rachel's mom, Brenda Corrie Kuehn, holed the winning putt in the 1998 Curtis Cup at Minikahda, and 23 years on her daughter did the same at Conwy. The younger Kuehn's last-green victory over Louise Duncan was enough to take the U.S. points total to 10½, guaranteeing victory.
"This is unbelievable, especially as we only scored a point-and-a-half on day one," said Kuehn, when ended with a 3-0-1 record. "To make the comeback we did yesterday was pretty amazing. It was anybody's game this morning. So this is really cool, really special for me to do what my mom did all those years ago. I've heard about it since I was 8 years old."
Speaking of whom, mom was on hand to witness history being repeated.
"Words cannot explain what I'm feelings," said the elder Kuehn with a smile. "Watching your daughter on this stage is incredible. I'm so proud of her and the whole team. I remember vividly what went on in 1998. I've mentioned it to Rachel many times. I had a four-foot downhill left-to-right putt I didn't want to hit on the 17th green. But I didn't want to play the 18th either. I've shared that with her since she was young. But she just won't let me have any glory, I guess. She has to outdo me in everything she does."
Another member of that 1998 U.S squad, American captain Sarah Ingram, was equally pleased.
"My girls are so talented, so sweet and such fighters on the course," Ingram said. "I have to thank my team for finally getting me a victory. We played so well today and fought really hard. Jensen led the charge. Getting that half in the first game was huge. So was Brooke Matthews getting her first point. They played so tough today."
Hey, it's what they do. History tells us so.