News
Use your legs like Justin Thomas to go low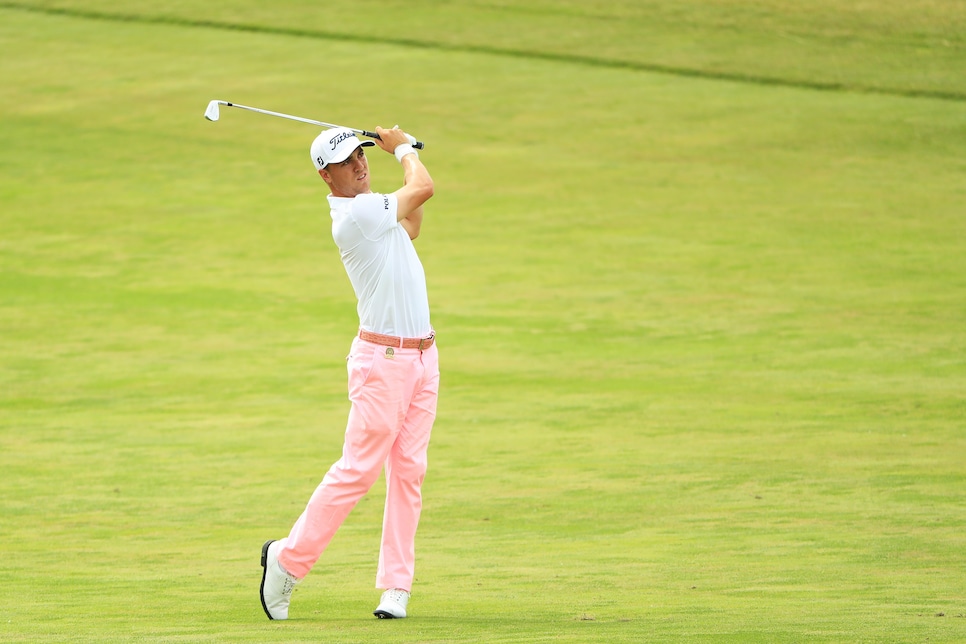 Perfect weather and perfect (soft) course conditions mean tour players are going low--even when they have almost 8,000 yards of real estate to contend with.
Case in point? Justin Thomas didn't just break the U.S. Open single-round scoring record in relation to par with a 9-under 63 on Saturday. He did it by making nine birdies and an eagle to go with two bogeys. The 5-foot-10, 150-pounder averaged a large 322 yards off the tee, which put him in position to make a dramatic eagle on the 667-yard 18th.
All that pound-for-pound power comes from using the ground efficiently, says top Alabama teacher Tony Ruggiero.
"He pushes up so well with his lower body to get everything out of the driver, but I've always been amazed at how he's able to use the right footwork for the shot he wants to hit," says Ruggiero. "When he gets to his scoring clubs, his feet are very quiet and 'conventional.'"
Whether he's hitting driver or wedge, Thomas' footwork gives him a consistent low point in his swing. With a driver, that's before the ball--so he's launching it high and far. With a wedge, it's in front of the ball, which lets him control his trajectory and distance with amazing accuracy.
"Most average players aren't even aware of what they're doing with their feet," says Ruggiero, who is based at the Country Club of Mobile and Bay Point Resort in Panama City Beach, Fla. "I like to use two drills to help that. First, make practice swings and hold your finish, keeping your left foot in the same place as where it started. I also love to have my handicap players hit balls with bare feet to get way more feedback about what your feet are doing in relation to the ground."