PEBBLE BEACH — The scorching sun in Palm Springs, Calif., can make anyone question their life decisions. Morgan Pressel, grinding on the 16th fairway at the 2020 ANA Inspiration—13 years removed from winning a major title at the Dinah Shore course—had been pondering what might be in store after her playing career only three months into the LPGA Tour's COVID restart.
"I was like, I'm just unhappy being out here," Pressel said. "I think it's time to try something else."
After a missed cut, she contacted Golf Channel executives to take them up on an old offer, and not much later she was hired to come into the broadcast booth. And in a little less than two years of full-time broadcasting, Pressel, 35, has become one of NBC's ascending on-air talents, taking the main analyst chair beside play-by-play commentator Dan Hicks this weekend when the network broadcasts the third and fourth rounds of the U.S. Women's Open in primetime from Pebble Beach.
Pressel actually started her television career even earlier, working for Fox as an analyst for featured groups at the 2015 U.S. Open at Chambers Bay. Pressel's agent brought the opportunity up to her. At first, she wasn't quite sure why she should take a week off in the middle of June following the KPMG Women's PGA Championship to try something that was so far removed from where she was at 27, given how she was still competing at a high level of the women's game.
"Maybe it wouldn't hurt to give it a shot, see what it's like, see if it's something that I like at all or something that I totally hate and I can shelf it and never have to think about it again," Pressel said. "I really enjoyed it. It was a lot of fun."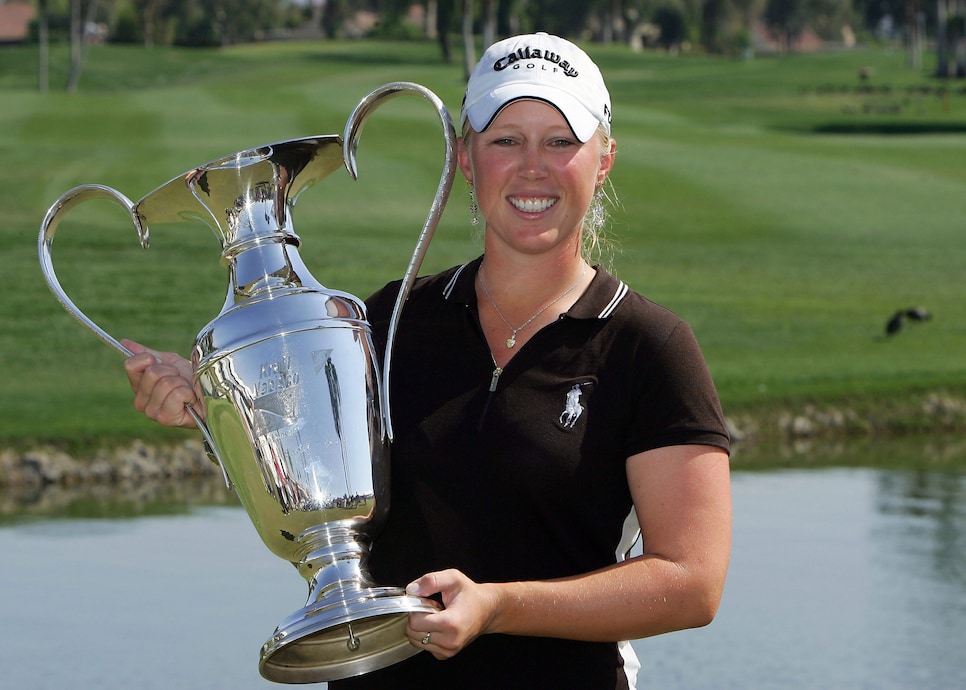 Morgan Pressel's pro career hit a high point when she won the 2007 Kraft Nabisco Championship, one of her two career LPGA victories.
David Cannon
That first taste of broadcasting felt similar to competing in an LPGA tournament. Pressel remembered that thought when she signed up to broadcast a few more events beginning in 2019. From there, Golf Channel Executive Producer Molly Solomon and Pressel discussed an open invite to move into the broadcast booth when she was ready.
That happened then in late 2020, Pressel unable to find her swing and surprisingly lacking motivation to return to play. She contacted Solomon, and they agreed to a 10-event schedule in 2021, allowing Pressel to decided if this was what she wanted to do full-time versus chase playing more. Pressel quickly impressed in her first event in March of that year at the LPGA Drive On Championship at Golden Ocala.
"Morgan got it more quickly than anyone I've ever worked with," said Grant Boone, a fellow Golf Channel commentator.
A week ahead of her 2021 debut, Pressel crammed for the broadcast, trying to assimilate the television jargon she was hearing in her earpiece from then producer Beth Hutter. Boone felt Pressel found her stride quickly; even when she mistakenly stopped once in mid-sentence after hearing Hutter ask her to wrap up, Pressel came across naturally.
NBC trusted Pressel enough to be the lead analyst at the U.S. Women's Open at The Olympic Club, in only her fourth event in the booth. On a major stage, with seven hours of coverage on NBC over the weekend, Pressel got tested on one of the other crucial adjustments athletes face—going from playing alongside their peers to broadcasting about them.
"I think the hardest thing is to figure out how to be critical," Golf Channel commentator Kay Cockerill said. "We as players don't want to criticize our fellow players, and so when you're first transitioning, you're still a player or you have a player's mentality."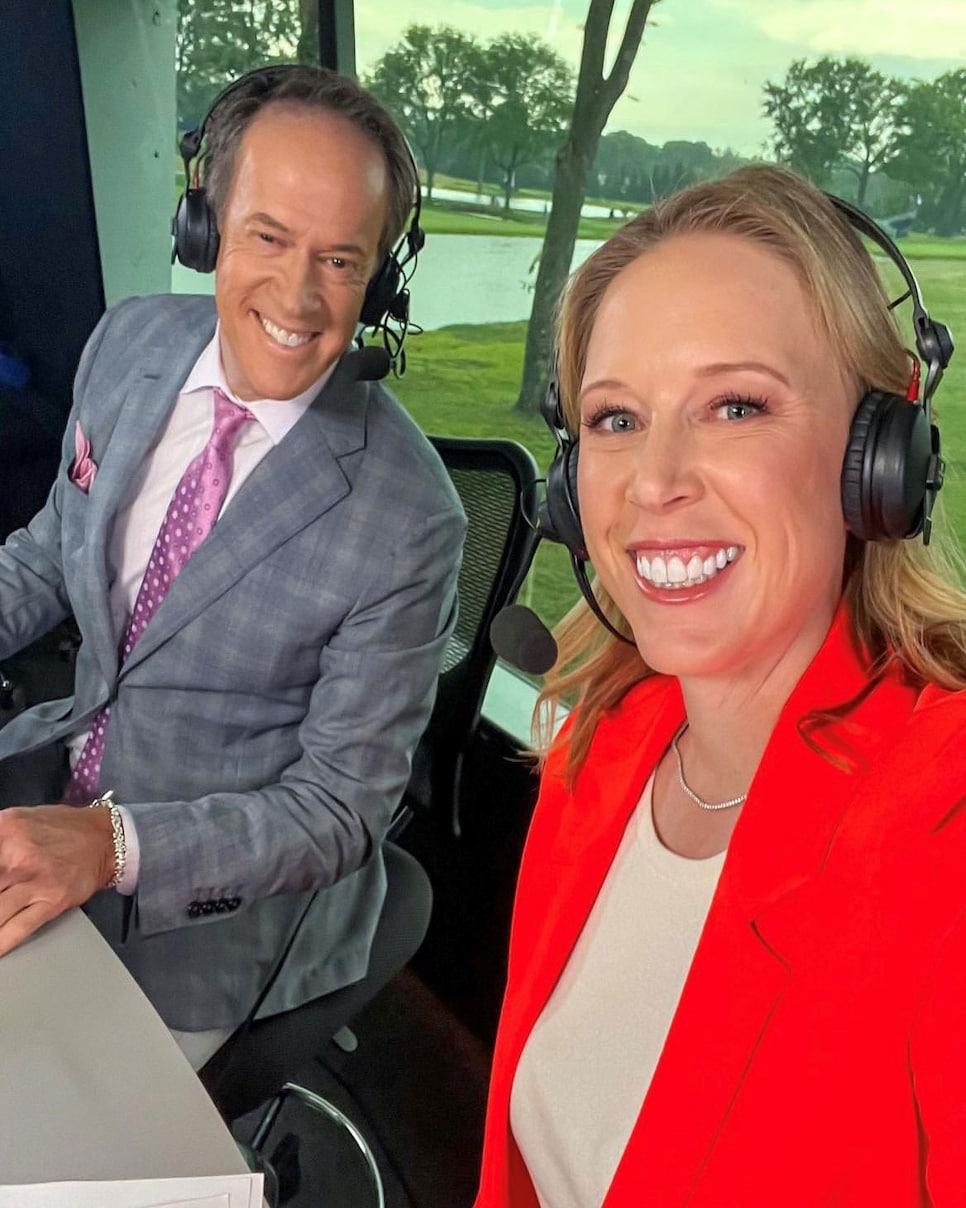 Morgan Pressel shared the booth with Dan Hicks at the KPMG Women's PGA Championship and will do the same in primetime this weekend on NBC from the U.S. Women's Open.
During the final round, Lexi Thompson lost a five-shot lead over the final eight holes, turning the championship into one of the most memorable finishes—if for unfortunate reasons—in recent major history. Figuring out how to communicate what a player feels in that scenario is an immense challenge for any broadcaster, let alone one still learning on the job and talking about a friend and three-time Solheim Cup teammate. It's not a week Pressel will soon forget.
"I've learned the most from that week that I've learned from anything else that I have ever done in television, and it was hard," Pressel said.
She continues to work on honing empathy with analysis, just as she tried to do week-in and week-out as a player when she attempted to become comfortable with the challenge of playing in the lead and closing out a victory. Pressel discovered quickly she was ready to make the full transition to the booth, only playing four LPGA events in 2021 before concentrating completely on broadcasting in 2022.
Learning the teamwork needed for a smooth telecast is another oddity to the isolated world of competitive golf. While fans see the front-facing talent and shots of the course, an intricate symphony goes on behind the scenes to put broadcasters in the best position to succeed. While a caddie might have helped guide Pressel over her playing career, the success of every swing fell on her shoulders alone. Conversely with TV, Pressel quickly built chemistry among her team by becoming the unofficial "social coordinator" alongside her duties, planning events with Golf Channel teammates.
For her birthday this year, Pressel made a reservation two months in advance at Catch on the Strip when the LPGA was in Las Vegas. It felt typical for the group, except she didn't tell anyone it was her birthday. The family-oriented environment caught on, and they scrambled to get gifts and cards for her before celebrating.
"I don't need a special reason to go to dinner with the group," Pressel said. "It doesn't matter that it's my birthday. It's just more the idea that we're all together, and it's fun."
Her event coordination extended beyond just meals. The week of the Founders Cup in May, Pressel took Boone and production assistant Brian Shrull, who sits in the booth as a researcher and liaison to the LPGA if there are questions during the broadcast, to Liberty National for a preview of the home of the Mizuho Americas Open. During the round, Boone wanted to emphasize to Shrull how incredible the gesture was.
"I said to him, I think it's easy to take for granted because she's just one of the gang," Boone said. "But make a little mental note that Morgan Pressel, the major champion, Solheim Cup, stalwart, and a rising star at NBC, invited you to play golf with her today."
The chemistry Pressel has helped build translates into the broadcast. If Boone highlights a point that Pressel thinks could be better answered by an on-course commentator teammate, she'll provide a cue that he should throw it to them. Cockerill catches herself realizing she and Pressel are on the exact wavelength as Pressel weaves through an intricacy of the game in the bite-size time live TV allows. That builds upon her extensive preparation, talking with players, caddies, and coaches to bring that inside-the-ropes level analysis from her analyst chair.
Her instincts and ability help Pressel fill some rather large shoes when Judy Rankin, an LPGA Hall of Famer turned titan and pioneer of sports broadcasting for 37 years, stepped away from full-time work. Pressel followed her predecessor's analyst trail into some of golf's most iconic places. She worked the Evian Championship in France, witnessing Jeongeun Lee6 lose a five-shot lead. Pressel worked alongside Mike Tirico in Butler Cabin during the Augusta National Women's Amateur this year, commentating on Rose Zhang capturing her elusive ANWA title after losing a five-shot lead.
"I jokingly say that I have five-shot lead PTSD now," Pressel quipped.
Pressel quickly added to her expansive on-air résumé in just the last month. She worked at Los Angeles Country Club, doing commentary for Peacock's streaming coverage at the U.S. Open. The next week she was at Baltusrol covering the KPMG Women's PGA Championship, and now she'll be on in primetime at Pebble Beach. (A death in the family is keeping her from working Thursday and Friday during the broadcast on USA Network.)
"I also think for her working this year's men's U.S. Open in the analyst position was huge, and there wasn't really any fanfare about that," Cockerill said. "I thought that was really a big step because I think maybe Dottie Pepper has been in that position briefly, but at a men's major, that's pretty big to have a woman's voice."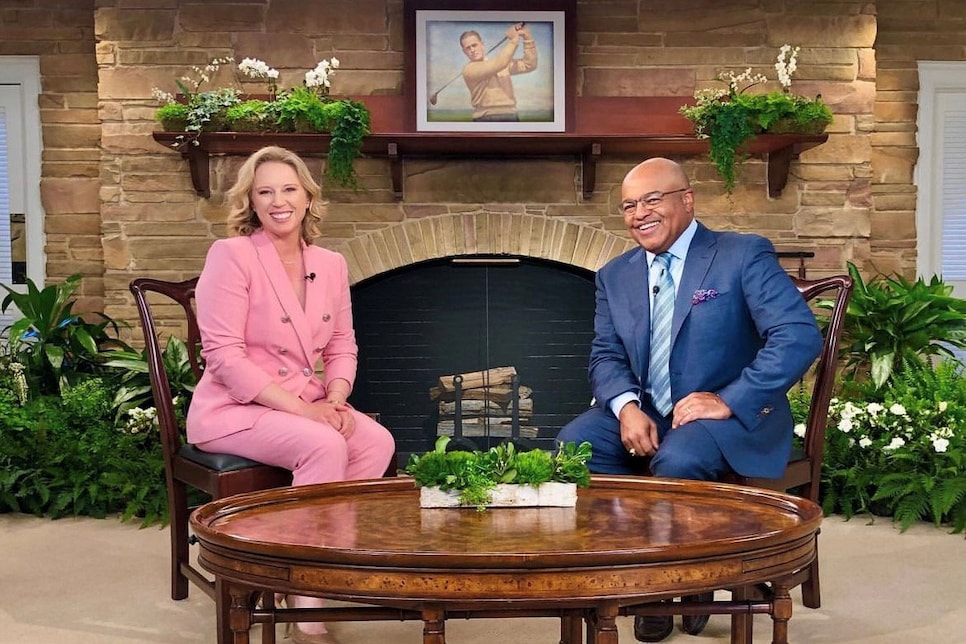 In less than two years working full-time in television, Morgan Pressel has made the transition to being a key analyst in the women's game.
As for what lies in Pressel's broadcasting future, she's not peering to far into the future. Instead, she's enjoying the home and the opportunity her seat provides.
"Not only am I a golfer, but I'm a golf fan and have been for a long time," Pressel said. "So to get to be part of the process of bringing that into people's homes week in, week out is very cool."