PINE NEEDLES, N.C. — It only takes one strong start. It's an adage that rings true throughout the LPGA Tour's history. During Karen Stupples's rookie year in 1999, the Englishwoman battled to keep her tour card. Making five cuts through her first 10 starts and never earning more than $4,000, Stupples broke through for her first top-10 that September at the LPGA State Farm Classic for a T-8, paying her $19,304.
"I felt like I had won the jackpot lottery," said Stupples, an eventual major winner who is now a NBC/Golf Channel announcer. "Literally, I felt like I was the richest person alive because I had never seen that kind of money going into my bank account ever."
For players this week at Pine Needles who qualified their way into the 77th U.S. Women's Open, instead of playing in the $750,000 purse that Stupples broke through for in Springfield, it's a historic $10 million up for grabs, a prize money payout that rose $4.5 million from 2021 and can reset a player's season in 72 holes. Particularly for players who arrive in North Carolina like Stupples before then, searching for a spark.
Bianca Pagdanganan's qualifying journey felt like winning a lottery all on its own. On top of managing significant internal pressure to qualify for the U.S. Women's Open for the first time, (her 2020 appearance as an LPGA rookie was aided by special exemptions surrounding the shortened COVID season), the Filipina has battled tendonitis in her right wrist since March. After missing the cut at Rancho Palos Verdes just five days before her May 4 qualifier at Fox Run Golf Club, she met with a physio and doctor. They told her to rest as much as possible. Pagdanganan didn't touch until taking her first swing at the start of her qualifier's practice round four days later.
Impressively, Pagdanganan sat at five under through 35 holes. She missed a four-footer for par on her 36th that she knew she needed to avoid a playoff. Pagdanganan then squared off in a five-for-three playoff featuring fellow LPGA pros Muni He, Jaye Marie Green, Morgane Metraux and Dottie Ardina. Pagdanganan made a long par putt to stay alive on the first extra hole. After birdieing the second hole, she had her ticket to Pine Needles.
"It's the U.S. Open. It's everyone's dream to play the U.S. Open, and that's exactly what I'm doing right now," she said on the eve of the championship. "I just have to tell myself to enjoy this process and the whole experience. I'll try to keep it in mind for the rest of the week. That way, it hopefully helps me play better and lessens the pressure for the other events."
It gives her another opportunity for a top-10 finish at a major, as Pagdanganan broke onto the national scene with a T-8 at the 2020 KPMG Women's PGA Championship. Not only did it give her more starts at other majors, it's been a confidence booster.
"When I struggle mentally," Pagdanganan said, "it's a good reminder that you can play in any condition, you can play great golf, and you're capable of doing great things. That kind of helps me get through."
Daniela Darquea fought similar mental demons to get to Pine Needles. After finishing 152nd on the CME points list in 2021, she had to go back to Stage II of LPGA qualifying to better her status. The 2017 rookie didn't advance to Q-Series and got buried on the LPGA's priority list, sitting at 386th. Darquea has spent this season playing on the Epson Tour and chasing LPGA Monday qualifiers. She hadn't made it through any yet, and the streak seemed likely to continue through the first round of her U.S. Women's Open qualifier.
Darquea shot three-over par at the Ohio State University Golf Club. Before beginning her final round, Darquea turned to her cousin, Felipe Darquea, a junior on the Ohio University's men's golf team who caddied for her, that she needed to shoot six under in the second round to breakthrough.
Darquea nearly Bambino'd it, as she posted five-under to charge into the final of three spots for Pine Needles by two strokes for an opportunity to turn her year around.
While the money is of course considerable for those at the U.S. Women's Open, for players like Pagdanganan and Darquea, it's the CEM points that are available that can improve change their LPGA status or even help secure a LPGA card for 2023, that makes this week important.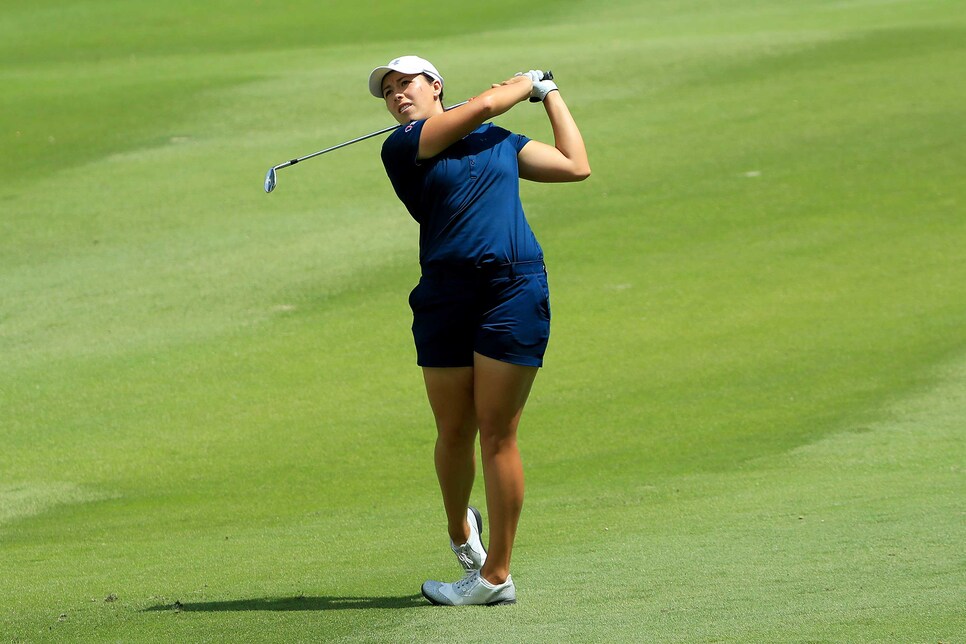 Daniela Darquea's status means she hasn't gotten into an LPGA event this season. She's hopeful a good finish at Pine Needles can change that.
Sam Greenwood
"It would mean a lot more to make the second reshuffle and get onto the LPGA," Darquea said, "That's my goal, hopefully for the week, and then for the year, hopefully get back out there.
"This is my only chance, pretty much."
She's hoping to replicate the magic as her cousin caddies for her again this week.
Lauren Kim also went through LPGA qualifying last year after finishing 123rd in CME points and improved her status through Q-Series. That momentum didn't carry over into 2022. Through six starts this season, the Stanford graduate hasn't made a cut.
The 27-year-old walked onto Pine Needles feeling the same wonder for her first U.S. Women's Open start as she did making her USGA debut at the 2014 U.S. Women's Amateur. She hopes focusing on that feeling will put her in a good mindset into the week.
"I'm trying to enjoy every second of it. I'm not too worried. Golf is golf, it's up and down and sometimes it's not what you want it to be. And that's OK. Just trying to take it one step at a time."
Those moments include her mom buying them both U.S. Women's Open bucket hats to take home.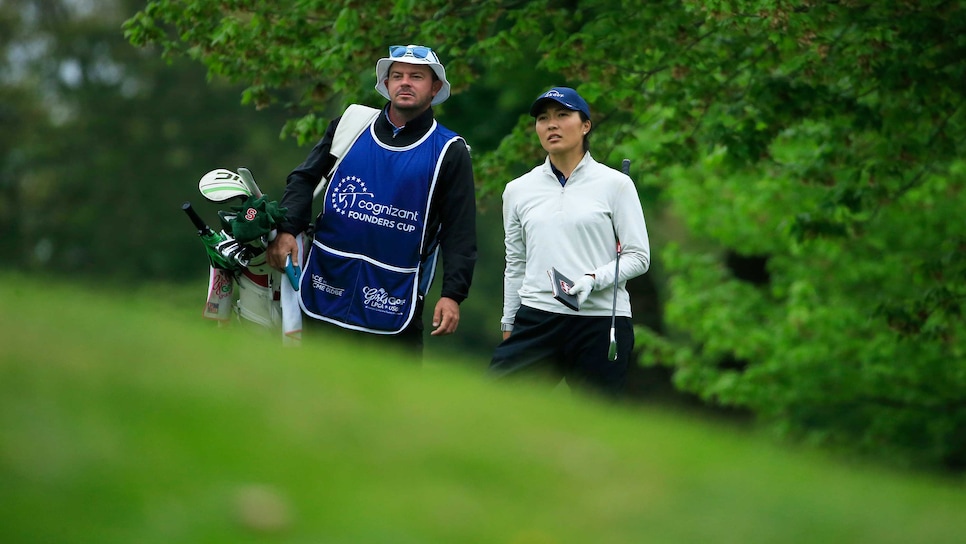 Lauren Kim hasn't made a cut yet in six LPGA starts in 2022, but a big week at Pine Needles change quickly boost her chances of keeping her card for next year.
Michael Cohen
Even if Kim's missed cut streak continues, she'll still take home a paycheck. Kim lit up when told for the first time that those who miss the cut will still receive $8,000.
"Wow, that's huge," Kim said, "Obviously, this year has been a big financial burden on me, just missing cuts. You're spending more and not making it back. I think that's really cool. It frees up the mind, frees up the swing for those who worry about that. I'm fortunate to have amazing sponsors. Not all girls have that."
This week could give the birthday gift of financial cost security to Isi Gabsa, who turns 27 the Tuesday following the U.S. Women's Open. Since turning professional, Isi Gabsa's thought about getting into the marquee major with her birthday, June 7, consistently being around the end of the U.S. Women's Open.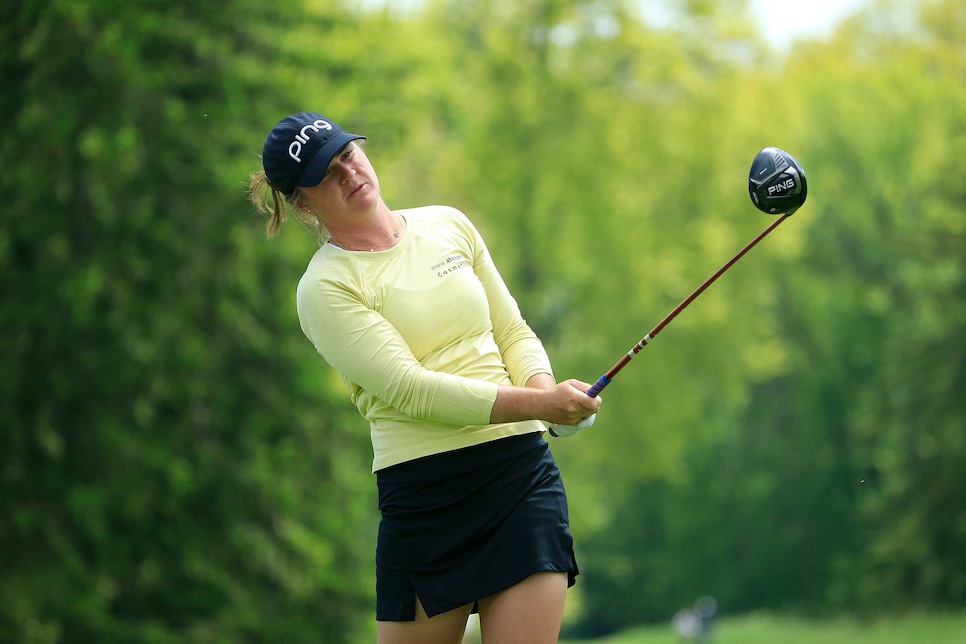 Isi Gabsa's 27th birthday is a few days after the Women's Open. The German hopes she's got something big to celebrate.
Michael Cohen
She's on the precipice breaking into the top 100 in CME points, as the German sits in 103rd coming into the week. However, Gabsa noted it's still early in the season to focus on making that move now. Despite it almost being June, 22 tournaments and four majors remain on the schedule. Gabsa appreciates the validation of being in such a strong field for the first time and how just one strong week with this historic purse can support her career.
"You would never say no to that much money," Gabsa said. "It would definitely ease a lot of things with traveling costs for a couple of years to come. That would be very nice to have for sure."