News
U.S. Women's Open 2020: After bogey-free 69, Cristie Kerr remarkably in contention despite playing with dislocated ribs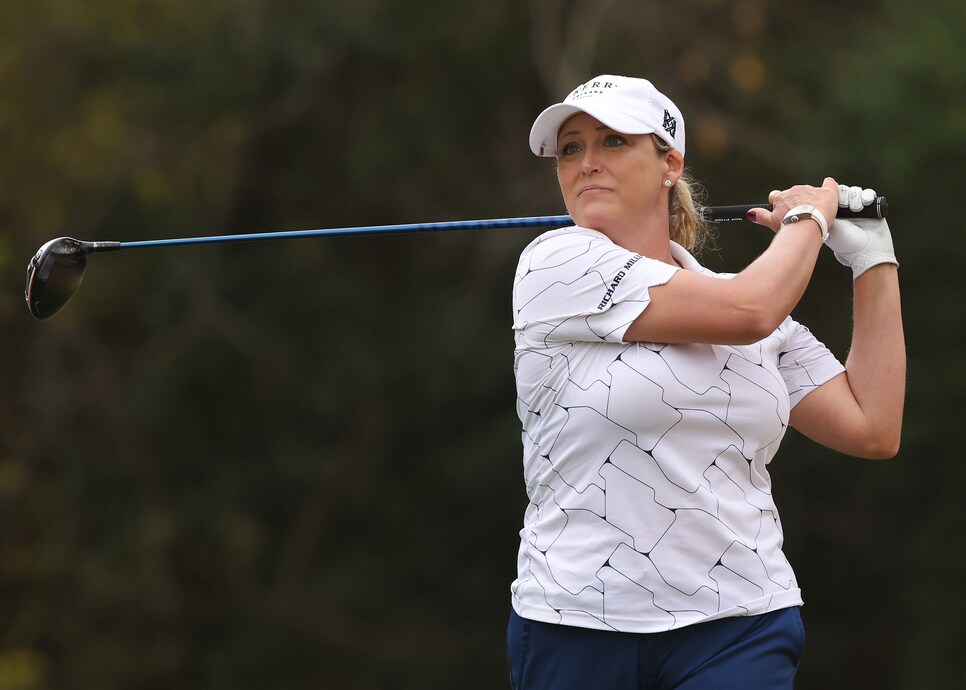 Cristie Kerr plays her shot from the second tee during the second round of the 75th U.S. Women's Open.
Jamie Squire
HOUSTON—As the second round in the U.S. Women's Open wore on Friday, Cristie Kerr got more uncomfortable, felt more and more pain. It's remarkable, really, that she is playing at all with dislocated ribs suffered in a golf cart accident last week.
Yet playing hurt in some ways seems to be helping Kerr, lowering her expectations. And it is showing in her results. In an impressive performance thus far considering her physical state, Kerr shot a bogey-free two-under-par 69 on the Champions Club's Cypress Creek Course. After the morning wave of play, Kerr was tied for sixth at two under through 36 holes.
"I do think so, yeah," Kerr said of the possibility that playing hurt has helped her in some strange way. "And I've definitely missed shots I would normally not miss because I'm in pain, but it's actually—it's kind of a nice mental place to be. I'm not happy how I got here, but maybe it's meant to teach me a lesson, I don't know. God moves in mysterious ways."
Kerr said she definitely was uncomfortable later in her round.
"The last four or five holes, I hit it beautifully until that point," Kerr said. "And it just started hurting so much more. ... I just sort of wasn't getting through the golf ball the last four or five holes."
After the opening round on Friday, Kerr recounted her ordeal last week.
"We were both thrown from the cart, and I just can't remember," Kerr said, before choking up as she recounted the harrowing moments of the freak golf cart accident at the LPGA's Volunteers of America Classic that sent her and her caddie to the hospital and nearly knocked the 20-time tour winner out of this week's U.S. Women's Open. "I remember landing, I remember the impact, and—I'm sorry. Maybe I shouldn't talk about it."
A few moments later, the 43-year-old composed herself, wiping away tears and shedding more light on the bizarre crash in the dark in which she swerved the cart she was driving toward the range to avoid an oncoming one, only to slam head-on into a cement post. Kerr can't remember if her body hit the steering wheel before she crumpled to the ground in agony. She does remember how bad it hurt.
Miraculously, it still wasn't enough to knock her out of this week's major, a championship she was playing for the 23rd straight year, the most of any active golfer. And despite it hurting "everywhere," Kerr still managed an even-par 71 on the Jackrabbit Course at Champions Golf Club and is tied for 24th after the first round.
That was quite a turnaround from just two days earlier.
"I walked and chipped and putted around Jackrabbit [on Tuesday] and then my caddie is like let's hit a 60-yard shot here and see what you got," Kerr said. "I skulled two of them over the green because it hurt so bad."
But Kerr didn't want to miss this one.
Kerr says she's slowly feeling better each day after suffering a golf cart accident last week in which she dislocated three ribs..
Robert Beck
How tough is she? Ask Canada's Brooke Henderson, who grew up playing hockey, a sport known for its players playing through injuries.
"That's pretty crazy. I didn't know that," Henderson said of Kerr's ribs. "Hockey players are pretty tough, but I don't see how I would ever be able to do that."
Kerr wasn't sure she could either.
"If you would've told me on Monday that I would be playing today I would have said you were crazy," she said.
That opinion didn't change much the following day. But she persisted, waking up at 4 a.m. every day this week to ice her body. She's undergone two cryotherapy sessions a day, while also receiving more treatment and regularly taking pain medication.
"Wednesday morning, I really didn't want to get out of bed because I was like, This is going to hurt so bad to hit drivers and play nine holes," she said. "It did, but I was able to do it.
"I'm pretty tough, but, yeah, it's the chest and the ribs. It moves around depending on where—the first four or five days I had such a sharp pain in my left chest and in the back I couldn't even hardly get out of bed."
And while it's been three years since Kerr has won a tournament anywhere, just being here this week is its own victory.
"I remember landing on my chest and it was awful," she said. "But I'm here, and I played, and I was tough today, and I feel like I'm going to keep getting better every day. God darn it, I'm going to do this."