U.S. Women's Amateur
Megan Schofill proves her grit in commanding U.S. Women's Amateur win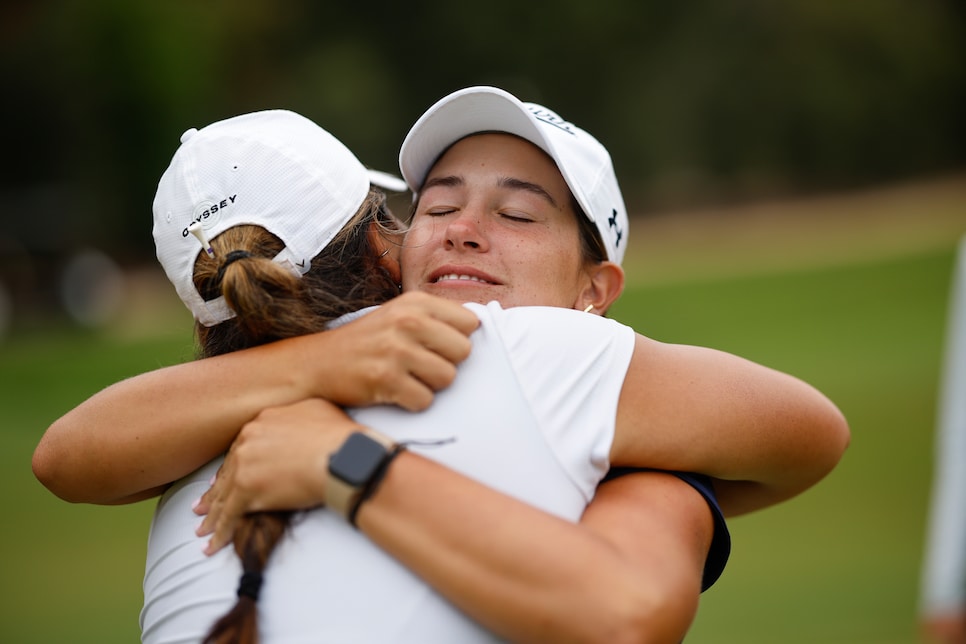 Megan Schofill (facing camera) hugs Latanna Stone after Schofill won their final match in the 2023 U.S. Women's Amateur.
James Gilbert
LOS ANGELES — When Auburn women's golf coach Melissa Luellen has a team issue to mull over or an opinion she needs from one of her players, she says she's got a go-to person in Megan Schofill. The 22-year-old, Luellen says, is smart, driven, thoughtful and walks the careful line between being confident and cocky. Luellen calls her a "mini-coach" and says she's told Schofill that if professional golf doesn't work out, she'd be the fantastic leader of a golf program one day.
Schofill wasn't so sure about that. "She's pretty tough," Luellen says. "She said she'd probably make the girls cry."
If Schofill didn't leave anybody crying in the 123rd U.S. Women's Amateur at Bel-Air Country Club this week, they certainly walked away with a new-found respect for her tenacity and talent. On Sunday, Schofill faced her childhood friend, LSU's Latanna Stone, in the 36-hole final on a gorgeous summer day in Southern California, and after going down on the fifth hole, Schofill birdied the seventh and eighth to take the lead for good.
Schofill, who made eight birdies on the day, including concessions, led 3 up after the morning 18, the highlight being making a 55-foot birdie bomb on the 16th hole. She got to 4 up on the eighth hole of the afternoon, and following one nervy, errant tee shot on the 14th that led to a lost hole, she recovered to close out the match on 15 when Stone's par putt lipped out. The 4-and-3 victory gave Schofill her first U.S. Women's Am title in her sixth try and the first by an Auburn golfer.
"I feel like I'm always a gritty match-play player," Schofill said. "I never get down on myself and I'm really persistent. Obviously, it improved a lot this week. I was able to beat some really good talent."
As Schofill went through the post-round USGA ceremonies and lifted her trophy for photographers on the 15th green, C.J. Easley watched quietly with little expression. He is Schofill's boyfriend of more than three years. They met at Auburn, with both playing golf there, and he transferred to Ole Miss last year. He is her caddie and confidant—Schofill contended she couldn't have won without him—and Easley said, "This is extremely, extremely, extremely cool. I can't put it into words honestly.
"She's one of the strongest people I've ever met. I just can't begin to tell you how strong she is day in and day out."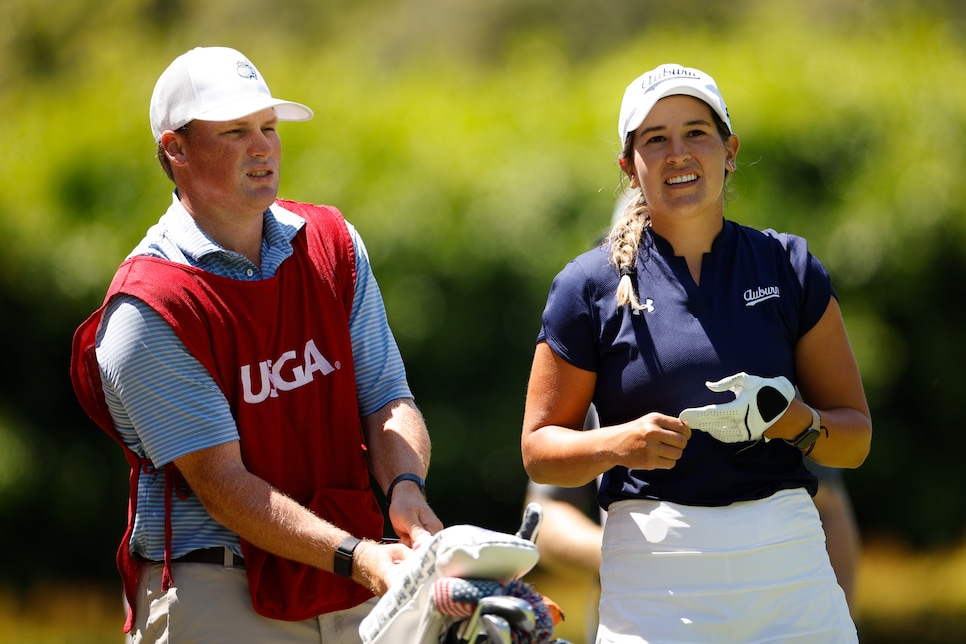 Megan Schofill and boyfriend and caddie C.J. Easley proved to be an excellent team at Bel-Air.
James Gilbert
The matchup in the final pitted two of the top women amateurs in the world—Schofield was ranked No. 21 going into this week and Stone No. 34—but even Stone acknowledged after their match that they consider themselves "underdogs" when compared to some of the top college players. Stone, 21, was likely better known to most golf fans because she contended late into the 2022 Augusta National Women's Amateur before losing to Anna Davis.
The two have very similar careers. Both will be fifth-year graduate students and athletes this upcoming school year, with Schofill owning three collegiate wins and Stone two. The women have known each other since they were kids, and it was a rather surreal experience for them to face off, in front of a national TV audience, on easily the biggest day of their golfing lives. And yet this might have been the most jovial Women's Am final ever played. Their game faces only seemed to appear when they prepared for a swing, because until the very last hole, Schofill and Stone chatted and laughed while walking the classic George C. Thomas course.
"I think sometimes it's hard, just because you want to beat them so bad," Schofill said. "I know Latanna felt the same way. But Latanna is such a great person. … I felt like after we hit our shots, we were just catching up, talking about our day, when she's going back to school ... "
Said Stone with the utmost sincerity, "For us to get this chance to show how we can play means a lot. It didn't turn out the way I wanted it to, but I am so happy for Megan."
Stone made an impressive run in getting to the final by beating in match play World No. 7 Rachel Kuehn, No. 10 Amari Avery and No. 25 Rachel Heck, all three teammates of Stone's on the victorious 2022 U.S. Curtis Cup team. In the Round of 16, Stone came from 4 down with six to play to beat former U.S. Girls' Junior champion Yana Wilson in 20 holes.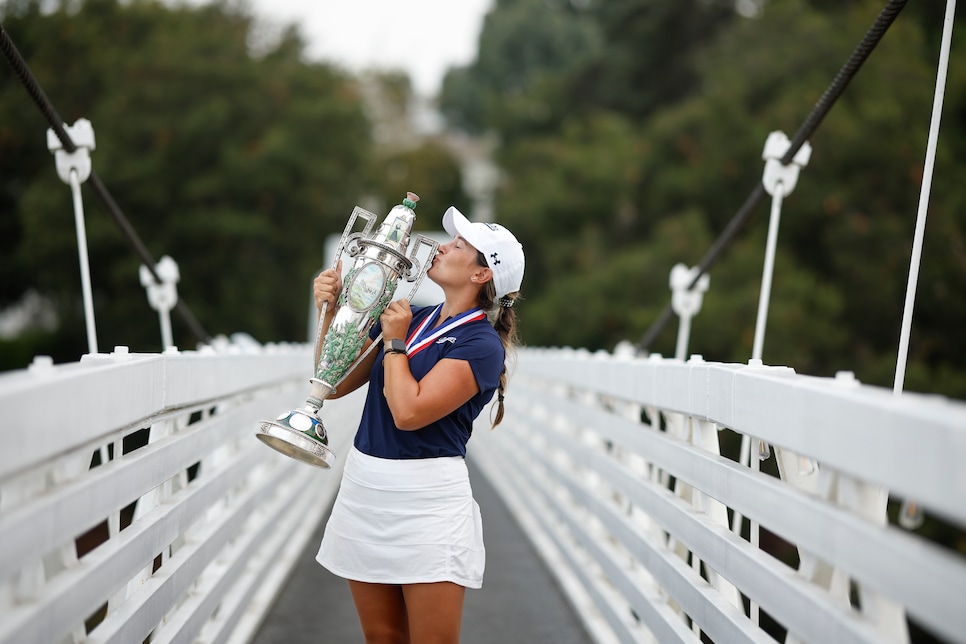 Megan Schofill kisses the Robert Cox Trophy on Bel-Air's iconic 10th hole bridge after winning the 2023 U.S. Women's Amateur.
James Gilbert
But Stone also strained a muscle in her right leg, and to endure 36 holes in the final over the rollercoaster hills of Bel-Air was a lot to ask. "This course is no joke," Stone said. "It's hilly and having a muscle strain is not ideal. I was trying going out there and walking really slow, but I was really struggling. I knew I had a loss of power in my swing and trying to get through the ball really hurt."
To hear Schofill tell it, her biggest struggles were emotional, and they came hours before she teed off. While laughing about it, she recounted that she was edgy in the hotel room Saturday night, miffed when the food that she and C.J. ordered was 20 minutes late. Normally a good sleeper, Schofill said it took her two hours to fall asleep, and then at 4 a.m., the alarm went off on C.J.'s Whoop device. He just about got slugged. "That was a fight," Schofill said, laughing. "I was like, I'm not going back to sleep now; I hope you know that's on you."
Finally, they'd eaten Chick-fil-A for breakfast every morning, but the chain is closed on Sundays. Not good, as Schofill is a fairly superstitious sort. She said she had to play only tees from her home club all week, and she and C.J. wore the same hats throughout.
A belief in the mojo runs deeper than that. Schofill's parents would have liked to be at Bel-Air, but they all decided it would be bad luck. Even Easley's parents wanted to come, but that was shot down. Luellen and her husband were "allowed" to follow her on-site, but when coach and player shared a tearful hug afterward, Luellen exclaimed, "I didn't jinx it! If you had gone bogey-bogey, I was leaving."
She was referring to the rather nervy final half hour. Holding a 4-up lead at the time, Schofill's worst shot of the day came on the 32rd hole, the par-5 15th. She lashed her drive far to the right, and after hitting a provisional found her first ball laying 30 yards up the hill on some clumpy wood chips. She could only punch down to the fairway and eventually lost the hole. But Schofill, who was 3 up, shrugged it off.
"Honestly, that shot was so bad that it was, like 'OK, that's a fluke,'" Schofill said with a smile. "… We just throw that out of the brain and move on."
And so she did. Schofill and Stone both hammered drives into the middle of the fairway at the long 15th, and then Schofill hit one of her best shots of the tournament, lacing a 6-iron approach from 165 yards that ended up just six feet below the hole. With the pressure on, Stone's approach came up short and right, and after she chipped on, Schofill missed her putt, but then so did Stone from five feet. The match was over.
The victory was one more affimation in Schofill's deep self belief.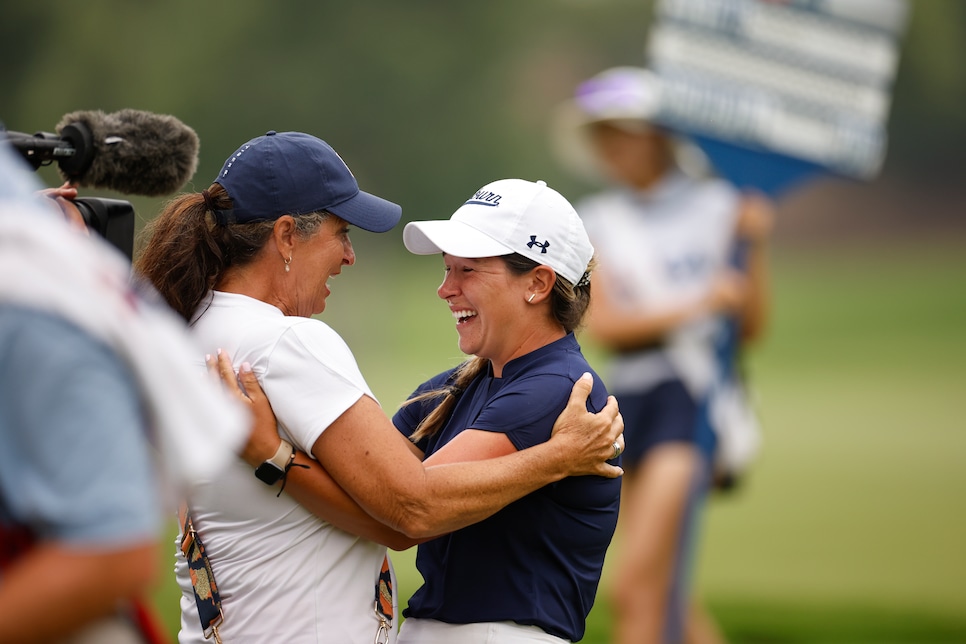 After her victory, Megan Schofill hugs Auburn University coach Melissa Luellen.
James Gilbert
Luellen said that when Schofill came to Auburn as a freshman, it was her stated goal to break every school record. Just about the only thing left, the coach said, is to get the all-time best season scoring average, which she'll gun for in the upcoming season. Already, Schofill has earned a huge honor as Auburn's female athlete of the year, among all sports, for 2022-23.
"The impact she's had on the program is amazing," Luellen said. "… She has a really strong belief in herself. Nobody likes to be cocky, and she's never going to be the one to pump her fist and act out. She's always going to do it with class."
It was classy, all right, with Schofill celebrating simply with tears and a smile.