FIRE PIT COLLECTIVE
Moms on the Tee: Brenda Kuehn and Ulrika Migliaccio play the U.S. Senior Women's Amateur
Editor's Note: This article first appeared in Fire Pit Collective, a Golf Digest content partner.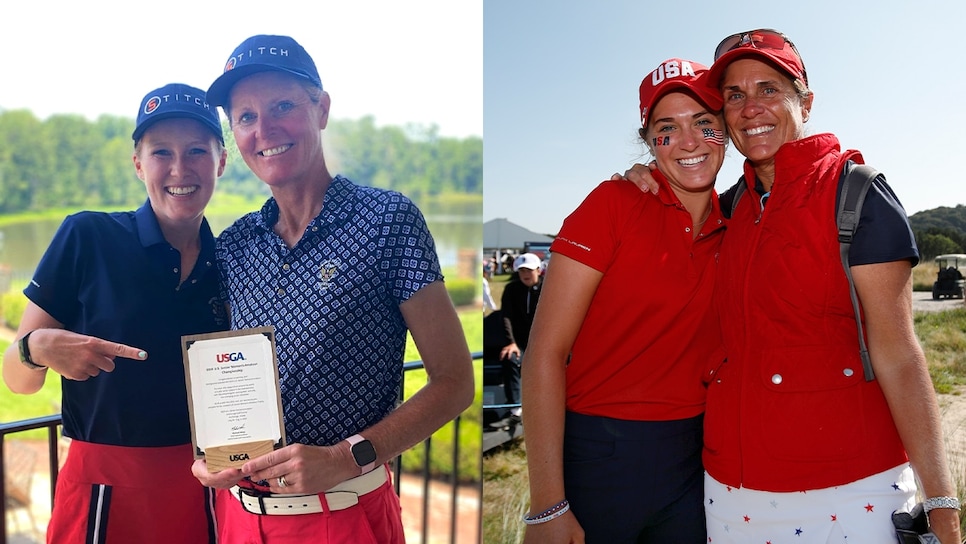 Brenda Kuehn has played in her fair share of USGA championships (45, to be exact). But if you had asked her earlier this year if the U.S. Senior Women's Amateur was on her schedule, she would have answered with a resounding no. An eavesdropping Sarah Ingram, this year's U.S. Curtis Cup captain, was crafting a different itinerary for her friend.
Amid prodding from Kuehn's daughter, Rachel, Ingram interjected: "Tell her she can come with me!" Decades after the start of an acclaimed amateur career, Ingram is getting reacquainted with the game, and after another successful Curtis Cup captaincy, she was eager to get the competitive juices flowing again. After much consideration, Kuehn fell to her friend's persuasion. And that's how she wound up at the same U.S. Senior Women's Amateur qualifying site as Ingram.
"Listen to me," Kuehn remembers telling Ingram. "You brought me into this mess. You and I better be qualified for this thing together." Kuehn posted a 75 to claim medalist honors at the Vanderbilt Legends Club qualifier in Franklin, Tenn., while Ingram took the second spot.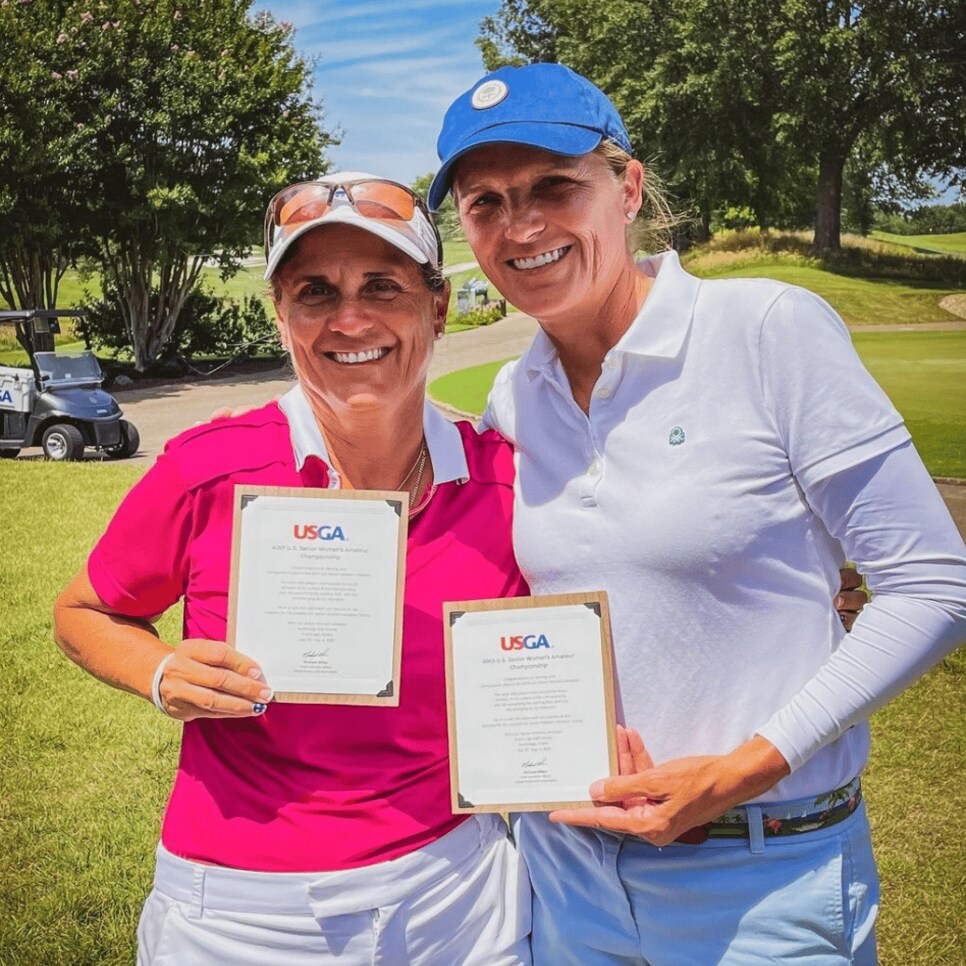 On that same day, another U.S. Curtis Cup mom was making her first competitive start since her college days at Arizona. Ulrika Migliaccio, who goes by Ricki, and daughter Emilia traded places for the day at The Woodcreek Club qualifier in Elgin, S.C. Emilia fulfilled her duties well, diligently taking notes and offering the kind of support her mother usually does.
Ricki thrived. She hit her tee shots on the first two par-3s to 1 and 4 feet, setting up kick-in birdies. Precise ball-striking is what Emilia admires most about her mother's game.
"She can hit some darts," Emilia says. "But now I know how all the parents feel after watching her." Ricki punched her ticket to the Senior Women's Amateur and became the third member of the girls' trip to Anchorage (Alaska) Golf Club.
It's exciting enough that the moms of two talented daughters and their Curtis Cup captain will play for their own prestigious title, but the story gets richer. For the first time, the USGA will hold a championship in Alaska. The event started on Saturday, and match play begins on Monday. Ingram and Kuehne are tied for 8th after opening with matching 4-over 74s. Migliaccio is tied for 78th after shooting 84. The top 64 advance to match play.
Earlier this summer, Ingram played ringleader for Brenda and Ricki's daughters, whose resumes have a lot of crossover: first-team All-Americans at Wake Forest, members of the victorious 2021 and '22 Curtis Cup teams, North & South Amateur champions. The careers of their mothers couldn't be more divergent.
Ricki, a native of Sweden, grew up playing golf during her mother's summer breaks from teaching. A national team stalwart, she used a powerful swing to land a scholarship to Arizona, following in the footsteps of fellow Swede Annika Sorenstam. After she captured a Pac-10 title and was the runner-up in the 1992 NCAA Championship, Ricki appeared headed to a future in professional golf. But she changed her mind as graduation neared, opting for a career in finance.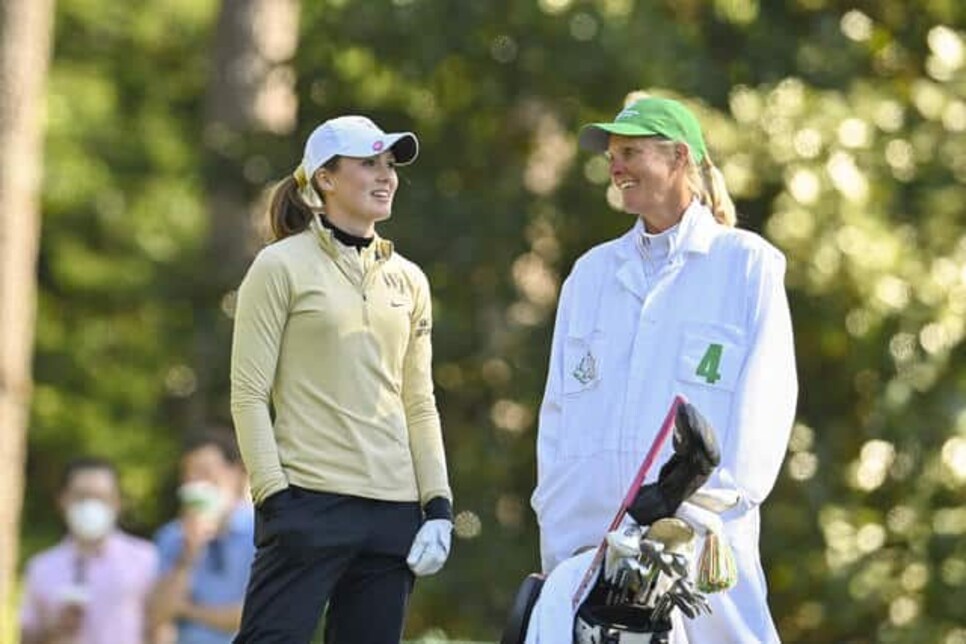 She didn't stray far from the game, however. For years, she has supported Emilia's ambitions while serving as her mentor in golf and life. Her recent work as a volunteer assistant for the N.C. State women's team also reflects her passion for the game. As her 50th birthday approached in June, she decided it was time to get back in the arena.
"I don't have the same game I had," she says. "But I know I have 14 clubs in the bag. I just try to play smart and do nothing more."
Brenda is playing in her third U.S. Senior Women's Amateur. She was born in the Dominican Republic, and her father, Jack Corrie, was a major force in her golf development. At a time when the country had just two courses, Corrie's many contributions include founding the country's federation. Brenda calls him the Father of Golf.
"My favorite memory in golf was walking nine holes, about 5 o'clock in the afternoon with my dad and my sister," Brenda says. "Those moments of talking and sharing about boys and business, and everything was great. I try to recreate that with my kids."
Brenda emerged as one of the country's top talents and took her game to Wake Forest, where she won two titles and medals as Wake Forest became the 1986 ACC champions.
A self-described emotional player, she insists passion is in her blood. "Have you ever seen a Latin person that's not emotional?" she says with a chuckle. "No. We all have that little fire in us."
That fueled a stellar career. "I was very good with my irons," she says. "I always kept my driver in play. I had a good chance at birdie looks." She spent two years on the pro circuit before realizing how much she enjoyed competing when money wasn't a factor. She regained her amateur status and began a new chapter in her career. After two Curtis Cups, nine U.S. Women's Opens and a runner-up at the 1995 Mid-Amateur, she slowed down when Rachel was born in 2001. But she never lost her competitive edge.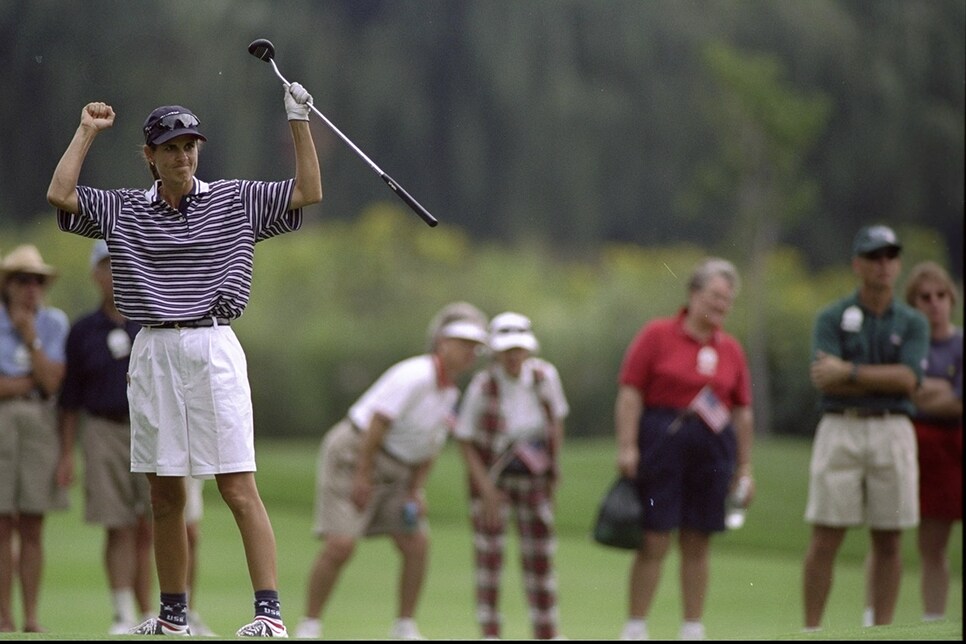 "It's just so impressive to me that she's been able to sustain her career for so long," Rachel says. "She's one of the fiercest and toughest competitors I know." As the daughters hold down the fort at home and prepare for the Women's U.S. Amateur, the spotlight will be squarely on the mothers (and Ingram) this week. Golf is the priority, but that didn't stop Brenda from coordinating an itinerary for the group's first visit to Alaska.
"We can only do day trips, so I'm looking forward to that," Brenda says. "I'm not leaving without seeing a bear. That's my goal."
Birdies all around as well.