Women's Mailbag
How do you recover after a bad hole? How do clothing companies decide what styles to produce? Your questions, answered
*All products featured on Golf Digest are independently selected by our editors. However, when you buy something through our retail links, we may earn an affiliate commission.*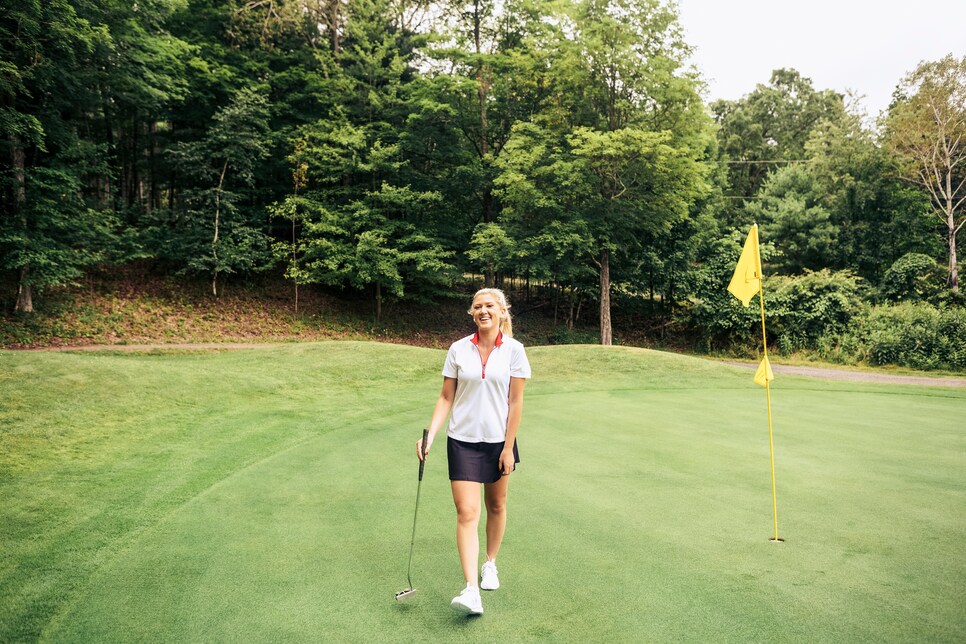 Welcome back to our women's mailbag, where we answer questions from our female readership. This week, we're going to talk about the mental game, as well as golf style. If you have a question you would like to have answered, you can submit it here. This is a female-focused piece, but guys, if you have a question, we're not going to ignore you. Here are this week's topics:
If you hit a bad shot or two, how do you mentally get ready for the next ones and not let it stick with the rest of the round? – Gail, Tampa, Fla.
This is such a great question because it applies to just about every golfer on the planet. It doesn't matter if you're brand new to the game or if you're on tour—no matter how good you are, you're going to hit bad shots. How you deal with it is where things get interesting.
For guidance on how to make sure one bad shot doesn't derail your entire round, I reached out to golf performance gurus Pia Nilsson and Lynn Marriott, founders of Vision54. They work with a lot of players on the LPGA Tour. It's never a surprise when their names come up during a major champion's post-win press conference.
"The short answer is to learn to have productive way to react to golf shots. We call it the skill of the Memory Box. It's about learning to be pleased with great/good/good enough shots. And be objective/neutral to not-so-good shots," Nilsson explained. "And then close the door and move on. Objective means, for example, 'Next time I will finish in balance'. 'I didn't commit to my club choice and I will focus on that more.'
"For every shot you hit, you want to manage what your brain stores as a memory," Nilsson says. "Be positive/happy to shots and processes that are great/good/good enough. Be objective/neutral to shots you did not like. Emotions make memories stick in your brain, like velcro. Your memories determine how confident you feel, or not feel, for future similar shots."
This answer serves as a reminder that you have control over your reactions. There's a lot that you don't have control over when you're on the golf course; remember that you do have control over how you react to bad shots. You'll be surprised how liberating the objective/neutral response can feel. If you're interested in learning more about the mental game and how to think your way around the golf course, Nilsson and Lynn have written books that go into all of this in much more detail. You can check them out here:
"Why do they make women's golf polos without sleeves? We want sleeves!" – Madi, Richmond, KY
OK, this question made me laugh. There are a lot of companies who make great short-sleeve golf shirts for women—I've put a few favorites at the bottom of this post if you want to check them out. Comedy aside, this question does bring up a few interesting points: Why are sleeveless golf shirts so popular? And, how do golf apparel companies decide what to make in a given year? Michelle Mulligan, senior product manager of women's apparel, adidas Golf, was able to explain.

"We always go into a new season with a fresh perspective, taking key learnings from the prior season and seeing what's trending among women when it comes to style," Mulligan said, via email. "We definitely talk to our tour players, but we also do focus groups to get an understanding about what styles are currently resonating the most with everyday golfers, as well as learn about what they would like to see more of in the future. It's a balancing act to ensure we are providing all women with apparel they will feel comfortable and confident wearing, but also stylish as well."
As to why there are so many sleeveless golf shirt options right now, the answer is pretty simple: people like them.
"They are comfortable to wear in hot weather, they provide a better range of motion and they are likely what women are used to when they are exercising, so there's an athletic feel that they provide," Mulligan said. "We're also seeing a trend where players are wearing a base layer underneath to provide UV protection from the sun, while still getting the benefits of wearing a sleeveless shirt."
If sleeveless golf shirts aren't your thing, and you're having trouble finding short sleeve golf shirts, here are a few options check out: