U.S. Senior Open
U.S. Senior Open gallery in Wisconsin has choice to make: root for home-state guys or history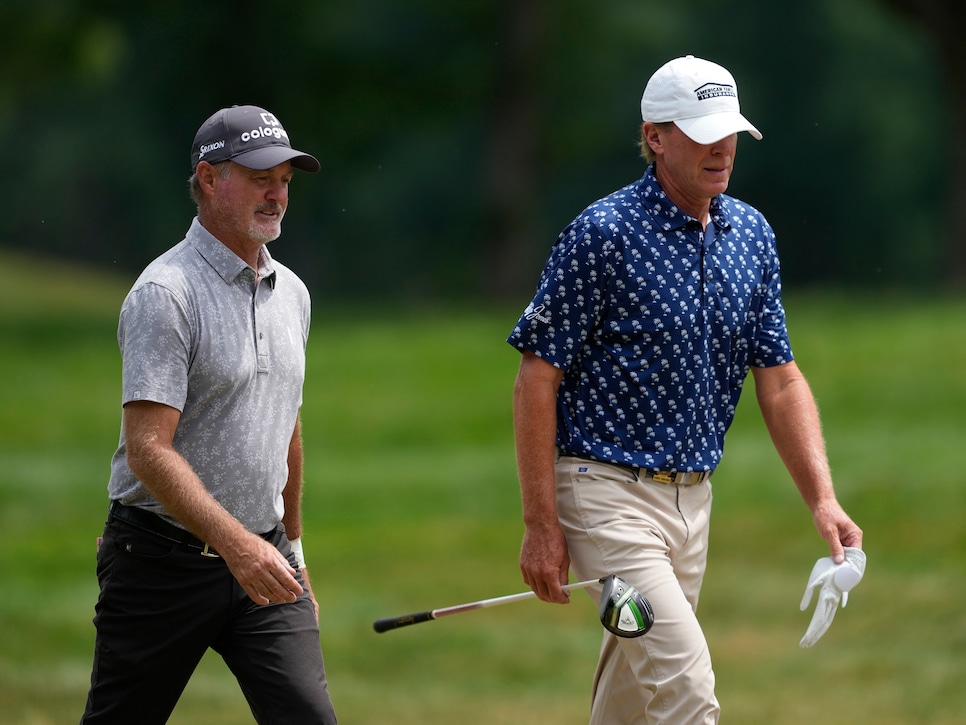 Jerry Kelly and Steve Stricker walk together during the third round of the U.S. Senior Open.
Patrick McDermott
Bernhard Langer played for Europe in the spotlight and pressure of 10 Ryder Cups and captained another one—the 2004 victory at Oakland Hills. For those who remember the 1991 "War by the Shore," the German knows what it's like to face a hostile home crowd.
Feeling in your gut that fans aren't on your side doesn't just happen in team play. Langer also recalls dueling Fred Couples in the 2010 U.S. Senior Open at Sahalee outside of his foe's hometown of Seattle.
"If there were 30,000 people, there were every one of them cheering for Fred," Langer recalled, "and the only one for me was my caddie, who was my son at the time.
"It was like," Langer added, "a Ryder Cup match in America."
On late Saturday afternoon at SentryWorld in Wisconsin, Langer was asked to consider the subject for this very good reason: On Sunday, the 65-year-old phenom, who with a third-round 68 occupied the top spot at six under in the 43rd U.S. Senior Open, will take a lead of two shots over Jerry Kelly and three over Steve Stricker.
For anyone who doesn't pay attention to pro golf, those two 56-year-olds are the Bart Starr and Aaron Rodgers of Wisconsin golf, and if the third round was any indication, with Stricker and Kelly playing together among rousing cheers from Cheesheads all day, Langer will need to maintain his usual cool.
Speaking more directly about Kelly, with whom he'll be paired for the final round, Langer said, "Hopefully, the crowd will be somewhat fair and still appreciate good golf shots. I understand; they want their hometown boy to win. I've been there myself. It's going to be an interesting day."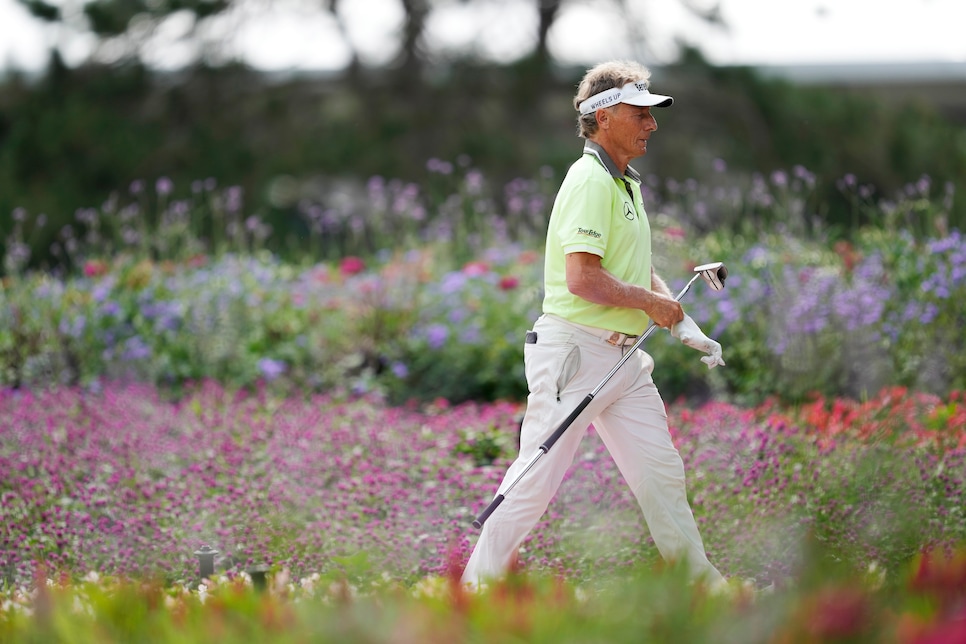 The gallery will have to choose between backing a home state win or rooting for history. Knowing the affability of Wisconsinites, they'll probably do both.
Langer sits on 45 PGA Tour Champions career victories, tied with Hale Irwin at the top. The German's last win came in the February's Chubb Classic, and it figured to be only a matter of time before he set the record. But Langer has had nine starts since then and posted only two top-10s. In the season's first two four-round majors, he couldn't get inside the top 15.
And early in the week at SentryWorld, Langer played down his chances because of the length of the course. But after opening with a 71, he has shot back-to-back 68s to hold the two-shot advantage over the 56-year-old Kelly (68) and three-shot edge on Stricker (68). Former regular tour major champions Retief Goosen (71) and Y.E. Yang (69) are five back.
Langer insisted that Win No. 46 is "not on my mind at all. Hopefully, my mind will not wander anywhere but on the next shot. That's the secret to playing the best golf."
Kelly and Stricker both felt the love on Saturday playing together. And they did well in shooting 68s, though they didn't gain any ground on the senior legend they're chasing.
"They gave us a lot of energy right there. What a great reception," Kelly said. "What a great show-up for all the people from Wisconsin and all over. They've been nothing but fantastic."
Stricker, who captained the U.S. Ryder Cup team to a dominating win in 2021 at Wisconsin's Whistling Straits, has 15 senior wins, including the 2019 U.S. Senior Open, and two of his three victories this season are in majors (Regions Tradition and Senior PGA Championship). Kelly has 11 Champions wins, with two majors victories, both in the Senior Players Championship.
Langer has won 11 senior majors, but for him, it's been a bit of a dry spell, with the last one coming in the 2019 Senior Open Championship.