U.S. Senior Amateur
In wake of Maui fires, it's a surreal time in U.S. Senior Amateur for former NFL punter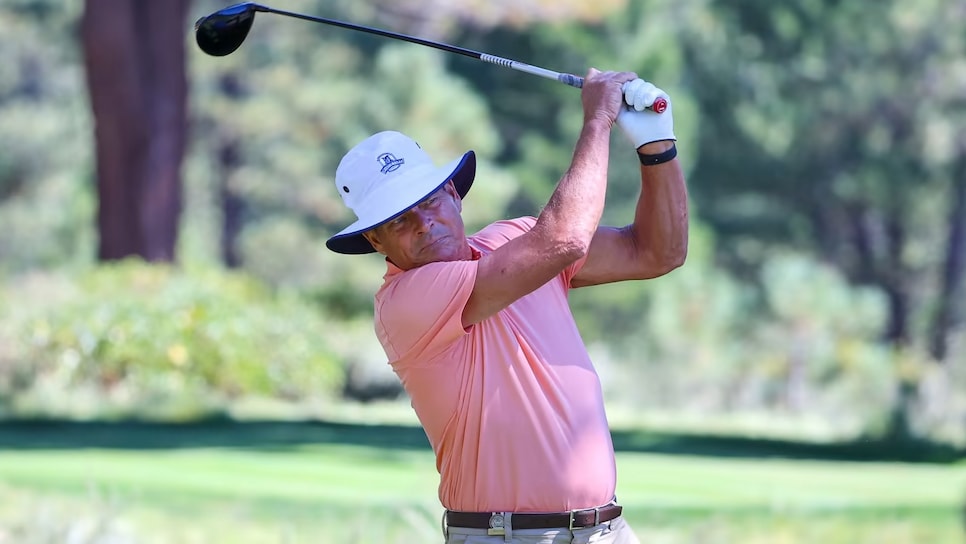 Rohn Stark is playing in his first U.S. Senior Open. (Jeff Haynes/USGA)
Rohn Stark, a former All-Pro NFL punter and obsessed golfer who is making his U.S. Senior Amateur debut this week, is the designated organizer of "Da Game"—a decades-old weekly money match among his many golfing friends on Maui. Lucky are they to regularly play at the island's two most vaunted tracks, Kapalua and Kaanapali. Stark, who has lived on Maui for 25 years, figures he's got at least 400 names in his contacts list, many of them yearly visitors from the mainland who have loved being a part of Da Game.
With those connections, it's no surprise that Stark's phone has been blowing up with concerned messages in the aftermath of the wildfires in Maui that killed more than 100 people and burned down the historic town of Lahaina. "It's been overwhelming," Stark said on the phone after arriving in Truckee, Calif., where the 64-year-old began competition Saturday in the 68th Senior Am at Martis Camp Club near Lake Tahoe. Stark admitted that he had to be pragmatic in creating a cut-and-paste response because he simply couldn't reply personally to everyone. "It's a little overwhelming," he said.
"First of all, it's absolutely devastating," Stark continued. "I play with a lot of local guys who have lost their homes, who have lost relatives. As bad as it looks in pictures, those don't do justice to the devastation. You have to drive through it to see it first-hand."
The home of Stark and his wife of 45 years, Ann, is five miles north of Lahaina at Kapalua, site of the PGA Tour's annual season-opening Sentry Tournament of Champions. But his daughter, Taryn Stark Wyant, her husband Josh, and two kids live on a hill above Lahaina. Rohn Stark said a fire started near their house early on Aug. 8, but it seemed to be fully extinguished, and so the family headed out for the day. But in the following hours, the fire reignited below the Wyants' home and, fanned by heavy winds, raced down to Lahaina. By then, the Wyants couldn't get back home because police put up a road blockade at Kaanapali.
Their home survived while more than 3,000 buildings around Lahaina were damaged or destroyed. Thousands of people initially were housed in shelters, and Stark, a real estate broker who offers luxury homes and vacation rentals, said he was able to work with some of his owners to provide places for fire refugees to stay. "We feel so lucky to be able to help the community," Stark said.
The tragedy has made Stark's potential once-in-a-lifetime opportunity in the U.S. Senior Amateur even more surreal. He was the last man into the 156-player field as the first alternate out of the Hawaii qualifier, where he shot 74. Years ago, Stark turned pro so that he could play in a handful of Hawaiian pro events, but he applied this year to return to amateur status, and that was approved before the Senior Am qualifier.
"It gives me more tournaments to play in," Stark said. "I like to compete. It's nice to stand over the ball and have it worth something more than 30 to 40 dollars."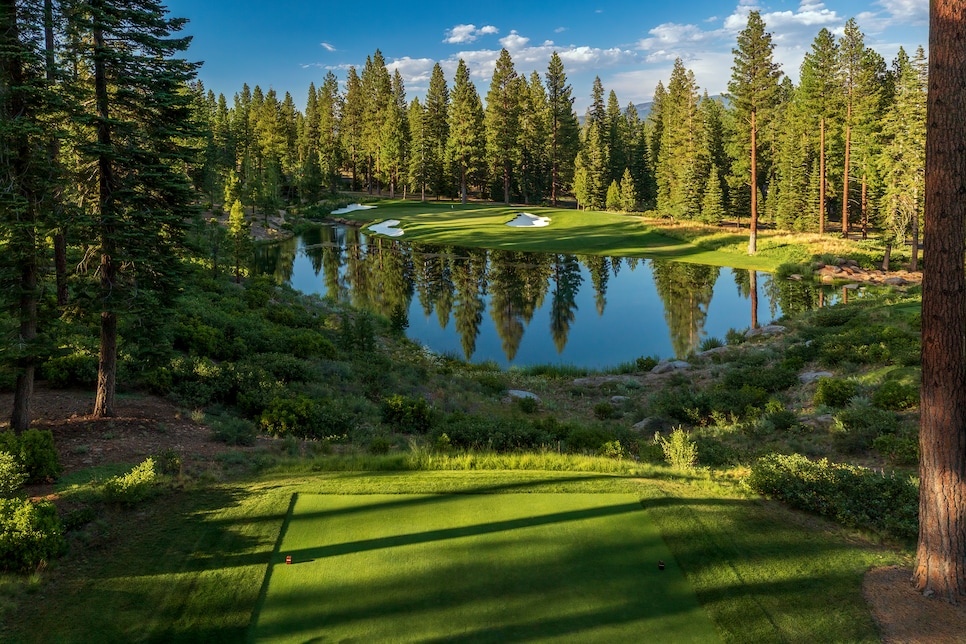 Martis Camp Club is the site of the U.S. Senior Amateur. (Kirk H. Owens/USGA)
Kirk H. Owens
Stark said he had no expectations when he showed up for the qualifier—his first amateur tournament in decades.
"I've been a preparer my whole life. I was overprepared in my football career," he said. "When I went to qualify, I just wanted to have fun and play good, and sure enough here I am. For this, I'd love to hit the ball where I'm looking at. I'd would really love to make it to the match play. But only a third of the field makes it, and it's a very difficult course."
Indeed, only 64 players will advance to match play after two stroke-play rounds at Martis Camp, and Stark was already out of contending for that after shooting 87 in Saturday's opening round on the mountainous Tom Fazio design where Scottie Scheffler beat Davis Riley to win the 2013 U.S. Junior Amateur. "Martis Camp is over the top. It's one of the most spectacular places I've ever seen," Stark said.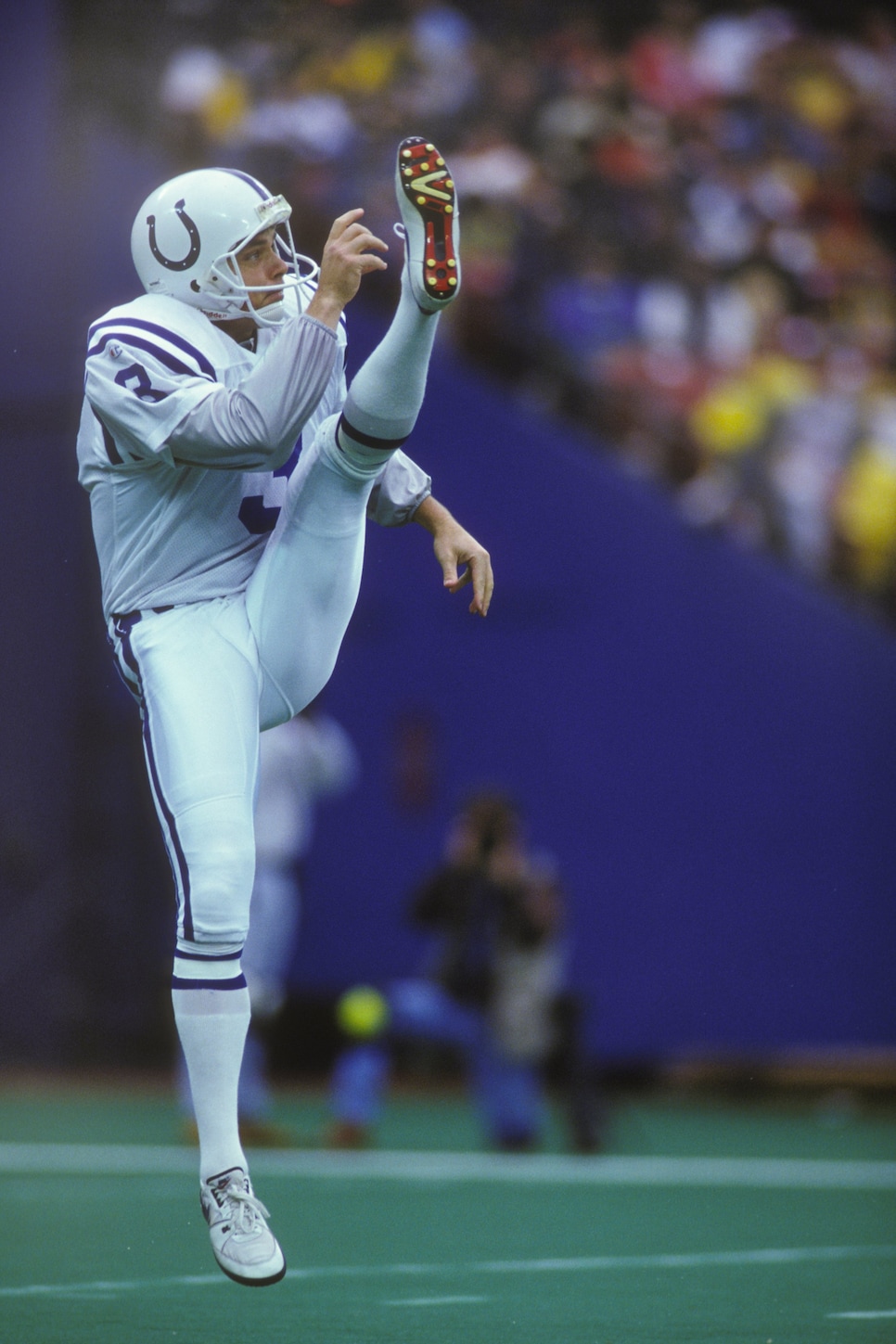 The left-footed Rohn Stark kicks during a 1992 game against the Pittsburgh Steelers.
Mitchell Layton
No one could ever say Stark is a casual golfer, considering he and his Maui friends play about four times a week. "It has to be a bit of an addiction," he said. "That's where you find peace and solitude. We're hunter gatherers. We hunt those birdies, we gather them and see how we compare to everyone."
Stark took up the game soon after college at Florida State, where he was a decathlete and set many of the Seminoles' punting records ahead of being drafted by the then-Baltimore Colts in 1982. Stark would play 16 seasons in the NFL, make four Pro Bowls and appear with the Pittsburgh Steelers in Super Bowl XXX.
He also never stopped honing his golf game. He has tales of being at Colts training camp, where he and kicker Dean Biasucci would do their work in morning practice, play 18 holes, sneak in a nap, and be back on the field in the afternoon. In the offseason, Stark said he'd work out from 9 to noon at the Colts facility, grab lunch and play 36 holes. "I had a lot of energy back then," he said with a laugh.
Stark will need that kind of vigor in the Senior Am if he is to advance through the most grueling week in over-50 amateur golf. He believes the mental challenge is greater than the demands on the body.
"Being an athlete in golf really helps," Stark said, "but I say this and sometimes people don't like it. Obviously, golf is a sport, but it's more of a discipline. It's about controlling your movements, controlling your emotions. The more excited you get, the worse you play. That's totally different from football. I'm almost glad my expectations aren't over the top this week."