Ryder Cup
Steve Stricker is all in on getting Tiger Woods involved with 2021 U.S. Ryder Cup team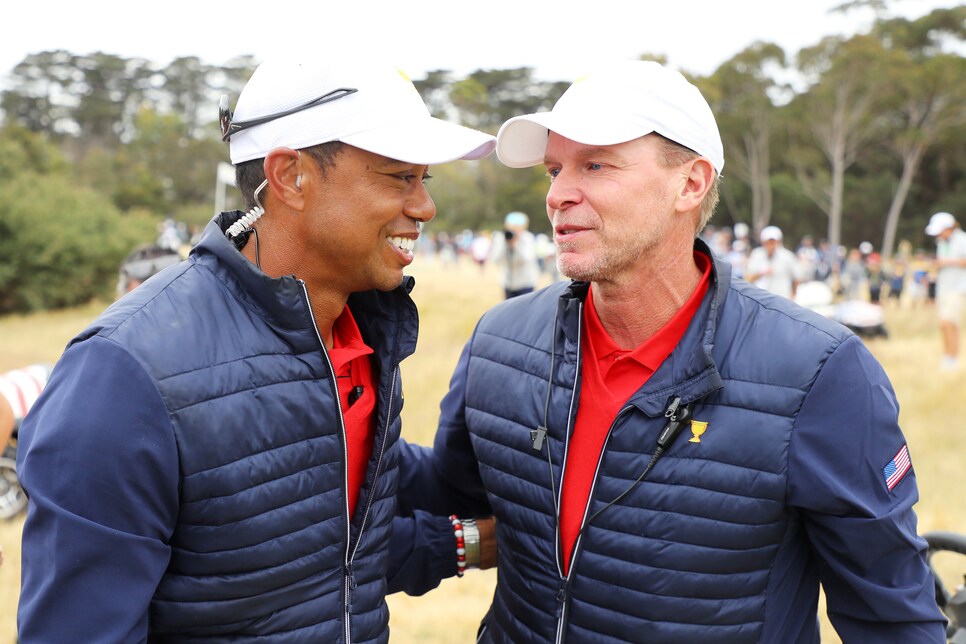 Tiger Woods and Steve Stricker celebrate the U.S. win at the 2019 Presidents Cup.
Warren Little
KIAWAH ISLAND, S.C. — Barring a miracle of all miracles, Tiger Woods will not be playing in the Ryder Cup, which begins Sept. 24. American captain Steve Stricker, however, hopes the 15-time major champion can take part in the action at Whistling Straits in some form or another.
"I've talked to him," Stricker said. "I don't know if we are there yet to commit to him being there. He's still got a lot going on. His spirit's great, though, as of late. We were on a Zoom call with him just this last week and he seems like he's in a better place. Like I said, though, he's still got some ways to go.
"But yeah, I'd love to have him there. Who wouldn't, right? The guys really respect him, and he did a great job obviously as a captain, but he was also an assistant captain of mine in 2017 at the Presidents Cup, and he was unbelievable. He would do anything for you, and he's totally, totally vested in the situation and the process. It's almost to the point that he's on it early and so much, it's like, Dude, we've still got months to go."
Woods suffered traumatic injuries to his right leg in a single-car accident outside Los Angeles on Feb. 23. He underwent emergency surgery at Harbor-UCLA Medical Center, follow-up procedures at Cedars Sinai and has since returned to his South Florida home to continue his rehab.
Stricker said Woods offered his knowledge up as a resource, whether he will be physically able to attend or not.
"That shows his level of commitment to me and the team, and his desire to be there if he can be."
As Stricker referenced, Woods served as player-captain—and won all three of his matches—for the victorious American side at the 2019 Presidents Cup at Royal Melbourne. The Ryder Cup, however, has proven something of Kyrptonite, the ultra-rare big tournament Woods has not conquered. He has played in the match eight times but has a losing record (13-21-3) and has been a part of just one winning U.S. team.
The 43rd Ryder Cup was originally scheduled for Sept. 24-26, 2020, but was postponed a full year due to the COVID-19 pandemic. On Tuesday, officials from the PGA of America said they expect a "full fan experience" for the rescheduled matches.