U.S. Open
U.S. Open 2023: Here's why it might look a little 'quiet' at LACC this week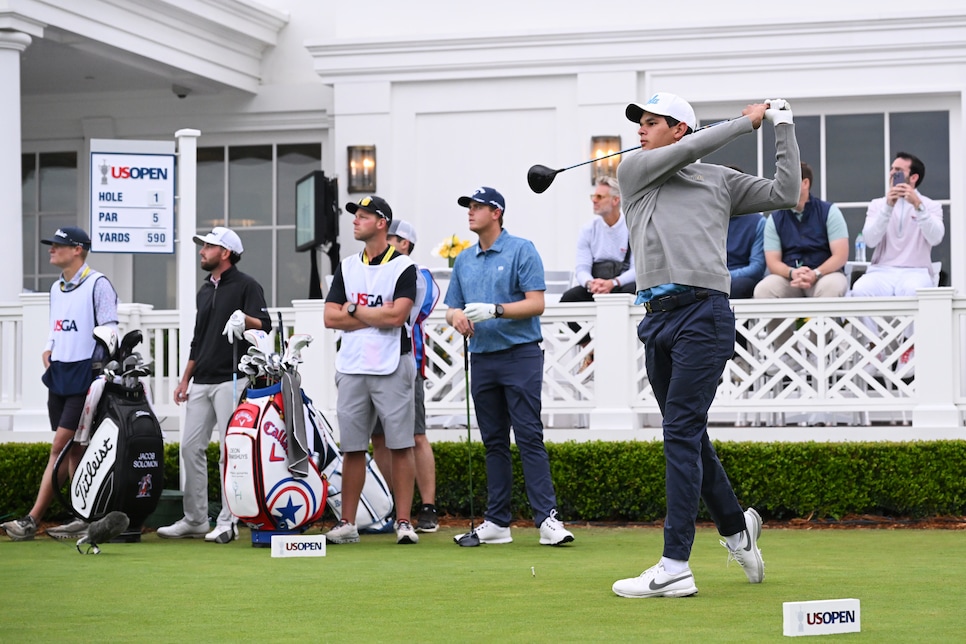 Given the fact this is the first U.S. Open being held in the Los Angeles area in 75 years, you'd think the first tee on Thursday would be packed with local golf fans itching to witness the start of a major in their hometown. Yet on Thursday at LACC, the scene at the first and 10th tees made it seem like this was a COVID U.S. Open.
There are a number of reasons for this, the first being the obvious one—L.A. people aren't exactly early risers, hence why there were only a handful of folks watching the opening tee shot at 6:45 a.m. PT. There's also the traffic factor. Even if you wanted to arrive somewhere early in L.A., you'd still be late.
The main factor, though, is "capacity limitations" cited by the USGA, which means ticket sales were limited for this year's U.S. Open. The reported number of tickets sold per day is 22,000, and only 8,000 of those are general admission tickets. The other 14,000 are suite, skybox and other private-club type tickets. Add in media, broadcast, player support, etc., and the USGA expects between 28,000-30,000 on property each round.
This, of course, meant the tickets would be in high demand. They originally went on sale on Cyber Monday last Novemeber, with general admission tickets starting at $125 for the first and second rounds and going up to $300 for the weekend. No weekly badges were made available, and fans were limited to only two tickets per day.
The location of the club, and the fact that LACC doesn't have the infrastructure required to host the masses, made it so the USGA had to impose these limitations. As one USGA spokesperson said, the routing of LACC's North Course makes it very difficult to move fans around. There are certain spots on the course where, if 5,000 people wanted to walk out to a hole, the only way for them to get back would be to reverse course and walk back the same way.
It's not an unprecedented move, either. In 2013, similar limitations were enforced at Merion, which was believed to be too small to host a U.S. Open. That was clearly not the case, as the USGA plans to return to Ardmore, Pa., for the 2030 and 2050 U.S. Opens. They've also already announced that the event will be back at LACC's North Course in 2039.
It should be noted that the USGA's goal was to sell some extra tickets this week, and folks can still find some on the secondary marketplace. But if it doesn't look and feel as loud as U.S. Opens past, now you know why.