Rosé all day
U.S. Open 2023: Justin Thomas and Max Homa give 'terrible' rosé-inspired LACC update, this is golf's broadcasting future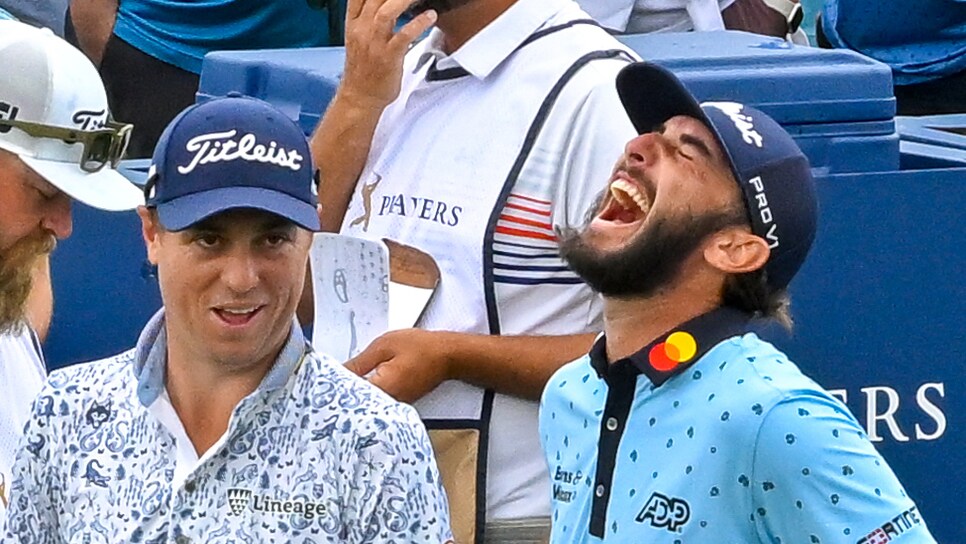 Golf Twitter hasn't been thrilled with the U.S. Open final-round coverage from NBC, so it was a boon for everyone when Justin Thomas and Max Homa decided to take the live updates into their own hands. What we ultimately learned is that being buzzed doesn't always lead to the best content.
It all started when JT asked Twitter if he and Homa should give their takes regarding the U.S. Open as Wyndham Clark and Rory McIlroy fought down the stretch. The answer to that was a resounding YES.
Not only did the fans want the two pros to follow through, but the PGA Tour's account let the duo know that the DMs were open and its password was on the table.
CBS, NBC and Shooter McGavin chimed in as well. Because … of course.
Despite being a bit underwhelming, we did get to see the rosé-drinking pair give some takes on what could happen down the stretch. It quickly turned to trash-talk, as is often the case when alcohol and competition are involved.
It starts with Homa giving the patented "oh, hi there" look, and gets sillier and sillier from the get-go. JT starts the back-and-forth by asking who's going to win and how he and Homa would fare if they were playing LACC on Sunday.
"Thank you for the microphone," Homa says after a JT hand-mic prompt. "Wyndham is going to win at exactly 10-under par. And I would've [shot] three or four over for myself. Four to five over for Justin. I'd beat him by one."
After JT calls Homa's analysis "pretty terrible," Homa changes his tune and says that Thomas would've shot nine or 10 over. "So basically what I shot on Friday," Thomas replies with a chuckle (and perhaps a bit of pain).
The two missed the cut but still found a way to be heard from on Sunday at the U.S. Open. That's what the greats do. They always find a way.