U.S. Open
U.S. Open 2023: Our 8 favorite groupings at LACC, ranked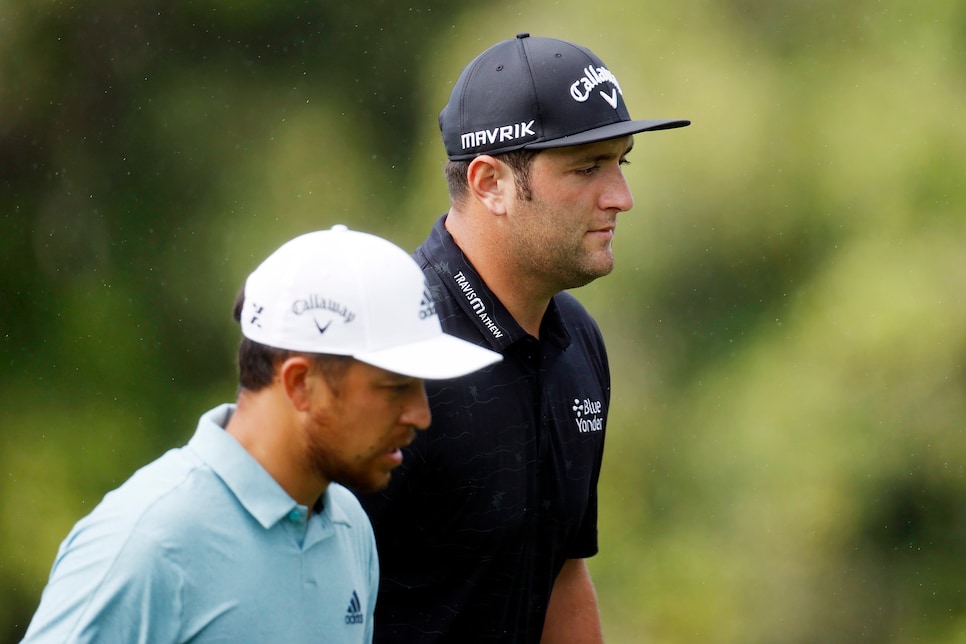 On a normal week, the release of pairings and tee times is rarely cause for dissection. On a major championship week, it's a drop-everything-your-doing-and-grab-your-reading-glasses-if-you-need-them type of announcement.
Monday's tee times and pairings unveiling for this year's U.S. Open at LACC didn't ruffle feathers quite like the 2014 announcement did, but a number of threesomes certainly jumped off the page and should have golf fans glued to their screens in offices across America on Thursday and Friday. Below are our eight favorites, ranked from "Nice, I'll check in on them periodically" to "setting multiple alarms so I don't miss a shot."
8. Cam Smith, Sam Bennett, Matt Fitzpatrick
Thursday, 4:32 p.m. / Friday, 11:02 a.m.
The reigning Open champion who bolted to LIV, the reigning U.S. Amateur winner who just turned pro, and the defending U.S. Open champion? Sign us up. Things to watch for: 1. Can Smith, who has had a so-so year on the LIV tour, remind everyone that he was once the No. 2-ranked player on the planet (he's currently ninth)? 2. Can Bennett make some more major noise, this time as a pro (He's two-for-two in cuts made in majors as an amateur)? 3. Can Fitzpatrick pull off the unthinkable and go back-to-back, something only eight other men have done in golf history (Brooks Koepka was the last)? We'll find out starting Thursday evening in primetime here on the East Coast. Popcorn: ready.
7. Justin Rose, Rickie Fowler, Jason Day
Thursday, 11:02 a.m. / Friday, 4:32 p.m.
If the year were 2015, this pairing might rank first or second on this list. But the beauty of golf is that seven or eight years after all three of these guys' so-called "primes," they're still out here grinding away and all three of them are enjoying resurgences. Rose, who failed to register a victory and posted just two top-10s last season, already won the AT&T Pebble Beach Pro-Am in February and has made more than $2.7 million in a little over seven months than he did all of last year. Fowler, who was so lost with his game that he missed both the Masters and U.S. Open in each of the last two seasons, is back inside the top 50 of the OWGR thanks to 12 top-20 finishes already this season. As for Day, his AT&T Byron Nelson win last month snapped a victory drought that lasted five years and one week. Seeing one of these three capitalize on their recent form in the form of a major win would be a welcome sight to everyone in the golf world, Fowler especially, as he remains his generation's best player without a major.
6. Shane Lowry, Justin Thomas, Tommy Fleetwood
Thursday, 10:40 a.m. / Friday, 4:10 p.m.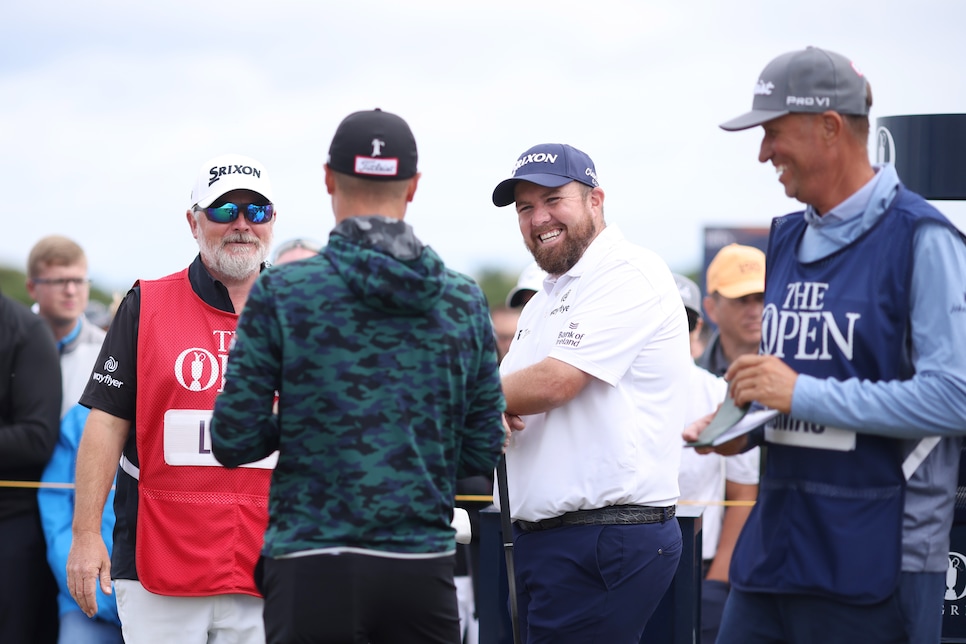 When these three are in full flight, you might not find a better group of ball-strikers on the golf course. It will be fascinating to see how Fleetwood responds to that crushing playoff loss against Taylor in Canada on Sunday, and Lowry is always one to watch at the majors. Above all, though, we're most interested in seeing how Thomas fares at LACC, specifically how his putting fares. On Monday, his betting odds ballooned all the way to 50-1, an absolutely ridiculous sight for the two-time major champion. Either Vegas knows something, or some of us are about to get very, very rich taking a chance on the former World No. 1.
5. Tom Kim, Sahith Theegala, Cameron Young
Thursday, 4:21 p.m. / Friday, 10:51 a.m.
The three next big things having a next-big-thing-off. Strap in.
4. Tony Finau, Jordan Spieth, Patrick Cantlay
Thursday, 4:43 p.m. / Friday, 11:13 a.m.
Everything we've heard so far about LACC is giving off serious Open Championship vibes, which means it's giving off Spieth vibes. Watching him attack this gem of a golf course is going to be appointment television. Let's just hope the mics are as hot as they were at the PGA Championship, because the Spieth-Greller convos could be epic this week. Rounding out this group are two all-world talents in Finau and Cantlay, both in search of an elusive first major. Don't really need to sell you any further on this one.
3. Collin Morikawa, Max Homa, Scottie Scheffler
Thursday, 11:13 a.m. / Friday, 4:43 p.m.
BOTH of the California lads AND the No. 1-ranked player on earth? And we're telling you there are two better groups than this? It appears so ...
2. Brooks Koepka, Hideki Matsuyama, Rory McIlroy
Thursday, 4:54 p.m. / Friday, 11:24 a.m.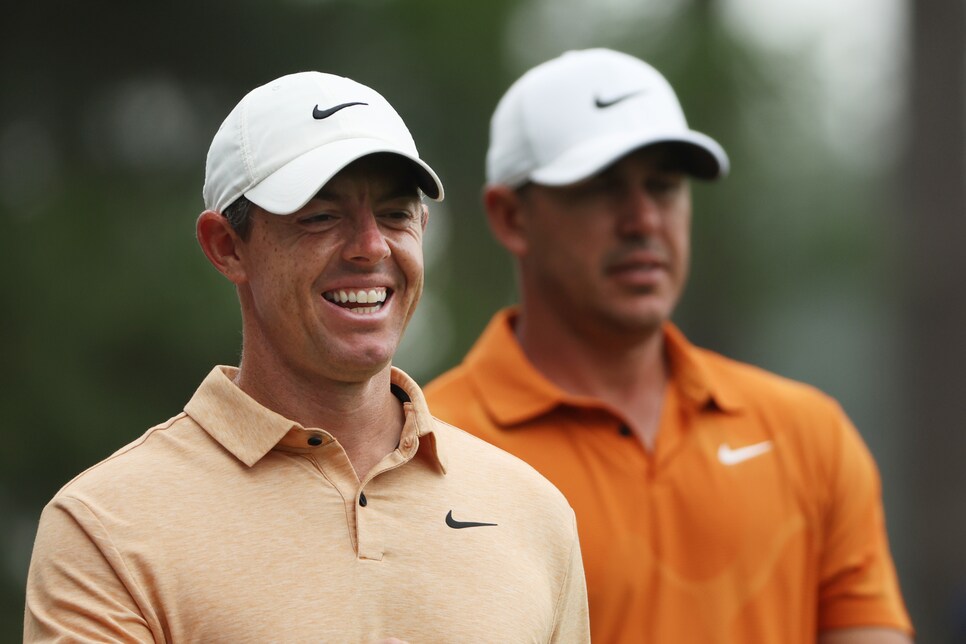 Not to play amateur pyschologist, but I keep going back to Oak Hill, when Brooks Koepka returned to his ruthless self and, earlier that same week, Rory McIlroy said he found it "exhausting" to be ruthless at all times, much like he was during his major-winning peak. The final result of that week kind of tells the whole story of the last six years for these two (and longer than that for McIlroy). Now, they'll be side by side on Thursday and Friday in the U.S. Open, and, God-willing, Saturday and/or Sunday, too. These two go about their business in such different ways both on and off the golf course and it should make for great theater in the movie capital of the world. Also, former Masters winner Matsuyama is in this group.
1. Xander Schauffele, Viktor Hovland, Jon Rahm
Thursday, 11:24 a.m. / Friday, 4:54 p.m.
Like Morikawa, Homa and Cantlay, Schauffele will be fending off questions about this being a "home game" all week, as he continues his quest for a maiden major. Then there's Hovland, who has come so close in the majors these last few years that it's become a question of when, not if, his time comes. And finally, Rahm, who has cooled off considerably since the Masters, and by cooled off we mean he's gone T-15 / 2nd / T-50 / T-16 in his last four starts. There's a very, very strong chance the 2023 U.S. Open champion comes out of this group, and we'd bet a sportsbook out there is cooking up that exact offering as we speak, if they haven't already.