John Feinstein
U.S. Open 2021: Louis Oosthuizen's seconds are adding up, but his heart hasn't been broken like other near-miss major winners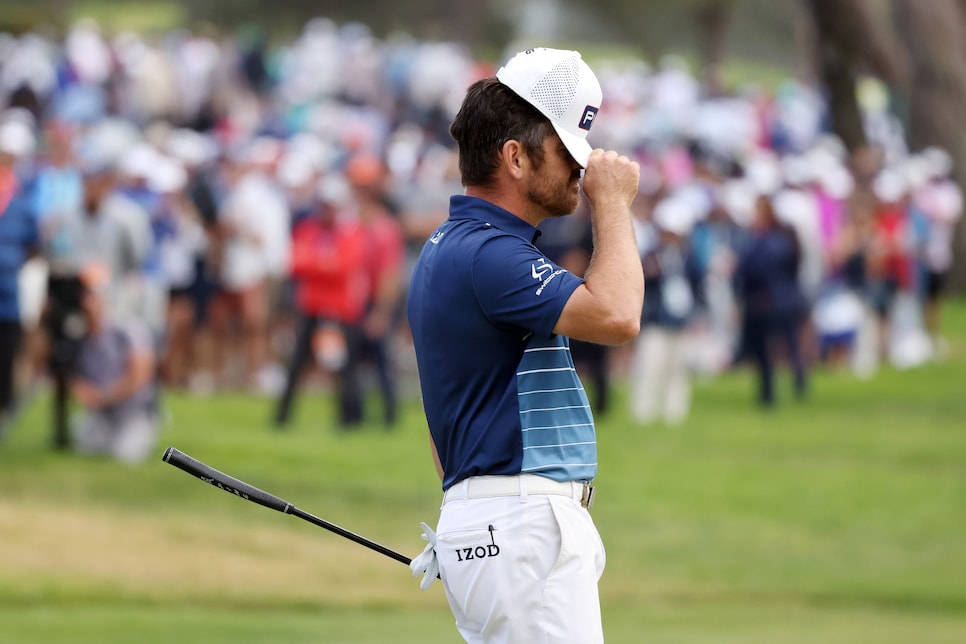 About a month before the just-completed U.S. Open, Mike Davis, the outgoing CEO of the USGA, called Rocco Mediate to invite him to be a guest of the governing body at Torrey Pines. After all, the 2008 Open, played at the same golf course, had been the site of Mediate's most famous moment—if not his most joyful.
"He told me that he really appreciated the invitation, but it would be a little too tough for him to be there just to watch," Davis said. "He said he'd be watching at home and appreciated being invited. I understood completely."
There's no doubt that if Mediate had been invited to play, he would have jumped at the chance. After all, he last played in a U.S. Open in 2010 and no doubt would have enjoyed hearing the cheers that would have followed him around the golf course. But watch other guys play? Be subjected to a barrage of questions about his 19-hole playoff loss to Tiger Woods some 13 years ago—again? No thanks.
The latest videos from Golf Digest
I wrote a book about Mediate's experience at that Open, so, needless to say, we spent a LOT of time togetherr in the six months following that championship. It was Rocco who gave the book it's title—sort of. He suggested, "Are you Blanking Kidding Me?" That was the title minus the Blanking. I liked his version better because it fit.
Even though we hadn't talked for several years, I tried to call Rocco over the weekend, figuring (forgive my ego) he might be willing to talk to me. I was wrong. He never called back.
Honestly, I don't blame him. When you look back on a career—in any sport—and realize you had one real chance to become part of the pantheon and it didn't happen for you, regardless of the reason, it has to hurt. It's one of those things where the pain may become more distant, but it never goes away.
I thought about that briefly on Sunday when seeing the look on Louis Oosthuizen's face after he had finished second in a major for the sixth time. A moment before he holed his final, but meaningless, birdie putt on Torrey Pines' 18th hole, NBC's Dan Hicks commented that only two active players had more second-place finishes in majors than Oosthuizen: Phil Mickelson with 11 (including six at the U.S. Open) and Tiger Woods with seven. Of course, Mickelson won six majors and Woods won 15, so that has to dull the pain of those runner-up finishes considerably (Mickelson's Winged Foot meltdown in 2006 aside, perhaps). There's also Jack Nicklaus who had 19 second-place finishes. The 18 major wins no doubt dulled that pain considerably.
At least though, Oosthuizen does have one—his memorable performance in 2010 at the Open Championship at St. Andrews when he won by seven shots. One is a LOT more than none. It holds off many critics in the ongoing debate about Oosthuizen's legacy in majors. As Sunday's disappointment of another loss morphed into Monday's reality, the sting just isn't the same. We can empathize for the 38-year-old South African, but know there isn't the same void that lingers with others.
"If I win, the rest of my life, I'm introduced as, 'U.S. Open champion Mike Donald,' not just as 'a former PGA Tour pro,' Mike Donald once said to me, referencing his near-miss at Medinah in the 1990 U.S. Open.
Donald led for almost the entire weekend but was caught by Hale Irwin when Irwin holed a 45-foot birdie putt on 18 and Donald bogeyed 17 not long after, putting the two of them into a Monday playoff. Donald led almost the entirety of the extra 18 holes until making bogey on the last 18—his par putt coming up about two inches short. He then lost on the first hole of sudden death to an Irwin birdie.
It was Irwin's third U.S. Open victory. Chances are he would still be in the Hall of Fame if Donald had denied him that third title.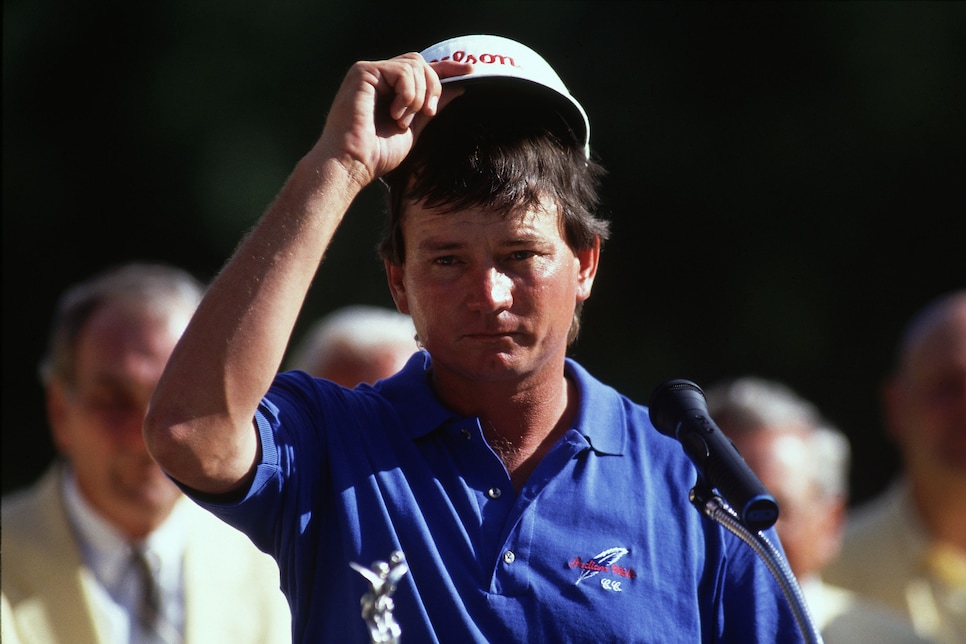 After losing to Hale Irwin in a playoff at the 1990 U.S. Open, Mike Donald looks on at the trophy presentation.
Getty Images
It's worth noting that neither Mediate nor Donald was really the same player after their near moments of glory. Mediate never again finished in the top 125 in the FedEx Cup standings after 2008, though he did somehow pull it together late in 2010 to win the Fry.com Open, going wire-to-wire. That came at the end of a year in which he started 25 times but missed 13 cuts and had two WDs. The out-of-nowhere victory kept him exempt until he reached the 50-and-older tour in 2013, where he promptly won his first start. He went on to win the 2016 Senior PGA and has been a solid player on the PGA Tour Champions.
It was worse for Donald. His play nose-dived after Medinah. He lost his exempt status after 1993 and never got it back. He made it through qualifying for the '93 Open, which would turn out to be the last of the 16 majors he played in. I remember standing with him in the locker room at Baltustrol prior to the start of that Open. The USGA was playing past Opens on an endless loop on the locker room TVs and, as luck would have it, the '90 Open was on at that moment.
Tom Watson walked over and glanced at Donald, who was staring at himself standing over the 15-foot putt in the playoff that would have made him an Open champion. "How does it make you feel to watch this again?" he finally asked—as the putt came up just short—again.
"Good," Donald answer. "Because it reminds me that once upon a time I was a pretty good player."
You have to be better than pretty good to come that close to winning a major. The saddest case may be Doug Sanders, who missed a 3½-foot putt on the 18th green at St. Andrews in 1970, to cost himself the major title that would have made him a lock Hall-of-Famer. Sanders won 20 times in all. Make that number 21 with a major and he would have to have been in the Hall.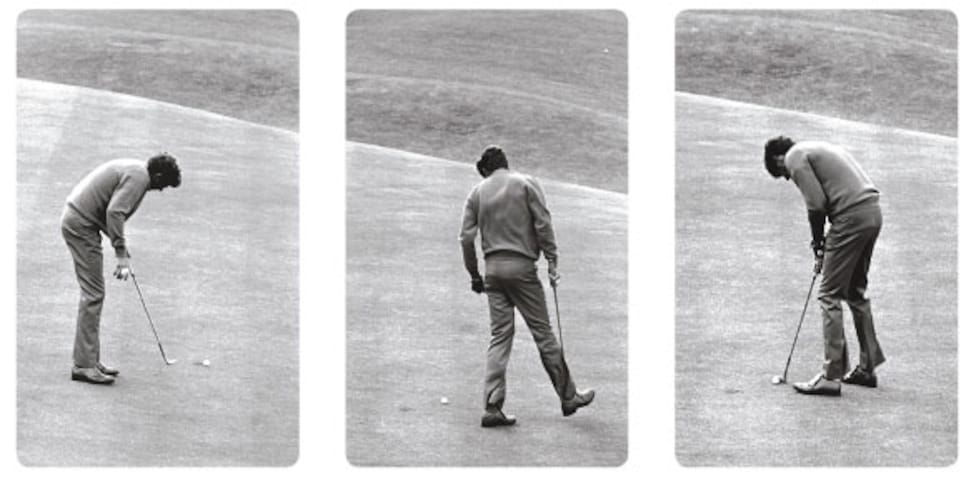 Doug Sanders short miss on the final hole during the 1970 Open Championship cost him a win in regulation.
Instead, I still remember him standing outside the ropes by the clubhouse at Augusta National several years back, trying to get someone's attention so he could get inside the ropes and stand under the famous tree with the luminaries and non-luminaries who gather there every April. Had Sanders been a Hall-of-Fame member is there any way he would have been denied that access?
It reminded me a little bit of Jay Haas, another superb player who never won a major. Haas never came as agonizingly close as Sanders or Donald or Mediate, but he did have eight top-five finishes in majors, including a T-3 in 1995 at the Masters.
I remember Haas and his best friend Curtis Strange sitting in the locker room a few years later before the tournament began. "You know something Curtis, we need to get a move on here," Haas said. "If we don't win this thing soon, there's going to come a time when we aren't going to be able to come back here anymore."
Neither man ever won the Masters. Strange, who does TV during the tournament every year, is an invitee each spring as two-time U.S. Open champion. Haas also got to come from 2010 to 2017, when his son Bill qualified to play.
Bill's best finish a Augusta was in 2015, when he finished T-12. On Saturday afternoon, after Bill had finished his front nine, Jay hustled into the clubhouse to grab a quick bathroom stop. Instinctively, he headed for the locker room.
"I'm sorry sir," the guard at the door said, pointing at his "player family" badge. "Players only in the locker room."
Haas had played in 22 Masters. Because he is one of the world's nicest human beings, he laughed and said, "Sorry, I forgot," and went to the bathroom in the grill room. My only regret was that it hadn't been his pal Strange who had been stopped that way. I suspect his response might not have been as polite.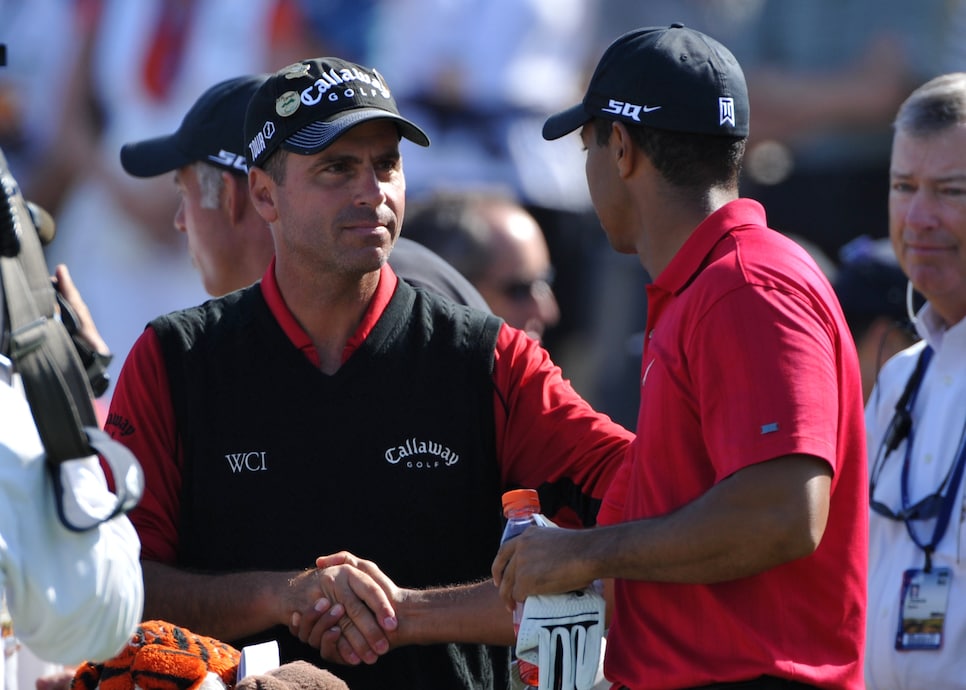 Thirteen years removed from the playoff loss to Tiger Woods at Torrey Pines, Rocco Mediate turned down the USGA's offer to watch the 2021 U.S. Open in person.
Icon Sportswire
Golf is, of course, littered with near-misses at major championships. It also has those one-time moments: Jack Fleck beating Ben Hogan in the 1955 U.S. Open; Orville Moody winning the U.S. Open in 1969; Ben Curtis winning as a PGA Tour rookie at Royal St. George's in 2003 and Shaun Micheel, who never won on tour before or after, winning the PGA a month later at Oak Hill.
As I said, I spent hours and hours with Mediate after Torrey Pines in 2008. He repeatedly insisted that being so close and losing that way to the world's best player was a joyous memory he would carry forever.
I know he's still carrying the memory. But, as with Donald and Sanders and others who came so close without getting a major victory, I suspect there's more pain than joy in that memory. The pain does get farther away, but it never goes away.