Tee Times
U.S. Open 2021: Brooks Koepka and Bryson DeChambeau could still be paired together at Torrey Pines. Here's how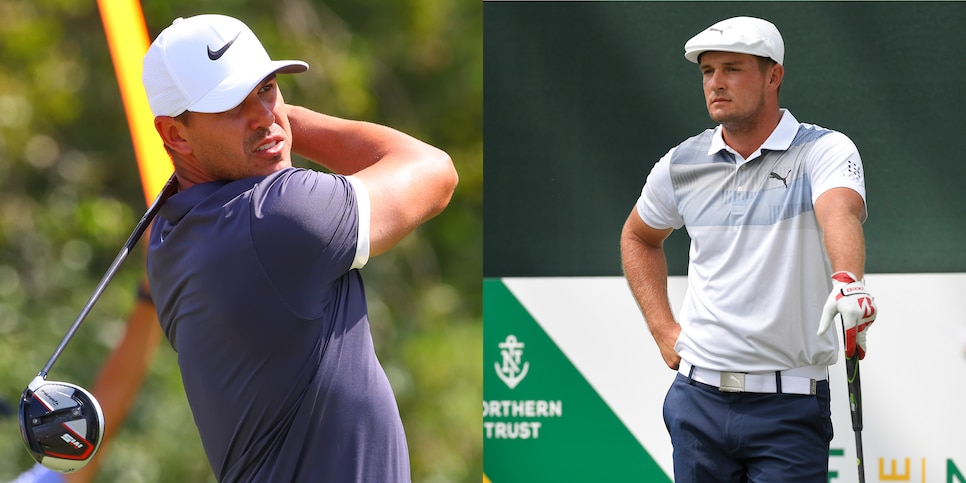 There was plenty of speculation entering the 121st U.S. Open about whether USGA officials would pair Bryson DeChambeau and Brooks Koepka during the opening two rounds. (In case you weren't aware, these former U.S. Open champions aren't all that chummy of late.) There was even rumor that the USGA had approached both players (or at least their agents) to take their temperature about it.
Well, it didn't come to pass, to the anger chagrin of many. Nor did they play their way into the same pairing for Saturday's third round. But that doesn't mean there isn't still a shot that these two guys could go mano-a-mano during Sunday's final round.
Here's how it could happen: Both Koepka and DeChambeau finished 36 holes at even-par 142, along with six other golfers. Because DeChambeau wrapped up his round in the morning on Friday, he was got a later tee time among the even-par golfers on Saturday. (The USGA follows the standard practice of "first players in, last out" when it comes to pairing players with identical scores.) So DeChambeau teed off on Saturday at 3:29 p.m. with Christiaan Bezuidenhout.
Koepka, meanwhile, logged in his even-par total late on Friday, so he went out with an earlier time. Koepka teed off on Saturday at 2:56 p.m. eastern with Adam Hadwin.
Now, say Koepka and DeChambeau shoot identical scores again on Saturday. Since they teed off within three groups of each other on Saturday, there's a chance that they could be the only players finishing on a certain total score after 54 holes. Depending on how the scores trickle in, that could mean the two players would then be paired together come Sunday.
It's not an exact science, and it can't happen if one guy plays great on Saturday and the other tanks. But it remains a possibility … and that's all we can hope for, right?