News
U.S. Open 2018: Tommy Fleetwood celebrates big step forward but realizes it could have been bigger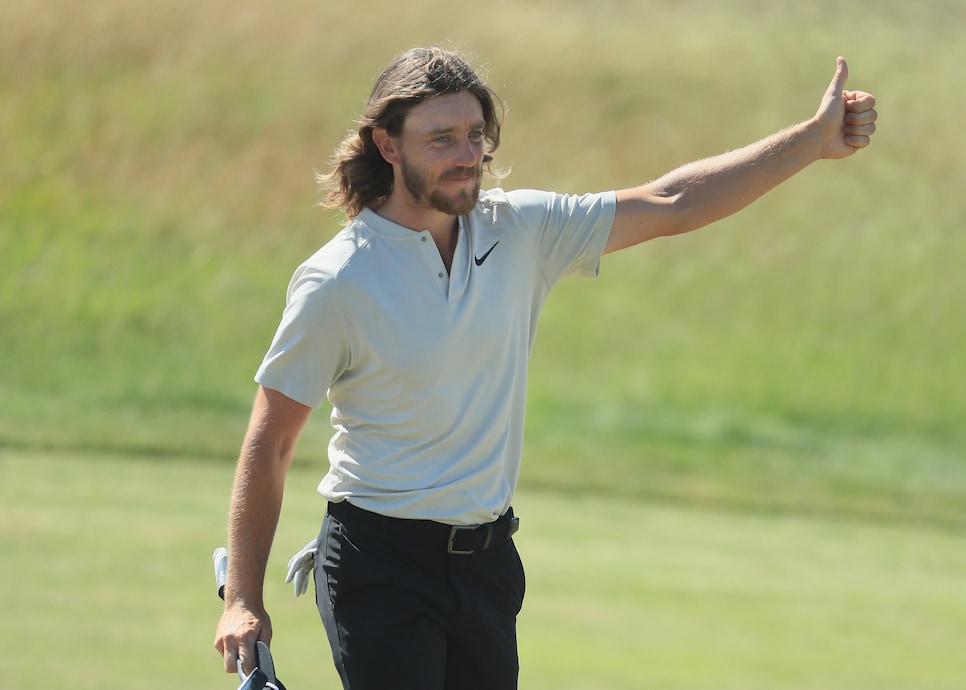 SOUTHAMPTON, N.Y. — It takes a lot to upset Tommy Fleetwood's equilibrium on or off the golf course. So, no matter the circumstances, second place in the 118th U.S Open was always going to be viewed as a week full of positives for the 27-year-old Englishman. And why not? Fourth at Erin Hills last year, this was Fleetwood's highest finish in any of the four majors. And his closing 63 tied the lowest 18-hole score in U.S Open history.
Still, those highlight-reel moments are not what Fleetwood was most proud of during his week at the Eastern End of Long Island. Instead, last year's European No. 1 will look back on the times of trouble and struggle as the keys to his success at Shinnecock Hills.
"I've done a lot this week," Fleetwood said with just a hint of understatement. "With five holes to play yesterday I was eight over par for the round and playing really badly. Then I made some great putts and some great up-and-downs. I shot the round of the day on Friday. And on Thursday I really stuck in all the way round. I was six over through 15 and played the last three in one under. I did so many good things it is difficult to look back with may regret over one shot."
Ah, but there is always one. And inevitably Fleetwood conceded that the seven-foot putt he missed for one last birdie on the 18th green is the one that will linger longest in the memory bank lurking inside what is surely the hairiest head in top-level golf.
"I had a chance to make history, but I wouldn't do anything differently," he said. "Yes, I'd love to hit the putts on 16 and 18 again. But I hit the putts I wanted, and I'm not going to say I should have done this or that. Shooting 62 was actually more in my mind than where we were in the tournament coming down the last few holes. So it feels strange to be a little disappointed to have shot 63. But it's been a great day and to equal the record is very special.
"Plus, this is my highest finish in a major. And more proof that I can get up there in the biggest events. It was a bit different this year. I struggled yesterday and came back really well today. I've been saying for a while I've been playing consistently well without any really big results. So this one has come out of the blue a little bit."
It could have been even better, of course. And Fleetwood had just nearly three hours to kill before his eventual fate was confirmed. Typically, he filled what could have been a long, tedious wait with down-to-earth stuff. He had a sandwich. He watched a bit of the golf on television. He played with his infant son, Frankie. Not until Brooks Koepka holed his birdie putt on the 16th green did Fleetwood venture out onto the range. Just in case the first-ever two-hole play-off in U.S Open history should materialize.
"The time went quickly," he shrugged. "I felt fine. I only started warming up when I thought I might have a chance. I always felt like I was one-shot shy, but Brooks kept giving me that little bit of hope. Then he'd hole a putt just to stab me in the stomach a little bit. So I never got massively excited.
"I ended up going to the range right after Brooks held his putt on the 16th. I felt like I should go because you never know. The worst thing that could happen is me not being ready for a playoff. So I was better warming up to be safe. I thought he would cruise in on 18 but I couldn't be unprepared, just in case."
It wasn't to be, of course. Fleetwood's initial feeling was correct. A two-over 282 was one shot too many to force that playoff with the man he played alongside in the final round at Erin Hills 12 months before. But the lad from Southport in northwest England is not short of perspective. He's come a long way in the last few years.
As recently as 2014, in fact, the former Walker Cup player's professional career was going precisely nowhere. Nothing much went his way between July 2013 and July 2016.
"I really struggled with my game and spent a lot of time sulking," he admits. "It was the first time I had really lost form. And I didn't know how to cope with it. I would go home at weekends and sit in my chair and think about what I was doing wrong. I should have been out trying to fix those things. It was mostly short game. I was hitting it OK. But I had lost confidence and the ability to score. And it's hard to get out of that rut. I would start with three birdies and still shoot two over. I couldn't do anything right. And as you do when things are not going your way, I missed a bunch of cuts by a shot."
Not any more. Now, life is good for Tommy Fleetwood as he heads for Carnoustie—where he holds the course record of, wait for it, 63—and next month's Open Championship.
"Everything off the course is what matters—wife [Claire], baby, all that stuff," he says. "Golf is just a bonus at the end of the day, where our dreams lie."