News
U.S. Open 2018: Tiger Woods stumbles early and often at Shinnecock, posting a disappointing opening 78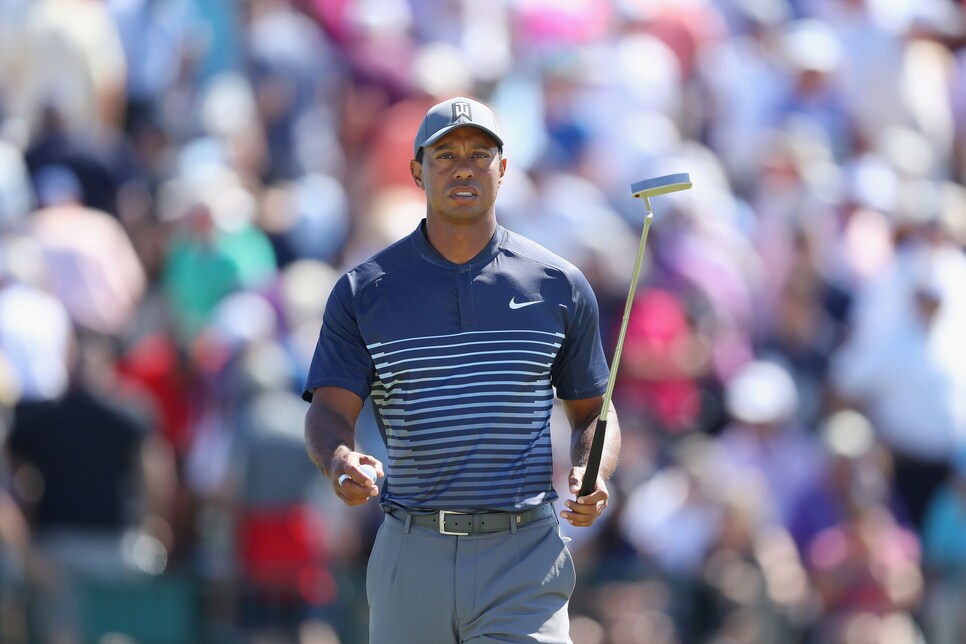 Warren Little/Getty Images
SOUTHAMPTON, N.Y. — The land at Shinnecock Hills is rumpled and exposed. In other words, it's a lot like Tiger Woods' game was during Thursday's opening round of the 118th U.S. Open.
There was the triple bogey on the first, where his approach on the 407-yard par 4—one of the easiest holes on the course on a day where easy didn't present itself often—airmailed the green. He followed it with two attempts to bounce his ball up the shaved down bank, only to have it roll back to his feet.
Then came a missed six-footer for par on the second. Two holes, four over. Oof. Some welcome back to the U.S. Open for the three-time winner of the tournament, playing for the first time in the championship since 2015.
Still, there was plenty of time and hope, right? After all, in 2008 Woods doubled his first hole of the week at Torrey Pines and doubled the same hole again in the third and fourth rounds—and still went on to win the U.S. Open.
Thursday, after a run of six pars and one bogey following the stumbling start, the wheels came off the tracks of the 42-year-old Tiger Express.
Woods four-putted the 13th en route to double. On the 14th, he played military golf, going right off the tee and left with his second as the hay he was hitting out of grabbed the clubhead and shut the face down. When he reached the green, he missed an eight-footer and made another double.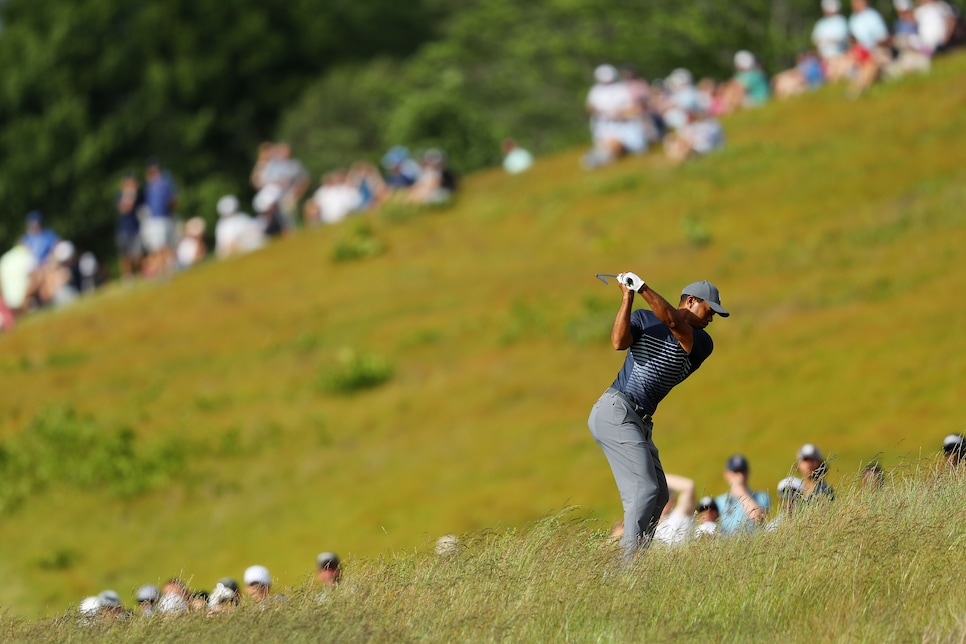 Warren Little/Getty Images
It was all pars from there, but the damage—an eight-over 78 that left him tied for 101st place—was done.
"I didn't putt well today," said Woods, who took 30 putts in all. "It's tough out there. But, I mean, I shouldn't make two doubles and a triple."
Tiger didn't hit it very good either. As impeccable as his ball-striking was the last time he competed two weeks ago at the Memorial, it seemed to vanish in the punishing conditions of Shinnecock. That's what this course does. It's exposed and it exposes, and Woods hit just seven greens in regulation on Thursday.
He wasn't alone in the struggle.
Only four players broke par in the opening round and none of them went lower than one under. Phil Mickelson shot 77, Jordan Spieth and Jon Rahm 78, Jason Day 79 and Rory McIlroy 80. In all, 28 players shot in the 80s, while Scott Gregory had a 92, the highest score in a U.S. Open since 2002.
Golf can be hard, but the U.S. Open is harder, especially when it plays like a U.S. Open again. Woods has 14 majors but is a decade removed from his last and a half-decade from his last win anywhere.
Parts of his game have looked sharp at times this year but parts are just that. Shinnecock doesn't take kindly to that sort of golf.
"It's frustrating because I hit the ball—I'm hitting it well," Woods said. "In the last, I think, four tournaments, I have not putted well. So if I can putt like I did at the beginning of the year, we've got something."
Plenty of other guys could say the same.
You are using an unsupported version of Internet Explorer. Please upgrade to Internet Explorer 11 or use a different web browser.