News
U.S. Open 2018: Tiger Woods has come far enough he can afford to be greedy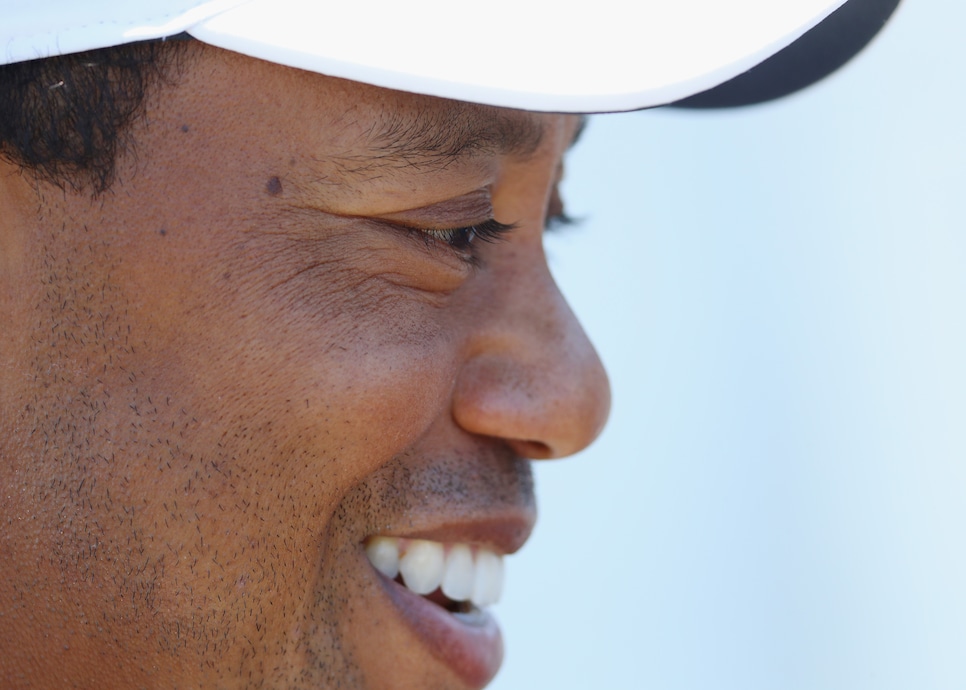 SOUTHAMPTON, N.Y. —Tiger Woods' life seems to have made a 180 in the 380 days since his arrest on suspicion of driving under the influence in the wee hours of last Memorial Day. The full extent of his transformation, however, remains largely unknown. After all, only a small inner circle were aware the extent of Woods' injuries leading into the U.S. Open a decade ago at Torrey Pines, where he went on to win playing on a broken leg.
"No need," he said recently when asked why he hadn't revealed anything back then. When posed Tuesday at Shinnecock Hills with the question of how his life has changed since that harrowing evening near his South Florida home, he offered, simply and with a polite but dismissive smirk, "It's better."
His golf certainly is, too.
The last time Woods was even able to play in the U.S. Open was 2015 at Chambers Bay. He missed the cut. This year, Woods has missed just one cut in nine starts. Even better, he had a chance to win the Valspar Championship; he made a late charge at Bay Hill before driving out of bounds on the 16th hole and eventually tying for fifth; and he was within six of the lead going into the final rounds of the Honda Classic and two weeks ago at the Memorial.
Not even the 14-time major champion could have imagined that kind of progress given where he was 12 1/2 months ago, with a mix of five pain and sleep medications having been found to be in his system the night police found him asleep at the wheel of his banged-up Mercedes with the engine still running, turn signal on and Woods having no idea where he was.
Never mind the spinal fusion surgery he had undergone six weeks earlier. It was the fourth procedure on his battered back in three years.
"I've given myself chances to win, which I didn't know if I was ever going to do again," Woods said Tuesday. "Then again, [I wasn't] happy with the fact that I didn't win because I loved how it felt being there."
When the putter has been on, the driver hasn't. Or vice versa. Occasionally, it has been his irons that have let him down. It's always something, but at least it's not a different kind of something like a Friday news dump for another surgery, or something much worse.
Jack Nicklaus said that Woods has to learn how to win again. Maybe. But he is also learning just how hard it really is to win, even though he made it look so easy for so long. At the height of his career, Woods averaged more than six wins a season from 1999 through 2009. His best year included 10 wins in 2000. He also won nine times in 1999 and 2006. Through the first five-and-a-half months of this year no one has more than two victories.
"You're probably looking at maybe two, three events, maybe," said Jason Day when asked how often all facets of the game come together in a given week over the course of a year. "And sometimes when all parts of the game come together, you don't win, which is very frustrating, because you're firing on all cylinders but some guys are just better than you that week."
There are still a lot of guys better than Woods right now. But Jordan Spieth, like anyone with a pair of eyeballs, has seen that Woods still has some greatness left in the tank.
"I think [Tiger's] playing good enough golf to win a golf tournament at any point in time," Spieth said. "Still, to win, again, you've got to have the right things go your way at the right times. He's won with his 'C' game before, but that was kind of an anomaly."
So was Woods. As good as he has looked at times this year, particularly with his ball-striking, he's not that guy anymore.
Not after the public stains of scandal and personal struggle.
Not on the back nine of his career.
He can't do it with a 'C' game now. No one who has put himself through what Tiger has could.
But like the lottery saying goes, you gotta be in it to win it, and Woods is playing, which sure beats the hell out of where he was a year ago this week -- on the couch and watching on television as Brooks Koepka obliterated Erin Hills the way a younger version of himself used to do, and doing so in the wake of his darkest days.
This year, Tiger is staying on his yacht docked a few miles from Shinnecock. He has a tee time alongside the top two players in the world, Dustin Johnson and Justin Thomas, in the starriest of groups on island filled with stars. None will command as much attention as this trio, at least this week.
"I've missed playing the U.S. Open," said Woods, a three-time winner of the event. "My [putting] stroke feels good. And we're back on old bumpy poa. So hopefully hit good, solid putts and see what happens."
Woods feels good, too. How good? Who knows. But let's see what happens.