News
U.S. Open 2018: Justin Rose preps for Shinnecock knowing majors are now going to define his career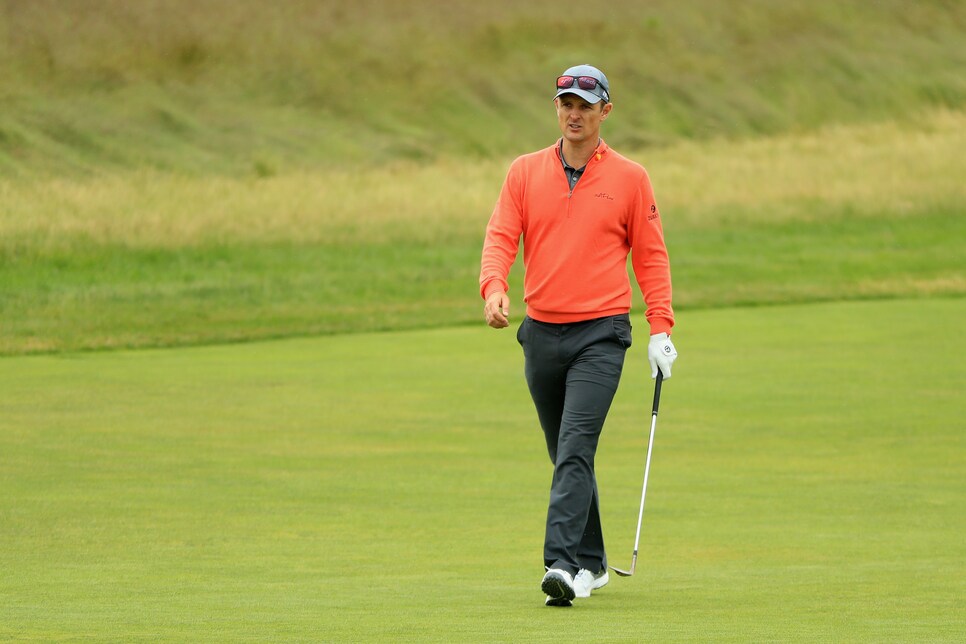 SOUTHAMPTON, N.Y. — Justin Rose's introduction to the golf world was memorably loud one. As a baby-faced 17-year-old amateur from England, he shot a final-round 69 in the 1998 Open Championship at Royal Birkdale, highlighted by his hole-out for birdie from the thick rough at the 72nd hole that produced an epic roar from the home crowd.
The shot propelled Rose to a T-4 finish in his major-championship debut, earning him low-amateur honors and marking the best result by a British amateur in the Open since 1921. It was a foregone conclusion that many wins, including major victories, were in the rising star's future.
That wasn't the case, at least immediately, for the Englishman. His early career struggles on the European Tour are well-documented, and his first PGA Tour victory did not come until 2010 at the Memorial Tournament, a month before he turned 30. Fellow European and former phenom Rory McIlroy, who just turned 29 last month, has already collected 14 PGA Tour wins, including four majors. It's fair to wonder if Rose missed out on a big window of his prime that so many young stars are capitalizing on right now.
That's not how Rose sees it, as he continues to prove the "better late than never" mantra true, similar to Phil Mickelson, who won his first major at age 33. Ironically, Rose bettered Lefty by two strokes to capture his first major title, winning the 2013 U.S. Open at Merion a month before his 33rd birthday.
Five years later, Rose appears to be in peak form as he closes in on 40. He's one of the betting favorites following his stellar play at the Fort Worth Invitational, where notched his second victory of his 2017-'18 season. Could these actually be his prime years?
"Well, hopefully, I'm in the sweet spot," said Rose when asked to evaluate this stage of his career. "I feel like I'd like to have that little bit of an old-school approach where guys tend to mature into their 30s. We have seen that shift in the last 10 years or so, and that could be the Tiger factor now kicking in. He's been out here 20-plus years. So we've seen the kids that were very impressionable watching him go through his best spells, that we're seeing the by-product of that now."
Rose has had no problem competing with those kids despite having plenty of years on them, having won seven of his nine PGA Tour events in his 30s. No matter how many baby-faced kids like Rose once was appear on leader boards, he knows experience still plays, especially at a place like Shinnecock, where Rose competed in his second U.S. Open in 2004, missing the cut.
"It has shifted younger," Rose said, "but I feel like experience and all of those great attributes that have historically held players in good stead and allowed them to win majors into their 30s, that still is incredibly valuable. That's never going to go away.
"I think players like myself and Adam Scott and Sergio, the '80s babies, we're all pretty much a similar age. We're that generation that's somewhat in the middle. I think we're still fit, healthy, still hit the ball a long way, still have all the attributes the young players have, and just with added experience. These types of championships are hopefully some of our best shots, to be honest with you."
He's not the only one who thinks he's got a good chance this week, as his odds to win have now dropped to 12/1. While he denied any knowledge of that, he knows it's on his caddie's mind.
"Well, it's news to me so I'm clearly not really paying—I know Futch [Rose's caddie Mark Fulcher] will be looking at the odds.
"I think probably it's about right. I've been playing well. I've been playing solid golf. I've been on the leader board a lot. I'm comfortable with it. I'm No. 3 in the world, past champion here. It makes sense to me.
"Does that mean it's easy to win? No. But the golf course doesn't know I'm second favorite, and that's kind of how I try to approach these things. I've got to go and build a body of work. I don't start this tournament ahead of anybody or behind anybody.
"So I think that's the way I look at it, just trust my game, my skill set, and hopefully it produces."
Should it produce a second major title for Rose this week, it will make him the latest major champion to redefine what a golfer's "prime" years really are.