News
U.S. Open 2018: Are we due for a journeyman major championship winner?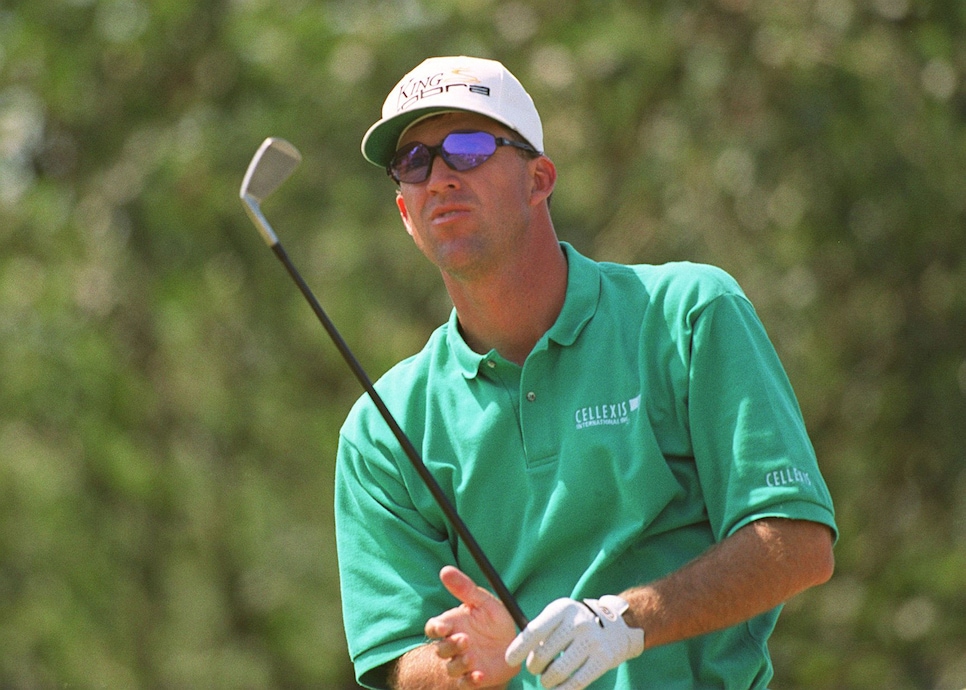 Photo By: Neal Simpson - EMPICS
There's nothing that golf fans and golf media love quite as much as a complete and utter no-name winning one of golf's major championships …
… is a sentence you might write if your goal was to be hit by a wheelbarrow full of rotten tomatoes.
It is not, of course, a true statement. There is nothing the golf world loathes like the scenario described above, and I'm no exception. It's not that we don't like an underdog story, you see. It's just that the underdog has to be someone hugely famous, like Henrik Stenson beating someone even more hugely famous like Phil Mickelson.
In other words, underdog stories are great—as long as there are no underdogs involved.
In this regard, individual sports differ from team sports. Find me a group of plucky spoilers in baseball or basketball or football, and I'll find you a regional fan base that can rally behind them. With enough success, they can even win the hearts and minds of an entire country. In golf and tennis? No way. We want the big names, as demonstrated by the fact that Roger Federer and Rafael Nadal have dominated their sport for approximately 50 years, and nobody is sick of it.
This dynamic is even more true in golf, where the format of the majors deprives us of head-to-head match-ups, and we rely on the biggest names for drama and narrative.
When they deliver, it's wonderful. When they don't, it's an utter disaster. Even when there's a "good" dark horse narrative in golf, it's only really good after the fact. Sure, we'll make a whole movie about Francis Ouimet's upset win at the U.S. Open today, but I guarantee you that in 1913, 90 percent of the spectators on the course were thinking, "Who is this PUNK KID ruining our precious Harry Vardon-Ted Ray duel?"
The good news for modern fans is that we are firmly ensconced in the era of the big-name winner. The bad news is that I think we might be due for a journeyman champion at the U.S. Open this weekend. Frankly, it's been too long, we've been too blessed, and Trey Mullinax is going to win by 15 strokes.
Before we discuss Shinnecock Hills, though, I want to delve into the rich history of the journeyman fluke. It arguably began with a man named Andrew Strath, who won the Open Championship at Prestwick Golf Club in 1865, the same year America was wrapping up the Civil War. From the inaugural championship of 1860 all the way up to 1872, he was the only man not named Tom Morris (Young or Old) or Willie Park (just Old) to take home the belt they used before they had the Claret Jug. He was the ultimate journeyman, and in fact his journey ended sadly when he died of tuberculosis at age 30.
But he had set the tone for longshot Open champions to come—men like Mungo Park and Willie Fernie and Hugh Kirklady, and Tamoshanter Lochnessie. All of whom, I assure you, are real people. (OK, I made Tamoshanter up.) Then the U.S. Open began in 1895, and a bunch of non-Americans won for a decade. Some were famous, like Vardon, but there were a few journeymen in the mix there too—Horace Rawlins, Laurie Auchterlonie, Fred McLeod.
It wasn't until golf became a true big money sport, though, that the era of the journeyman reached its prime. So let's speed pass the two World Wars (summary: both went well), and talk about men like Jack Fleck, who didn't become a full-time pro until age 33, at which point he beat Ben Hogan at the 1955 U.S. Open before fading away.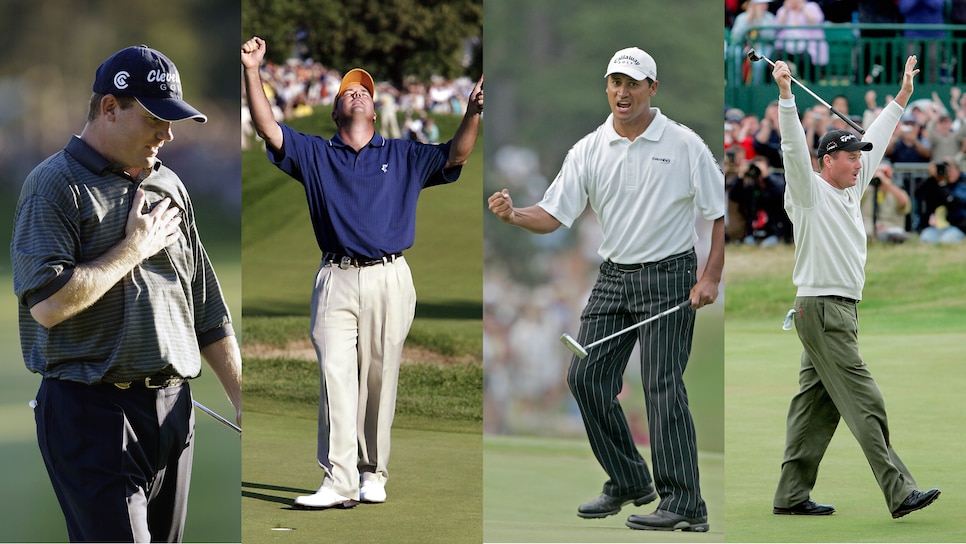 Let's talk about Orville Moody, who had just one PGA Tour victory … which happened to be the 1969 U.S. Open. Let's talk about Lionel Hebert ('57 PGA), Charles Coody ('71 Masters) and Dick Mayer ('57 U.S. Open). Let's talk about Lew Worsham ('47 U.S. Open) and Herman Keiser ('46 Masters) and Max Faulkner ('51 British) and Jim Turnesa ('52 PGA) and even Claude Harmon ('48 Masters), who only won a single event on tour before siring the sport's most famous modern coach.
Of course, the parade of journeymen doesn't stop in the good old days. A man named Wayne Grady—notthe musical improviser from Whose Line Is It Anyway, I'm told—won the 1990 PGA Championship. Steve Jones won the '96 U.S. Open, and never finished better than 24th in any other major. Paul Lawrie won the '99 Open at Carnoustie. Rich Beem won the PGA in 2002. Todd Hamilton won the Open in 2004. Shaun Micheel won the 2003 PGA and never won again.
None of these men had what you would call electrifying professional golf careers. At best, they were journeymen—"technically competent," as Wikipedia notes, "but unable to excel." At worst, they were one-hit wonders.
Almost universally, their triumphs came at the expense of our enjoyment. It may sound cruel, but watching Beem win a major is a very different experience from watching Tiger Woods, or Rory McIlroy, or Jordan Spieth, or even a minor superstar like Martin Kaymer or Padraig Harrington. When the no-name excels, the increasingly disheartened internal dialogue of every fan evolves like so:
"Wow, this guy's really hanging in there."
"This could really happen, couldn't it?"
"Well, it happened. He won."
"Hope that never happens again."
The cruelest part of the journeyman victory in golf is that it very rarely entails an exciting duel against a legend. In fact, the no-name triumph usually takes one of three forms:
1. The Hero's collapse.
In these cases, the emotional trajectory of a tournament is one of deflation. For Michael Campbell to win the 2005 U.S. Open, Retief Goosen had to blow a four-shot lead by shooting 81 on Sunday. For Beem to win the 2002 PGA, Justin Leonard had to shoot a 77. For Lawrie to win the '99 British, Jean Van de Velde had to go full Van de Velde, although Van de Velde himself would have been a journeyman, so now I'm confusing myself.
2. The "nobody makes a run" situation.
Trevor Immelman won the 2008 Masters despite shooting 75 on Sunday, mostly because his three biggest threats (Brandt Snedeker, Steve Flesch, Paul Casey), shot 77, 78 and 79, respectively.
3. The "my God, this leader board is trash" scenario.
This is the rare case when the world's best just don't show up on a given week. Check out, for instance, the top 10 names on the leader board heading into the final round of Micheel's 2003 PGA victory: Chad Campbell, Micheel, Mike Weir, Tim Clark, Billy Andrade, Briny Baird, Alex Cejka, Ernie Els, Fred Funk, Charles Howell III, Vijay Singh. I mean … did anyone even watch that?
Luckily, as mentioned above, we are currently in a golden age of big-name winners. I would contend that the last true journeymen to win majors came during the Glover-Cink-Yang stretch in 2009. Some people will argue that Danny Willett fits the bill (his green jacket even fits the hero's collapse narrative, courtesy of Spieth), and frankly I'd have trouble defending my position. I just happen to think he'll come out of his weird lull and forge a solid career with at least one more major, though I'm fully prepared to be wrong.
Aside from Willett, though, it's a collection of major stars (Rory, Spieth, Mickelson, Day, DJ, Thomas, Els), minor stars (Sergio, Stenson, Kaymer, Rose, Scott, Bubba), extremely good near-stars (Oosthuizen, Walker, Dufner, McDowell, Schwartzel, Clarke), exciting young rising stars (Reed, Koepka), and two guys in Webb Simpson and Keegan Bradley who have won other huge professional events (the Players and a WGC).
That's quite a murderer's row of champions. The closest you really get to a journeyman there is Bradley, and that's only because his career was ruined by a putting ban. Besides him? It's a rich tapestry indeed.
Which means, I'm afraid, that we're due. The U.S. Open has had its fair share of fluky winners—the variable conditions are conducive to odd results—and Shinnecock already has the vibe of a "let's add insult to injury" major. My Twitter feed has been flooded by journalists and fans stuck for hours in Long Island traffic, and what could be a better reward for that living nightmare than Brian Stuard riding a Sunday 74 to the title? Might as well screw the public twice!
All I'm saying is, brace yourselves. We've been living in a bubble, but all bubbles must burst. As the old saying goes, you can't keep a good (journey)man down.