News
U.S. Open 2018: Rory McIlroy has a plan to tackle Shinnecock Hills. But is he really ready to win?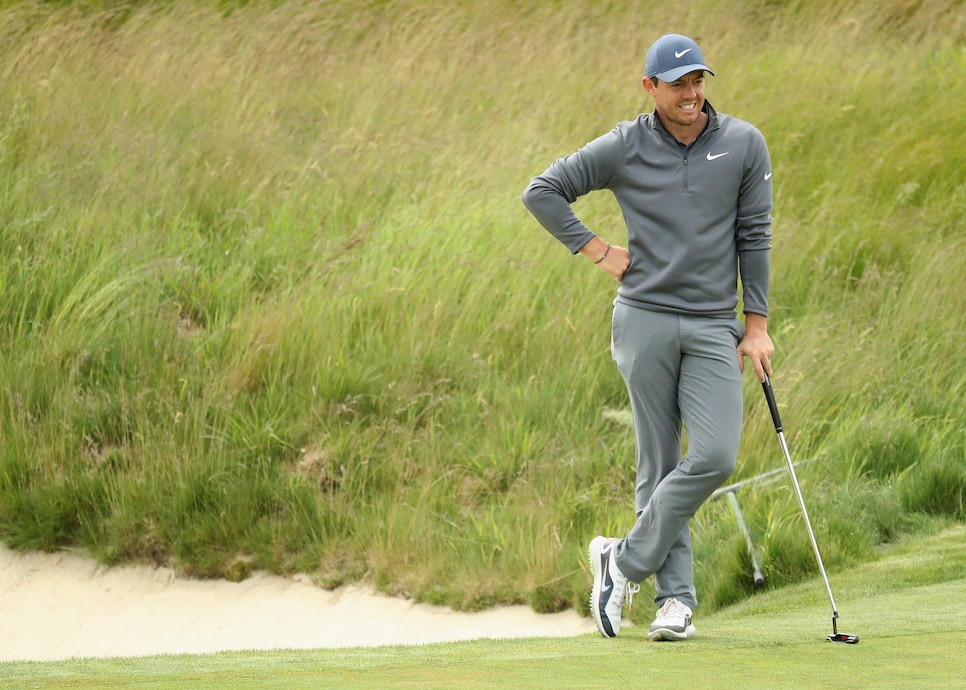 Photo By: Rob Carr/Getty Images
SOUTHAMPTON, N.Y. — On the eve of the final round of this year's Masters, Rory McIlroy, then in second place behind Patrick Reed, spoke to the media following his Saturday 65. The Northern Irishman's speech flowed freely. There was no hesitancy, seemingly little thought required before his active, intelligent mind engaged with the question at hand. His responses were like his game, completely natural and so typical of the man and the golfer.
Fast forward a couple of months and here we are at Shinnecock Hills, one day before the 118th U.S Open kicks off in earnest. Again, McIlroy is answering questions. But this time something is different. Something is not quite right. While the man sitting in the chair on the podium looks and, for the most part, sounds the same, his speech pattern has changed. He appears mildly distracted and unfocused on the task at hand. All of which is unusual, if not unheard of, for the four-time major champion, a veteran of countless press conferences.
For one thing, over the course of what turned into a 25-minute back-and-forth, McIlroy uncharacteristically uttered the transitional phrase, "you know" as many as 173 times. There was also a hesitancy, a guardedness and an odd lack of certainty in at least some of McIlroy's interaction with people he mostly knows well. It was, in other words, the verbal equivalent of McIlroy's closing 74 at Augusta National back in April that turned a good week into a disappointing one.
Still, just as he did on that ultimately unfortunate Sunday, McIlroy produced at least a couple of memorable moments reminiscent of his best stuff. Having just spent the last two weeks or so playing the best that Long Island golf has to offer—National Golf Links, Maidstone, Friars Head and Garden City—he had plenty to smile about.
"It was cool to see the architecture that's been brought over from Scotland," he said. "You've got a Road Hole bunker, a Principal's Nose, a Redan. You've got all the stuff from where this game started, which is really cool."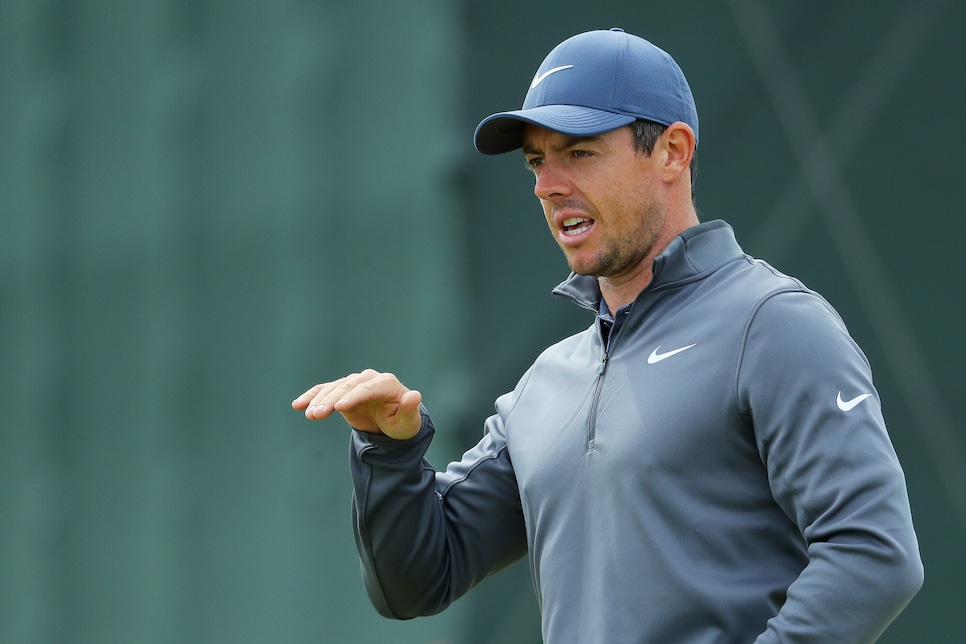 And McIlroy clearly has his strategy for the next four days all worked out. The sight of him hitting a driver—one of the most aesthetically pleasing in the modern game—is not something likely to happen often.
"The biggest challenge is being disciplined," he explained. "Just sticking to the game plan. Even if you think you can get it down there and get a 9-iron in your hand, it's not a bad thing to be back a little bit. Put it in the fat part of the fairway and have a 7- or a 6-iron into the green. Play conservatively, put it in the right spots and be patient. That's what this tournament is all about, and that's the mindset that I'm going to approach it with this week.
"Without playing in the southwest wind until yesterday, I thought I was going to hit maybe seven or eight drivers. But after playing in the prevailing wind, it's more like three or four. It's a long golf course on the card, but it doesn't play that long."
There were some other "birdies" on his press-conference card, marked more by metaphorical two-putt pars from 30 feet. Asked about trying to put an end to the the Americans recent success in team competitions and majors of late—they currently possess all of men's golf's big trophies—provoked the quip, "that's a lot of pressure." He had little to grouse about with traffic-beating proximity to the front gate at Shinnecock Hills—"three minutes door-to-door." And there were some kind words for Rickie Fowler as the 29-year-old Californian continues his search for a first Grand Slam title.
"I'd be very surprised if Rickie didn't have multiple majors by the end of his career," said McIlroy. "His game is highly regarded by all his peers. He's a wonderful player with a lot of imagination. He has all the shots, which is something you need around here."
But for the most part, one of golf's best in front of a mic played it safe to almost every question. "Thin pickings" was one British journalist's overall verdict as he searched the transcript for "a line."
Overall then, this was a strange performance from one so naturally outgoing and willing to engage. One of the best things about Rory McIlroy has always been his readiness to come up with thoughtful answers to even the most banal questions. Maybe he just wasn't in the mood—major championships do bring with them a different level of pressure—but on this day the man many observers regard as golf's most naturally gifted performer shot over par.