News
U.S. Open 2018: How five water balls in a row and a lunatic's soccer fight song figure in my crazy U.S. Open pick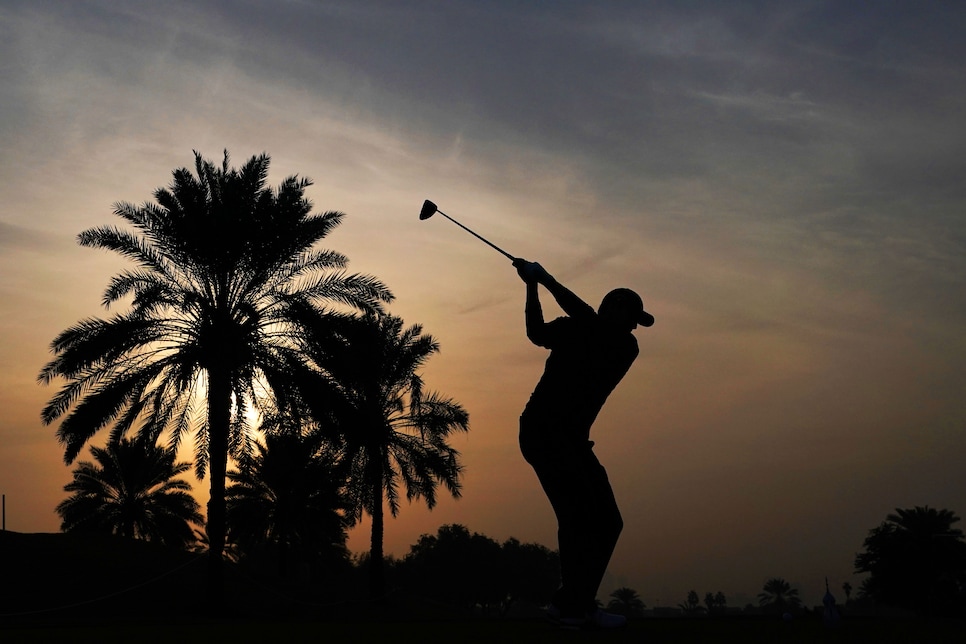 Photo By: David Cannon/Getty Images
It is no great revelation to suggest that some things, particularly in golf, are confusing, a contradiction in terms, a breakdown of the natural order, intellectual and emotional chaos. For instance, U.S. Open parking.
(Note: Any time an event uses words like "temporary train platform," "jitney" and "approximately 25 minutes," you better pack a lunch, maybe two, which unfortunately isn't an option. And by the way, "approximately 25 minutes" is one of those phrases you hear in places you don't want to be, as in "the tow truck will be there in approximately 25 minutes" or "all of our operators are currently busy, your call will be answered in approximately 25 minutes" or "yes, the cystoscopy is a minor procedure that takes approximately 25 minutes." Sure it does.)
My mission here amidst the mass of confusion that is the 118th U.S. Open is for me to explain not merely my incorrectly determined choice for the winner of another major championship. No, it is to remind you that confusion need not lead to consternation. Indeed, the chaos of the mind is only evidence that we need a new direction, a mental break that restores and refreshes in ways we hadn't thought of before. It is important to remember, like noted psychologist and author Melanie Greenberg explains in Psychology Today, "Even if a thought is true doesn't mean that it is helpful to focus on it."
Like, say, how a veggie dog is made. Or how your refrigerator and Alexa could get together and shut down the Internet. Or, say, Retief Goosen not getting a special exemption to the U.S. Open. I mean seriously, the guy won the U.S. Open twice, including on this very same course where he had 11 one-putts in the final round on greens so unreceptive and blazingly fast that they should have been declared a workplace hazard by OSHA. An exemption? Heck, Goose should have a statue in his honor, just left of the seventh green.
Again, I digress. Back to consternation and golf and how Dr. Greenberg suggests we deal with it by, well, not dealing with it. In other words, while it is true that I'm about to confound you with a ridiculously unlikely winner of this year's U.S. Open, it is clearly not helpful to focus on it.
So in the waning seconds while I still have your attention, let me run down the incredible list of qualifications of my U.S. Open winner:
• Has shot 80 in his last competitive round at Shinnecock Hills
• Has missed four of his last five cuts, which included a round in the 80s in his last major championship appearance
• Once offered the Bronx Salute to fans at a previous U.S. Open. (The Bronx Salute, I only recently discovered, does not typically include drums, a soft-shoe number and a favorite Gershwin tune.)
• Recently hurled his driver off a tee box, took a solid minute to relocate it, then proceeded to shank his next shot
• Recorded a 13 after hitting five balls into a pond two months ago
• Finally, then took two prominent tournaments off to go watch a soccer game in Kiev and gave a couple of tickets to this comic genius:
(There are several slicker versions of "Kevin's" Liverpool fight song, but this one is the original that has been viewed about 20 million times. Pavarotti's Nessun Dorma it ain't, but hey, at least our boy "Kevin," aka comic Richy Sheehy, wrote his song. We think.)
Sure, we could be talking about anyone, but given that we're focusing on this whole confusion thing, it's obvious we could only be talking about one golfer, Sergio Garcia. Sergio is confounding because he is this dog's breakfast of golfing and personal qualities. His golf is equal parts tragic and sweetly sublime. His bad is very inexplicably bad, and yet he's won two tournaments in the last eight months and is barely a year removed from winning the Masters. It is no less true when it comes to character. He is the guy who will utter a racist slur and also the man who will spend 20 minutes chatting with a group of fans with special needs. He has been brash and cocky, cheerful, sad, pouty and a supreme gentleman, indeed a truly "gentle" man. His best shots are like thunderbolt earthquakes, his worst misses as inexplicable as, well, Japan's infamous Kit Kat sandwich (because what a Kit Kat really needs is a bun).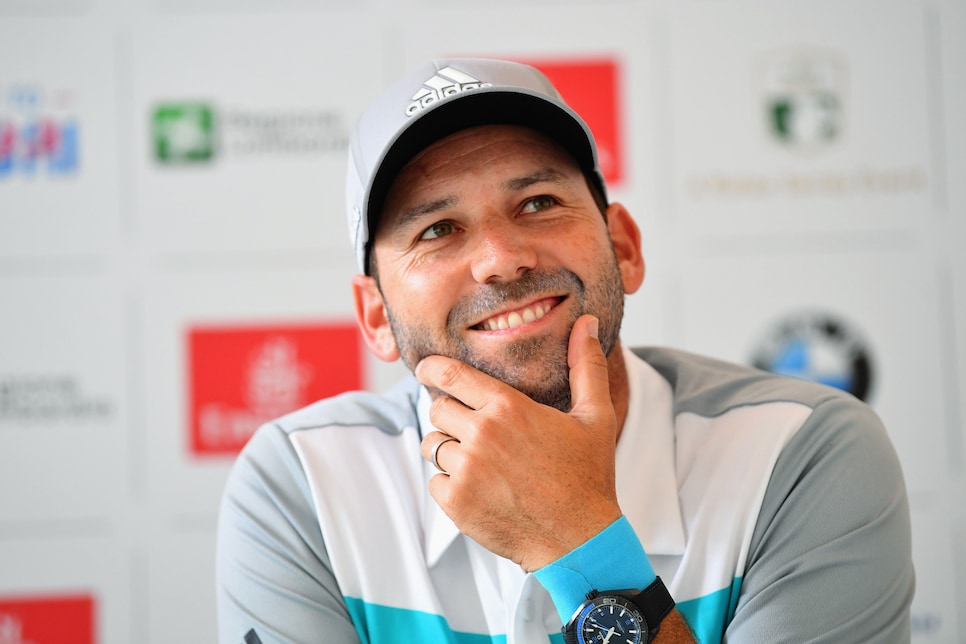 I arrived at Sergio through my usually convoluted mishmosh of statistics. I looked at five seemingly relevant numbers for U.S. Open success: driving distance, driving accuracy, greens in regulation, strokes gained/around the green, and one-putt percentage (see Goosen, Retief). Then I added in World Ranking, because over the last 10 years, seven winners of the U.S. Open have been ranked in the top 30. In fact, since the World Ranking has existed the winner has never come from outside the top 100 in the world, including the much maligned Michael Campbell and Steve Jones.
I then took the average rankings in those statistical categories for the winners as they began their U.S. Open winning weeks and came up with a composite super average. That number is 345. (Again, remember Dr. Greenberg: Just because it's true sometimes it's better not to focus on it.) Then I looked at the average in those same areas for this year's competitors. While plenty of the top players had much lower averages in those statistical areas and theoretically are playing much better than Sergio Garcia, that wasn't important. (If it was important, my numbers say Justin Rose wins in a landslide.) No, I needed the best closest match to my super average number. Sergio's number? 346.
The point is Garcia isn't the equal of the past 10 U.S. Open champions. It's more that there's enough of each of them in Garcia to have him fit the profile. Is he as long as Brooks Koepka or Dustin Johnson? No, but he has hit it 385 this year. Is he as good a putter as Jordan Spieth? No, but he's probably as good as Rory McIlroy, Justin Rose and Webb Simpson, to say nothing of Graeme McDowell, Lucas Glover and Martin Kaymer. Is he the great warrior champion of a Tiger Woods? Of course not, but he did beat him at a made-for-TV event once, so that's close enough, isn't it?
And yes, his recent play has been a curiosity/freak show. The implosion at the Masters, where he hit five balls into the water on the 15th hole on his way to a catastrophic 13 (including four precisely played wedge shots that zipped back into the pond), might have reduced a lesser man to walking the streets dragging his 54-degree along the ground and singing a constant rotation of Adele, Amy Winehouse and Tom Waits ballads. (We've all been there, am I right? Well, not me. I'm more of a George Jones/He Stopped Loving Her Today type myself, but that's another story.)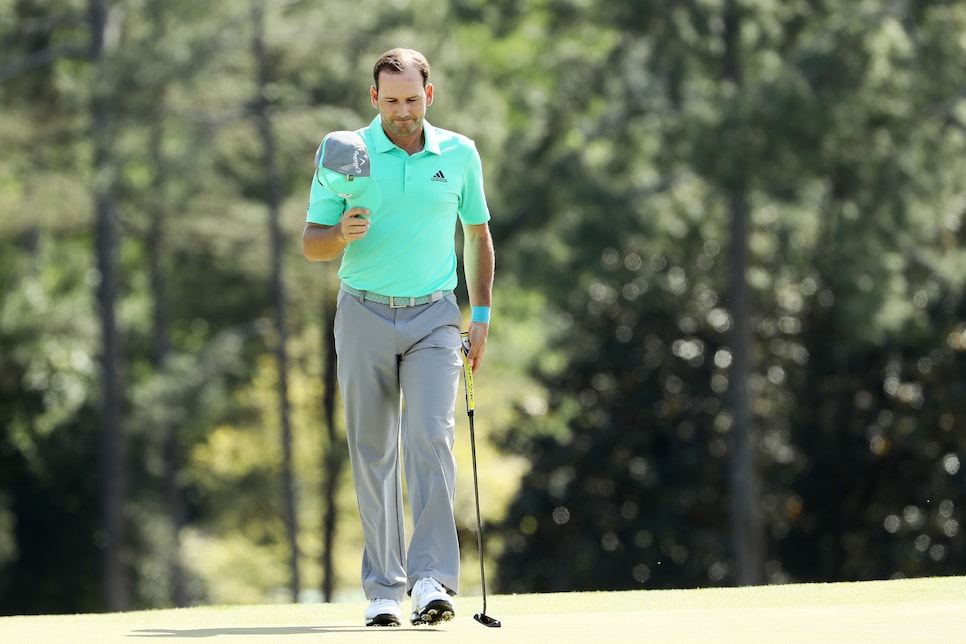 Jamie Squire/Getty Images
That might have been the old Sergio, but not now. The happy husband and father joked on Twitter and then smartly took some time off to watch his favorite soccer team win the Champions League final in person. He took what could have been despair and walked away from and right toward winning. That's a good attitude to bring to a U.S. Open. Besides, we have to believe that winning breeds winning. Unless, of course, you're Sam Snead or Phil Mickelson, whose U.S. Open histories make the voyages of the Hindenburg and the Titanic seem like quite the pleasure cruise.
Beyond the math, Garcia's contended at plenty of U.S. Opens. He's made the cut 10 straight years, including three top-10s. And, as we've noted, he LOVES New York and New York clearly loves him back. In a Bronx Salute kind of way, of course. "What do you mean? They've been great," Garcia says of the New York faithful. "I've done very, very well here in this area. I do like the courses they have around here. I think they're very blessed with the golf courses and all the spots that they have around here. They're very beautiful. I've always felt comfortable around here."
There's your winner. Confused? Of course you are. That's the nature of this insidious, infernal, mesmerizing, beautiful game. (And of course my this-will-never-be-right predictions.) But what else explains hitting the same shot four times into a pond? Why, hitting the fifth shot on and holing the putt, of course.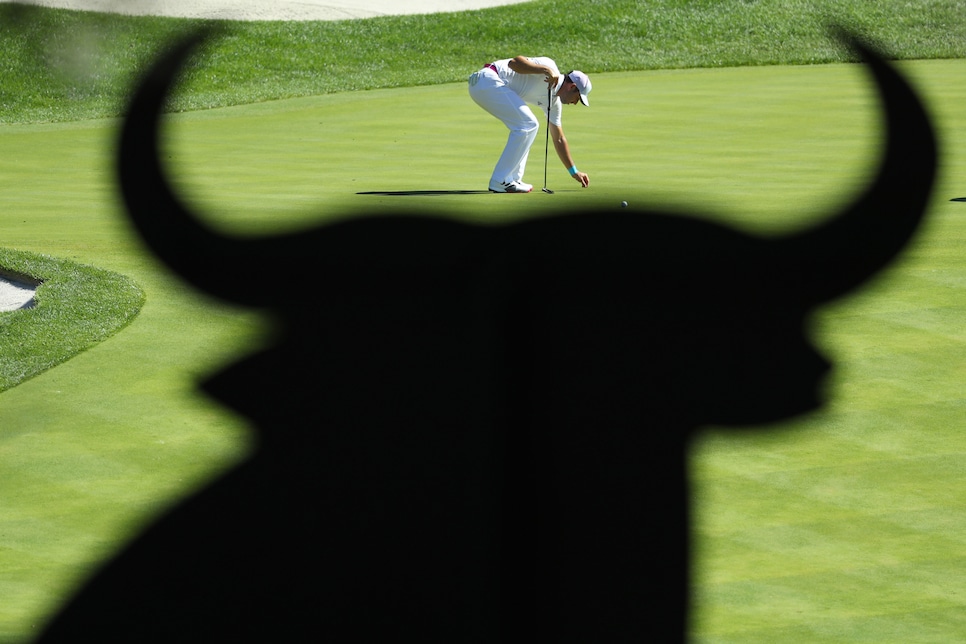 Warren Little/Getty Images