News
The untold story of Phil Mickelson's biggest U.S. Open heartbreak
Forget his runner-up at Pinehurst or Winged Foot (or Bethpage, or Bethpage or Merion). The U.S. Open that most torments Lefty is 2004 at Shinnecock Hills and the secret he's kept until now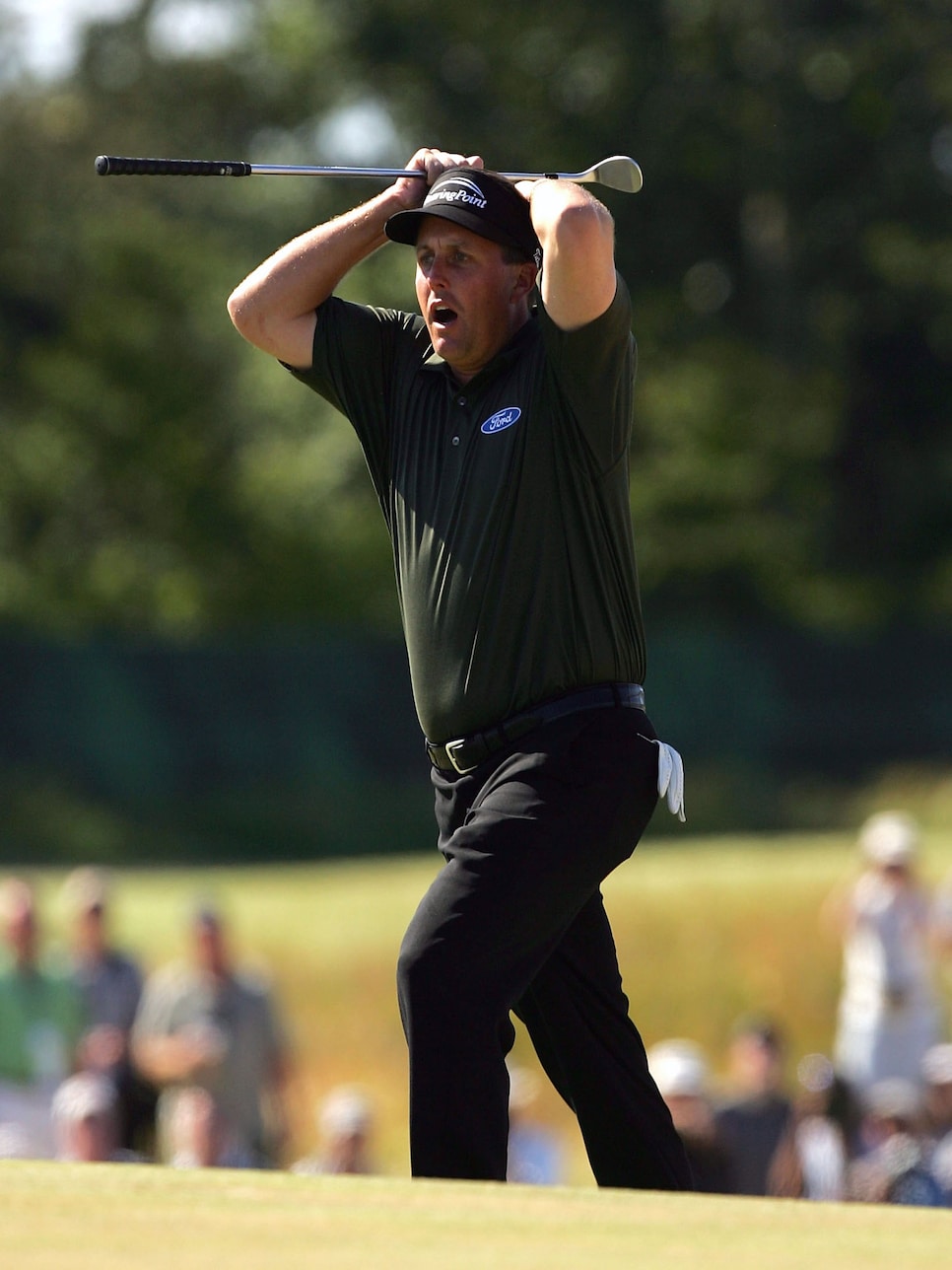 Photo By: Ezra Shaw/Getty Images
"I got a rock."
—Charlie Brown, "It's the Great Pumpkin, Charlie Brown"
Phil Mickelson can relate to Charlie Brown. The lovable loser from the Peanuts comics repeats the above lament throughout his disappointing trick-or-treat sojourn in the long-running animated Halloween television special. But Mickelson, with six second-place heartbreaks in the U.S. Open weighing him down, has held his tongue for 14 years when those same four words easily could have spilled from his lips.
Only Fred Funk, his playing partner in the final round of the 2004 U.S. Open at Shinnecock Hills, has known Mickelson's secret. He distinctly heard the clunky, discordant sound emanating from the front left bunker as Mickelson played his second shot at the par-3 17th hole. Instantly, he knew what had happened and solemnly watched the predictable result as Mickelson's ball raced past the cup—above it, in fact—to a place on the oil-slick green where the left-hander easily could three-putt.
The wayward misadventure on the 72nd hole at Winged Foot Golf Club two years later remains the most indelible disappointment of Mickelson's six near misses in the national championship. But the fate that befell him on the spuriously seducing shoulders of Shinnecock Hills in 2004 gives him the most nightmares.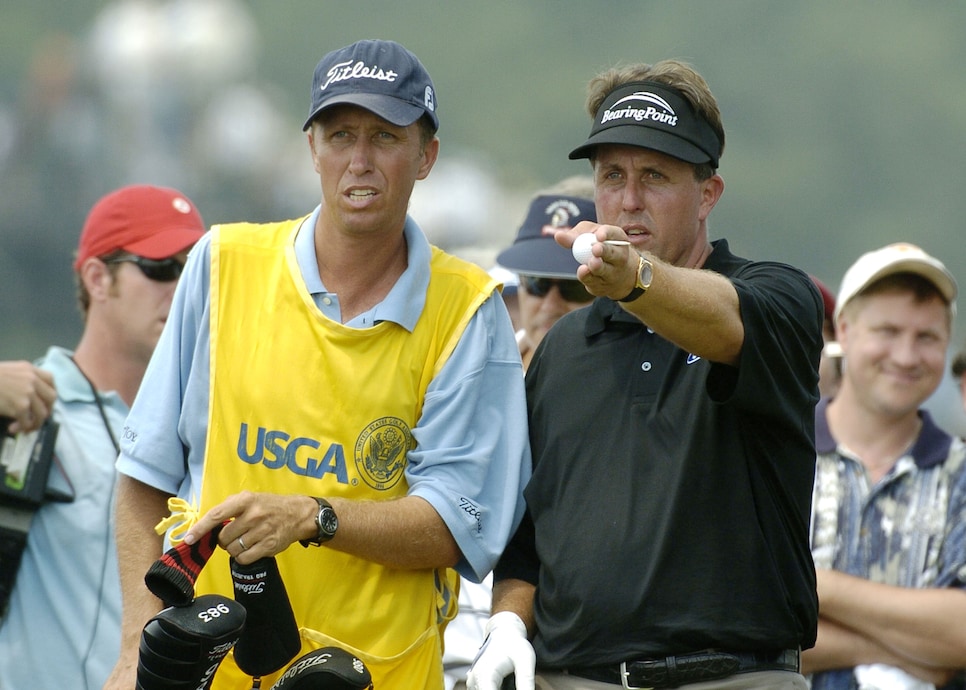 A. Messerschmidt/Getty Images
There were rocks in the bunkers at Shinnecock, and when Mickelson arrived at his ball, he found one about a half-inch in diameter behind it, in the most perfect place to cause the game's most proficient bunker player to hit the most imperfect shot at the most inopportune time. Having grappled to his first lead over Retief Goosen on the previous hole, Mickelson all of a sudden was trailing again after the double-bogey 5. It was too late to make up the deficit.
At two-under-par 278—with a still impressive final-round 71—he finished with the lowest aggregate score in history at a U.S. Open at Shinnecock only to watch Goosen better it a few minutes later by two strokes.
Of the ill-fated bunker shot, all Mickelson had to say that day was, "I really don't know what to say."
Funk simply couldn't believe what his playing partner left unsaid.
"I saw him a few weeks later," Funk recalled, "and I had read all of the post-round comments and the things he said after that. And not once did he mention the rock. I knew what had happened. The sound of the shot was weird, and the ball came out with no spin. So I asked him about it, and all he said to me was, 'I never should have been in the bunker in the first place.' "
If the U.S. Open is the unrequited love of Phil Mickelson's career, then Shinnecock Hills has been the most seductive siren—and biggest betrayer—to him in his quest. Not only in 2004, but also in 1995, when he stood no lower than T-4 after any of the four rounds, Mickelson departed the storied sand hills in Southampton, N.Y., with nothing but disappointment after playing himself into contention. He will turn 48 years old Saturday of this year's 118th U.S. Open, and only the late Julius Boros has won a major championship at that age. Yet Mickelson expects that he will retire that evening with one more shot at the only major that eludes him.
"Yeah, this year is a great chance for me, first of all because I am playing well," Mickelson, winner of five majors, agreed. "Second, I love the setup. I think it's one of the best setups I've ever seen. The fairways are a fair width. They're as wide as I've ever seen them."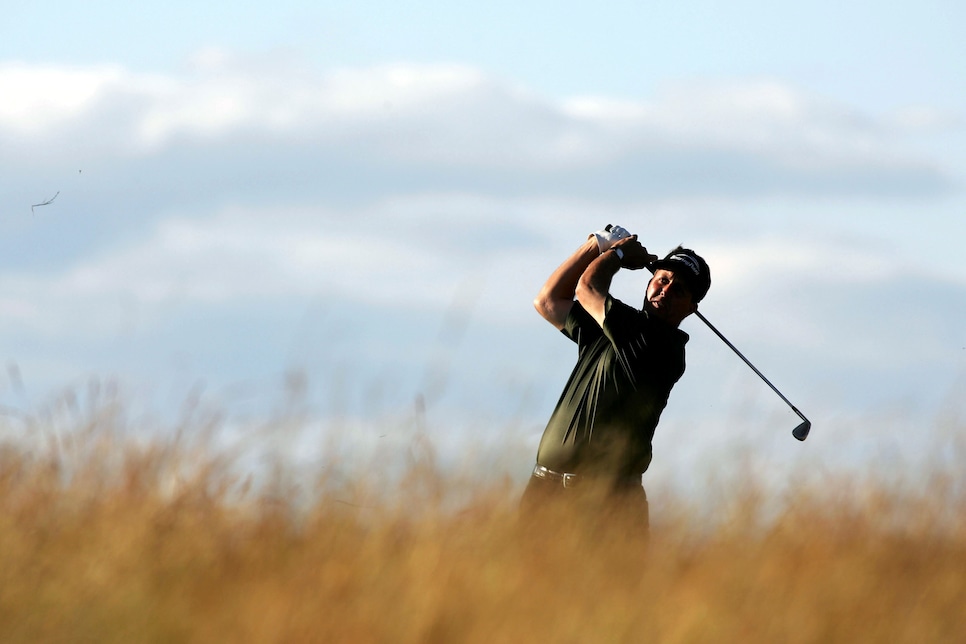 Jonathan Ferrey/Getty Images
No, they are not as wide as what the USGA allowed last year at Erin Hills. But, remember, Mickelson did not play in the 2017 championship because it conflicted with the high-school graduation of his daughter Amanda.
"I love the shaved areas around the holes that can take the ball much farther from the green as opposed to having to hack it out of uncontrollable rough," Mickelson added. "Now you have a shot that is more in your control. I feel like skill is being brought into play.
"And, this is a golf course I love."
One of five men who competed in the previous two championships at Shinnecock (Ernie Els, Kenny Perry, Steve Stricker and Tiger Woods are the others), Mickelson has prepared as diligently as ever for the year's second major. And he has always been among the most prepared for the championship. The world's 20th-ranked player has made two separate scouting trips to Long Island wrapped around the Memorial, and he reached out in recent days to Shinnecock course superintendent Jon Jennings for further insights.
'That is the one I should have won more than any other. "Winged Foot, I played terrible all week. But my short game had never been better in my career. … But Shinnecock, I played phenomenal that last day. Given the difficulty of the course, I would say that I have not played better in a U.S. Open in my life.' —Phil Mickelson
Mickelson does his homework. And all he has gotten for his efforts thus far is a seat next to Sam Snead as the most prominent American Hall of Famer without a national title. Fortunately, the hourglass has not yet emptied. Mickelson recognizes that a two-year glimmer presents itself with Shinnecock and next year's U.S. Open venue, Pebble Beach, where he has captured four of his 43 career PGA Tour titles. And there is Winged Foot in 2020, offering an outside chance as he turns 50.
"If I don't win it in the next two to three years, with the courses we're playing, then I have to think it's not going to happen," he admitted.
In addition to his admiration for the William Flynn-designed course and the USGA's setup this year, which he perceives as giving him an advantage because of his vaunted short game, two other factors could contribute to his bid next week in what will be his 27th U.S. Open start and 25th as a professional.
The first is momentum. Although as wayward off the tee as ever—he is ranked 202nd in driving accuracy on the PGA Tour in 2018—Mickelson has displayed solid golf this season. More importantly, he registered his first win since his 2013 British Open victory at Muirfield when he defeated Justin Thomas in a playoff three months ago in the WGC-Mexico Championship. There was talk last week at the Memorial about Tiger Woods learning how to win again. Mickelson beat him there.
"Winning a tournament this year is a massive thing for me, going into the U.S. Open, where I didn't have that going into the U.S. Open the last few years," averred the left-hander, who is also fifth in the FedEx Cup standings. "So this feels different for me. I feel different about where my game is because I have won recently."
"The marvelous thing about Phil Mickelson [is] you don't put anything beyond him and his talents," said Golf Channel analyst David Duval, who missed the cut in '04 at Shinnecock. "I think his victory in Mexico this year was obviously huge for him, re-establishing himself as one of the names in the game and one of the top players."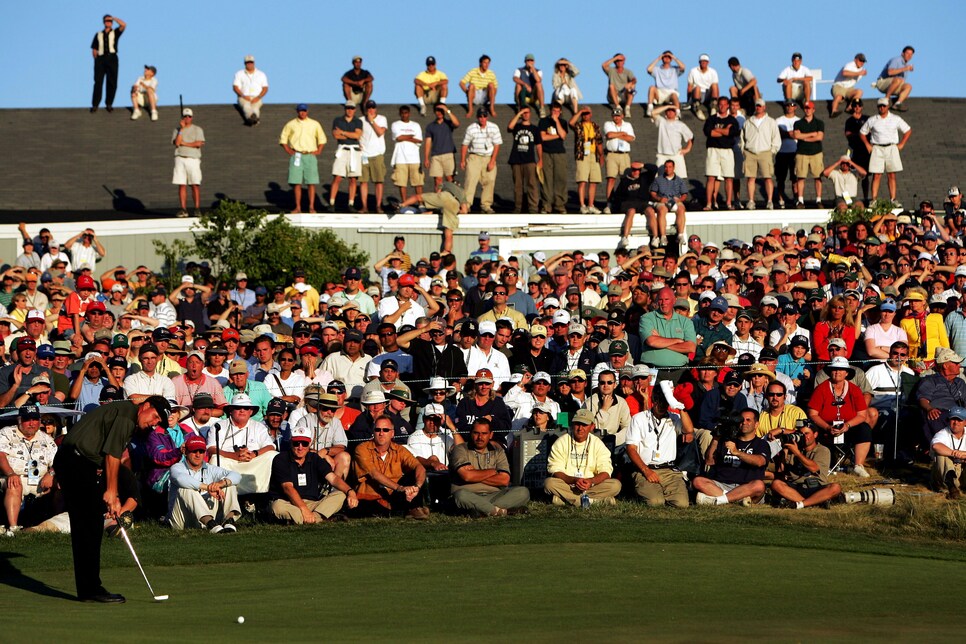 "If I can't win, I want one of my buddies to win. I would absolutely, 100 percent love to see Phil win. I think a lot of guys would, honestly," said two-time major winner Zach Johnson. "Is it going to sway his legacy? I would say no. Would he have all four majors at that point? Yes, but he's already one of the best players ever to play the game. I would just like to see him win it because he's been close so many times. He's been a great U.S. Open player."
Arguably, Mickelson was never better in the Open than on that sundrenched Father's Day in '04, when course conditions spilled over the edge from extreme to nearly unplayable, particularly on the dried out, crusty, brick-hard greens that repelled shots and made every putt a nerve-jangling exercise in uncertainty. The scoring average that day was 78.727, more than five strokes higher than the average for the first three rounds combined and the highest in a final round since 1972 at Pebble Beach. No player broke par, the first time that had occurred in the final round since the 1963 Open at The Country Club in Brookline, Mass., and only one (Robert Allenby) equaled it.
After opening 68-66 for a share of the 36-hole lead with Shigeki Maruyama, Mickelson had slipped into a share of second place with two-time U.S. Open winner Ernie Els when he posted a third-round 73 on Saturday that included a hint of what was to come for the field the final day. He and Maruyama each saw their respective first putt at the par-3 seventh hole roll off the green, leading to a double bogey and bogey, respectively.
Mickelson double-bogeyed the famed Redan hole again on Sunday, after watching the maintenance crew, under direction from USGA officials, water the green for the twosome in front (Maruyama and Tim Clark) but not for him and Funk. "Total crap," Mickelson recalls thinking at the time. Nevertheless, he held his nerve, and he was able to make a change on the inward nine.
"Shot after shot, I hit just about as well as I could have expected," Mickelson recalled.
"It was a brutal day, but other than shooting 77 I don't remember that much about my day," said Funk, who began three strokes behind Goosen but ended up solo sixth. "Honestly, the thing that sticks out in my mind the most was the excitement from the crowd with Phil. It was an atmosphere you can't describe. He was playing great. … I mean absolutely as well as I ever saw him play. And when he knocked it to a foot on 16, the place went crazy. It was an amazing day."
That birdie was Mickelson's third in a four-hole stretch, and it gave him the outright lead. Two months earlier, Mickelson had broken through at the Masters for his first major title. And here he was in control of his game and emotions when he stepped on the 17th tee. His 7-iron drifted into the left bunker, but it wasn't the worst leave on that hole.
Then his world got rocked.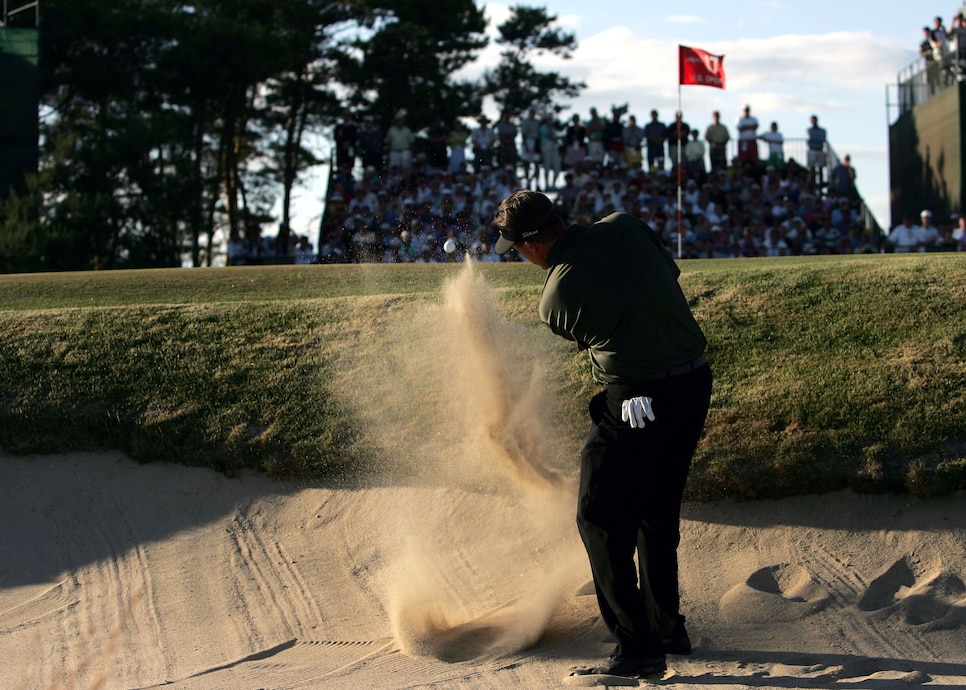 Jonathan Ferrey/Getty Images
"I tried to go behind the rock and underneath it, and it took all the spin off it. It had over-spin on it," Mickelson said. "It shot past the hole in the one spot I couldn't go, downhill, down wind. It was not a hard shot—basic uphill bunker shot into the wind. Couldn't have been easier. But that one thing changed everything."
Mickelson paused for effect. He was grinning, but shaking his head.
"All because of that fricking rock."
In the group behind, Goosen also birdied No. 16 by holing from 12 feet and then got up-and-down for par at 17 from the same spot that slayed Mickelson, sneaking a three-footer in the left corner to remain two ahead.
"It was like a morgue going up 18," Funk said. "We went from this incredible theater with the possibility of a playoff or Phil winning outright to now he is two behind and there's nothing. That was a screw job on that 17th hole. And he never mentioned it to anyone. It was probably one of the worst breaks I ever saw."
And that is why it's the toughest U.S. Open loss for him to swallow.
"That is the one I should have won more than any other," Mickelson said, gauging the myriad disappointments he has endured, which includes not only all of the runner-up medals but 10 top-10 finishes overall in the championship. "Winged Foot, I played terrible all week. But my short game had never been better in my career. I hit shots that week that were ridiculous. But I missed fairways all week. It wasn't like all of a sudden I couldn't hit a fairway [like on the final hole, where he made double bogey from the left rough to lose to Geoff Ogilvy]. And even then I probably should have won. I certainly could have won.
"But Shinnecock," he added, "I played phenomenal that last day. Given the difficulty of the course, I would say that I have not played better in a U.S. Open in my life."
It would be a stretch to say that the break on 17 haunts him. Throughout 72 holes of championship golf there are always breaks, good and bad, opportunities lost, strokes surrendered or squandered. Mickelson pointed out that in 1995 he played the par-5 16th hole in six over par. "Had I played it in even par, I'd have won by two [over Corey Pavin]," he said.
"That frigging rock," Mickelson muttered again.
It was the cruelest irony for a man who has strived so mightily to win his national championship and has left no stone unturned in the attempt.