News
U.S. Open 2018: Golf injuries are trending upward, and theories abound as to why
A herniated disc, fractured rib, back soreness, partially torn tendon, partially torn meniscus, tendinitis, hernia, foot injury, stress fracture, torn labrum. No, it's not an NFL injury report. It's the list of some of the injuries players in the top 50 of the Official World Golf Ranking have suffered in the last few years.
So much for being a non-contact sport.
More than a third of those among that group have missed significant time due to injury. The list doesn't include former World No. 1 Dustin Johnson, by the way, because his back injury had to do with a pair of socks and a few slippery steps.
It's a small sample size but the trend begs the question: Why do more golfers seem to be getting hurt than in previous generations?
"No one used to work out," says Jason Day, who has endured his share of everything from a thumb injury, to back problems, to vertigo. "We're working harder in the gym and working harder overall, but the biggest thing is, hopefully, we're doing the right things. I think for a long time I wasn't doing the right things in the gym, and that's why my body was [breaking down]. You find more power and torque but sooner or later the body can't handle it."
The aforementioned list also doesn't include Tiger Woods. Like his golf, his myriad injuries belong in their own category. His medical dossier is as thick as a Tolstoy novel.
Back problems certainly aren't new for golfers—Lee Trevino, Lanny Watkins, Fred Couples, David Duval and Retief Goosen are just some of the major champions who've had issues with theirs over the years.
Then there's reigning U.S. Open champion Brooks Koepka, who, at 28 years old, who missed more than three months this year with a partially torn tendon in his left wrist. It forced him to miss the Masters and has made his prospects for defending his title at Shinnecock a bit uncertain.
While there's no database that keeps track of injuries on tour, there is evidence, at least anecdotally, that the maladies are piling up more frequently for golfers.
That's a complicated question with, like most big problems, myriad answers.
As aesthetically pleasing as a lot of swings look (Adam Scott, Rory McIlroy and Louis Oosthuizen are among a few that immediately come to mind), it's far from a natural movement. In short, humans aren't meant to wind and contort violently, never mind doing so with the body tilted at an angle.
"They're in an athletic stance bending forward with the lumbar spine twisting and creating torque and force to the discs and joints," says Dr. Michael Duffy of the Texas Back Institute, the same clinic where Woods underwent spinal-fusion surgery last year. "You're putting the back under pretty undue stress with the amount of balls these guys hit and the time they spend in that posture."
There are a million different ways to swing the golf club effectively—no one would confuse Jim Furyk's loop de loop with the revved up moves of Johnson and his massive shoulder turn and extremely bowed left wrist—but longtime trainer and Golf Digest fitness advisor Ben Shear breaks down swings into two categories: circular linear (think Phil Mickelson, Bubba Watson) and angular (Day, Woods). One isn't necessarily better than the other, except when it comes to the amount of strain it puts on the body.
"The longer swings like Bubba and Phil, they're using time and distance to create the swing," says Shear, whose clients have included Day, U.S. Open champion Webb Simpson, and former World No. 1 Luke Donald, as well players from the NHL, NFL, NBA, MLS and the Olympics. "They're not loading the swing up as much in a shorter span. Doing so [the way Day does] creates way more stress on the body."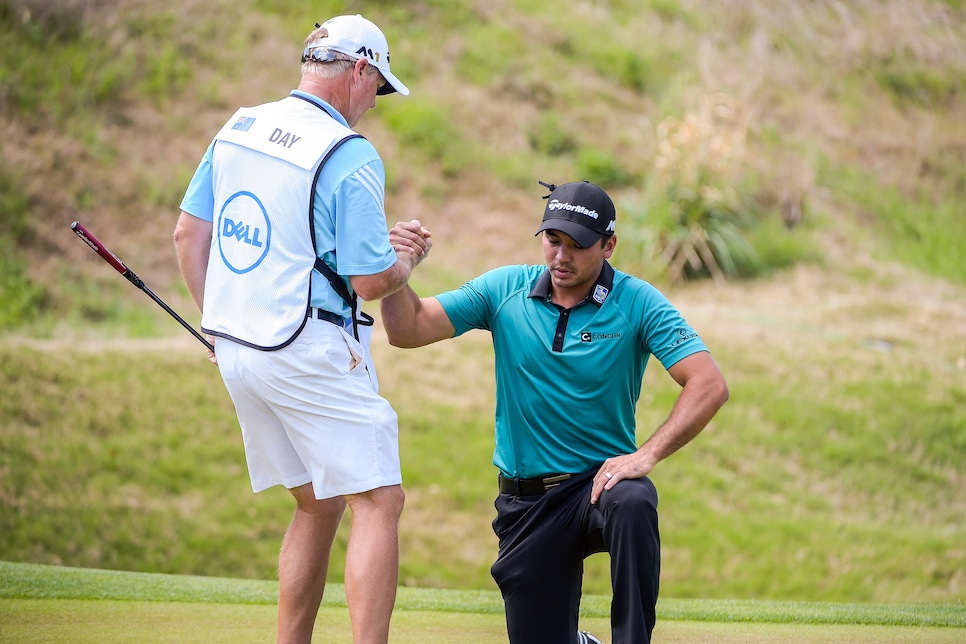 Put another way, the modern golf swing, with all its RPMs as swing speeds rise to 125 mph, the left heel planted, the emphasis on separation of the upper and lower body to create torque and massive rotational forces distributed in a shorter, tighter space, can wreak havoc.
"In today's game I do feel like players are getting injured at a higher rate than in the 1970s and '80s because the game has changed," says CBS analyst and instructor Peter Kostis who counts oft-injured Paul Casey among his students. "It's a power game now. Virtually everybody out there is swinging at 100 percent. Back then, guys were swinging 70 or 80 percent because control was paramount. Now, we're pressing the body by swinging really hard."
Still, nothing is perfect. Mickelson, with his long, languid swing, announced in late 2016 that he had undergone hernia surgery. More than two decades of chasing the sun on tour had taken its toll. It was his second such procedure.
That Mickelson issued a statement at the time is another part of the equation. In a 24-7-365 news cycle few stones go unturned.
"You don't think people 40 years ago had back injuries in golf?" says Woods' latest former coach Chris Como, who also coaches Jamie Lovemark, another player that had previously gone under the knife for a bad back. "[But] it wasn't covered as much."
Certainly not. There wasn't an Internet when Jack Nicklaus was playing. But the Golden Bear, who was one of the longest hitters of his time, said he never had back pain until he reached his 40s. He also said he never withdrew from a tournament because of injury. If he was bothered, he simply played through it, which is why he couldn't help but take notice last summer at his Memorial Tournament of who wasn't there, with McIlroy, Casey and Justin Rose all having pulled out.
"I think part of the problem today with athletes is that they specialize at a very young age," Nicklaus said then. "I played multiple sports. Arnold [Palmer] played multiple sports. Gary [Player] played multiple sports. And I think all sports develop your body better, and it wards off injury better.
"I came home every Monday after playing a tournament and played in a rec basketball league until I was 40 years old. Did I play everybody? Of course I didn't play everybody. I wasn't home. But I played a lot. Do I think that kept me healthy? You're darn right. I played a lot of tennis. I played tennis right through the golf season. Did that keep me healthy? I think so. Everybody said you can't play tennis and golf together. Fooey, that's ridiculous. To me, I think you develop your body."
Or give it a rest, something that has become increasingly more difficult to do since the PGA Tour went to a wraparound schedule in 2013. The argument from the tour is that the number of events hasn't changed since the switch and players can make their own offseason whenever they want. This is true, but there are repercussions.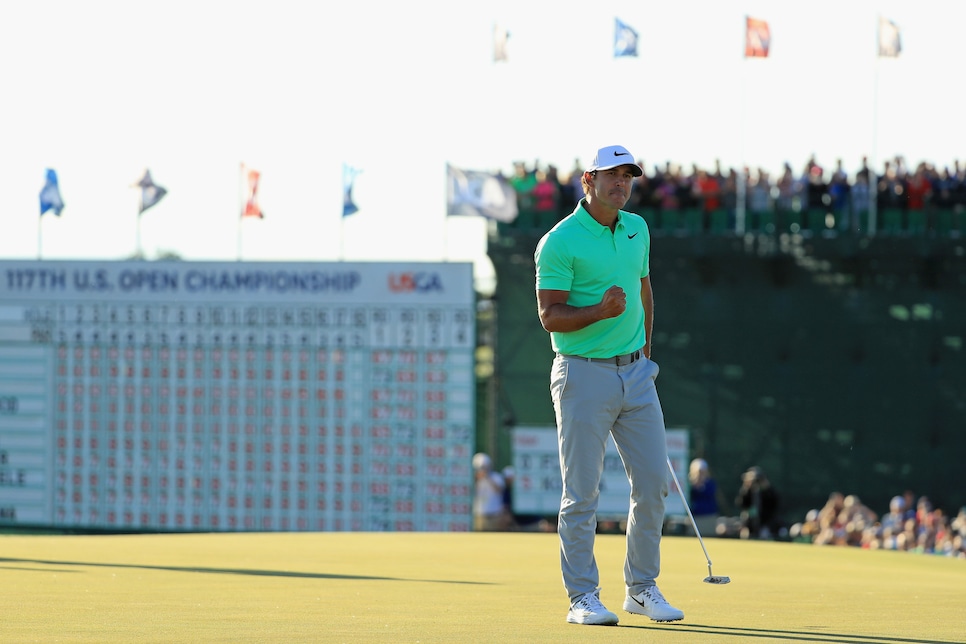 A few weeks after Jimmy Walker's season ended in the fall of 2013, he opened the new one with a win at the Frys.com Open. A week later, he tied for 12th in Las Vegas, followed by a tie for sixth the next week in China. By the time the calendar flipped to 2014 players found themselves looking up at the 685 FedEx Cup points the Texan had accumulated. He further padded his lead with early year wins in Honolulu and Pebble Beach.
It didn't take long for the rest of the tour to take notice. No longer could players wait until the West Coast Swing—or later—to get their season going.
"In every major sport, players have an offseason to recover or work on their technique," Kostis says. "Now [in golf], it becomes problematic. The tour is doing a complete disservice with a tournament every week. I know it's a business, and they're making money with the wraparound schedule. [But] you don't want to start off 1,000 points behind so players are compelled to play."
Money—and new opportunities—can be another compelling element, particularly for top players who are paid huge appearance fees to jet off to far corners of the globe. In a four-month span at the end of 2015 and beginning of 2016, Jordan Spieth, fresh off a season in which he won two majors, the FedEx Cup and reached No. 1 in the world, traveled to South Korea, Shanghai, Australia, the Bahamas, Abu Dhabi and Singapore. Spieth admitted not long after to being exhausted and said he wouldn't be doing that again. The same can be true for other players who can afford to take time off. Massive amounts of money allows such freedom.
Koepka, meanwhile, said he played through a sore wrist at the Hero World Challenge in the Bahamas last December, where he finished last in the 18-man cash and World Ranking points grab. A month later in Maui, he had another last-place finish in the limited-field Sentry Tournament of Champions. Less than two weeks later, he said an MRI revealed a partially torn tendon. He missed the Masters and didn't return until the Zurich Classic of New Orleans at the end of April.
Golf isn't also alone when it comes to a rise in injuries. Many sports have seen an uptick. Reports in the NBA showed a significant increase in number of games missed by payers who were hurt this past regular season. Being an actual contact sport, it happens. But last year, seven of tennis' top 20 had their seasons cut short, too, including Novak Djokovic, Andy Murray and Stan Warinka, none of whom played a match after Wimbledon in July.
But at least they get an offseason.
"Guys are playing more than ever, practicing more than ever, hitting more balls than ever with way less time to rest than ever," Shear says. "Higher swing speeds are a piece of it, but the bigger piece is the season never ends. The body never gets a chance to recover."
Because of that, adjustments often have to be made. Como didn't start working with Lovemark until after he'd undergone back surgery in 2011 and in doing so had two goals. "The swing changes we made were from a standpoint of how he could perform better and do it in a way where he could play long term and not re-injure himself," Como said. "So far it's worked out."
Kostis, meanwhile, said he spent three years trying to build a swing that would work for Casey after the Englishman suffered a dislocated shoulder following a snowboarding crash in 2012. That it wasn't until the last couple of years that they were able to return to "his golf swing." It has showed in the results with the Englishman climbing from No. 100 in the world four years ago to 12th this season following a victory in Tampa, his first since 2014.
Having to make adjustments, however, can sometimes lead to more problems in the dizzying cycle.
"A [bad back] could predispose them to other injuries because a guy will change his swing to protect a body part then they might under rotate in the back and rotate the shoulders too much," Duffy said. "If you have a bad left knee and stop posting on the left leg it can create force in other ways.
"There's also sometimes a genetic predisposition that plays a part."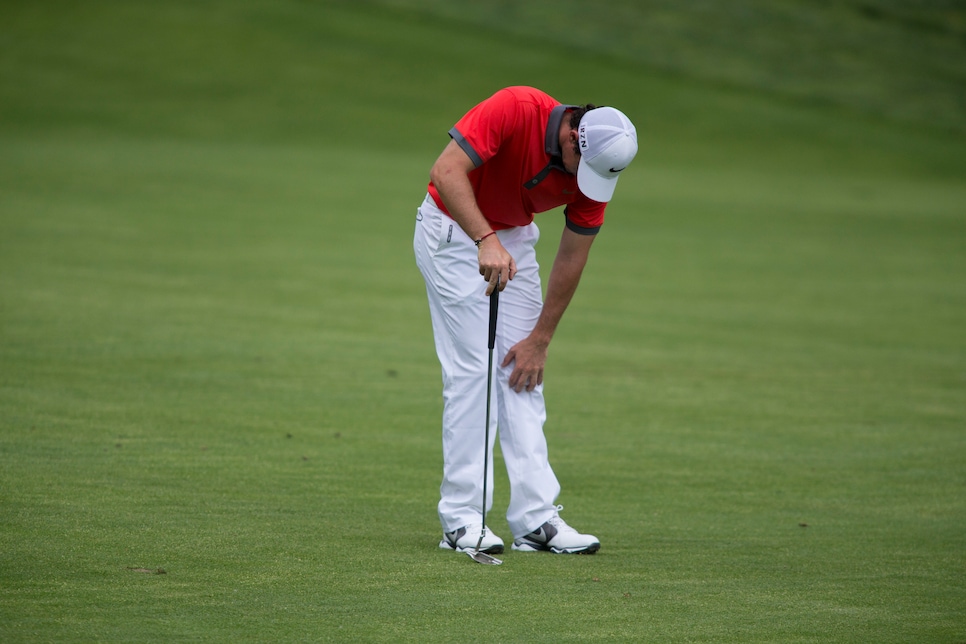 The latter is among the reasons McIlroy started hitting the gym a few years ago. Plagued by a degenerative condition in his spine, he needed to strengthen the areas around it for stability and to avoid injury, according to his trainer Steve McGregor. He dropped the baby fat, added loads of lean muscle, landed on the cover of a fitness magazine and soon found himself in a now-infamous Twitter spat with NBC/Golf Channel analyst Brandel Chamblee, who compared McIlroy to Woods and feared that the Northern Irishman could head down a "destructive path" with all the weight he was pushing around in the gym.
The two have since moved on, but guys keep getting hurt.
"Golf is more athletic than ever, courses are longer, players are stronger than ever," says trainer Joey Diovisalvi, who works with a number of players on tour, including Johnson. "Athletes are going to get injured."
The list of reasons is a lot like one of today's crushed drives: Long and with no end in sight.