News
U.S. Open 2018: Everything you need to know about the 20 amateurs playing at Shinnecock Hills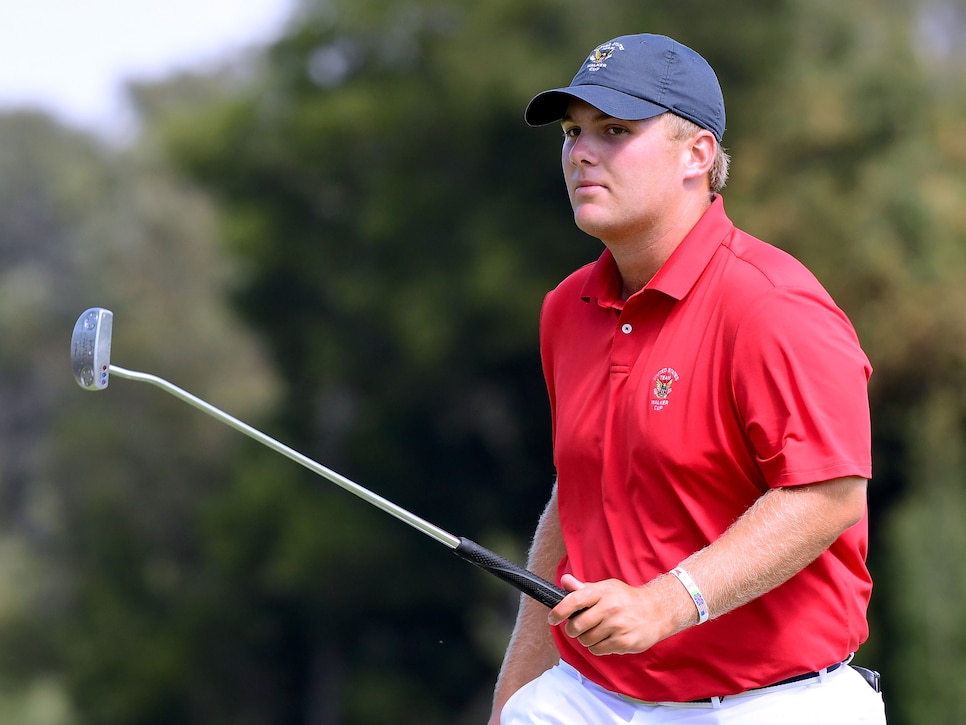 SOUTHAMPTON, N.Y. — When it comes to amateurs playing in the 118th U.S. Open, it's not who is in the field at Shinnecock Hills that's impressive, but how many.
Twenty are competing this week, the most since 1962 at Oakmont and five shy of the record set in 1959. (There could have been as many as 25 in the field, but three who qualified as amateurs decided to ditch the "little A" next to their name and play as pros, and Joaquin Niemann and U.S. Amateur champion Doc Redman gave up their exemptions when they turned pro this spring.) This marks the sixth straight year at least 10 amateurs are competing and the 11th time in 12 years.
Are we seeing an amateur renaissance? Well, let's not get too carried away. None of these players are going to end the streak of 85 years since an amateur won the U.S. Open (Johnny Goodman has that trivia answer locked up for good). But as we have seen in the recent past (Beau Hossler in 2012; Michael Kim in 2013; Cameron Champ a year ago), amateurs on the leader board in the U.S. Open is a real thing and there are plenty of good candidates to play that role this week.
Of course, if the potential for an amateur to be in the mix exists, then obviously one is going to make the cut at Shinnecock Hills, right? The simple answer is yes; an amateur has made the cut every year since 2007. But the number to stick around for the weekend is not quite as large as you'd think. Consider that in the last five years with double-digit numbers of amateurs competing in the Open, just twice has there been more than two to make the cut.
There is a consistent theme among this year's amateur class. Save for reigning Mid-Amateur champion Matt Parziale and 2016 Mid-Am winner Stewart Hagestad, the others are all in college or just graduated. And only three of these players (British Amateur champ Harry Ellis, U.S. Amateur runner-up Doug Ghim and qualifier Will Grimmer) have major experience. The "newness" of being inside the ropes at such an event may make for tougher sledding for the play-for-pride set this year.
So how does the race for low amateur stack up? Here's my break down of the players into categories of confidence, with 5 being my bets to make the cut, down to 1 being the least likely.
Confidence Level 5
Shintaro Ban, 22, San Jose, Calif. (UNLV 2018 grad)
Doug Ghim, 22, Arlington Heights, Ill. (Texas 2018 grad)
Braden Thornberry, 21 Olive Branch, Miss. (Mississippi)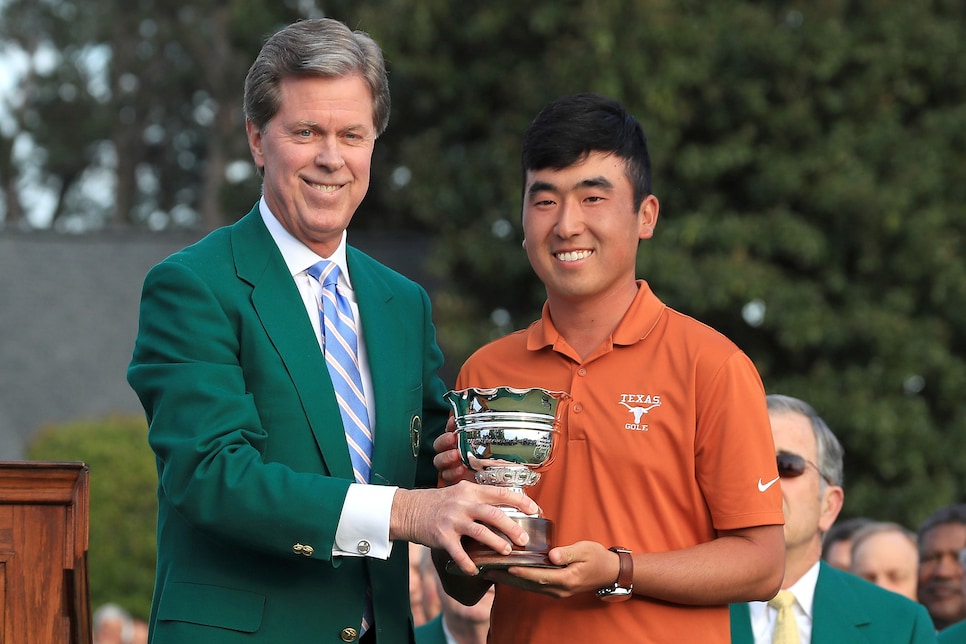 David Cannon/Getty Images
These three are all coming off impressive college seasons, Ban and Ghim earning first-team All-American honors. Ghim, who just graduated from Texas and turns pros next week at the Travelers Championship, not only has experience in a major, but good vibes from his T-50 showing at the Masters, where he earned low amateur honors. (He'll have his dad, Jeff, on the bag again here this week.) Thornberry (photo above), the 2017 NCAA champ and an eight-time winner in college, just had a T-26 finish playing as an amateur at the FedEx St. Jude Classic. This trio all has the game to handle Shinnecock Hills' links-style layout and the confidence to block out the distractions of playing in a major championship.
Confidence Level 4
Stewart Hagestad, 27, Newport Beach, Calif.
Theo Humphrey, 22, Greenwich, Conn. (Vanderbilt 2018 grad)
Hagestad resurfaced when he advanced at Sectional Qualifying in New Jersey after having the dream amateur season in 2017. You'll recall he made the cut at the Masters and played in the U.S. Open, then capped things off by being part of the victorious U.S. Walker Cup team while playing a home game at Los Angeles C.C. He missed the cut at Erin Hills last year, but living on Long Island and having played a time or two at Shinnecock Hills makes the task of making the cut a little less steep. Humphrey was a semifinalist at last year's U.S. Amateur and earned SEC player of the year honors this last season at Vanderbilt. His lack of experience in pro events is offset by a quiet confidence that propelled him throughout his college career.
Confidence Level 3
Philip Barbaree, 19, Shreveport, La. (LSU)
Jacob Bergeron, 20, Slidell, La. (LSU)
Harry Ellis, 22, England (Florida State)
Luis Gagne, 20, Costa Rica (LSU)
Noah Goodwin, 17, Corinth, Texas (SMU)
Matt Parziale, 31, Brockton, Mass.
Garrett Rank, 30, Canada
If you're an LSU fan, you've got plenty to root for this week. Tiger teammates Barbaree, Bergeron and Gagne all advanced through Sectional Qualifying. Barbaree is a former U.S. Junior champ (having rallied from 5 down with eight holes to play to claim the title) and is playing in his sixth USGA championship. Goodwin, meanwhile, is the reigning Junior champ taking advantage of the USGA allowing the Junior winner's a spot in the U.S. Open field for the first time. Parziale and Ellis are looking to build off their experience at the Masters, but it's Rank that is arguably the most intriguing story of this year's Open. The Canadian is on summer break from his full-time work of being an NHL referee.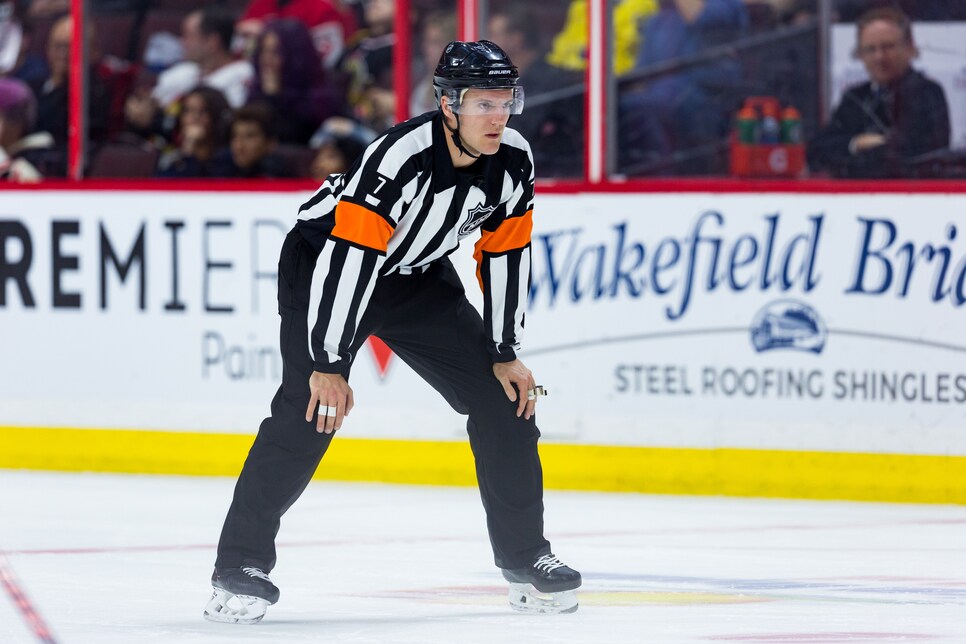 Confidence Level 2
Will Grimmer, 21, Cincinnati, Ohio (Ohio State)
Franklin Huang, 22, Poway, Calif. (Stanford)
Rhett Rasmussen, 19, Draper, Utah (BYU)
Tyler Strafaci, 19, Fort Lauderdale, Fla. (Georgia Tech)
Chun-An Yu, 19, Taiwan (Arizona State)
Grimmer qualified for the 2014 Open at Pinehurst, where he shot a 77-80 to miss the cut (although he also once shot a 59 at the North and South Amateur at the North Carolina resort). Strafaci has a USGA pedigree of sorts going for him; his grandfather, Frank, won the 1935 U.S. Amateur Public Links title.
Confidence Level 1
Ryan Lumsden, 22, England (Northwestern)
Kristoffer Reitan, 20, Norway
Timothy Wiseman, 21, Corydon, Ind. (Ball State)
Reitan will make history on Thursday, becoming the first golfer from Norway to ever play in the U.S. Open and the first Norwegian to compete in any major since 2006. Lumsden took the difficult route to Shinnecock as the only amateur to advance through the Columbus, Ohio, sectional qualifier.