News
U.S. Open 2018: Dustin Johnson setting himself apart with power, skill, and indifference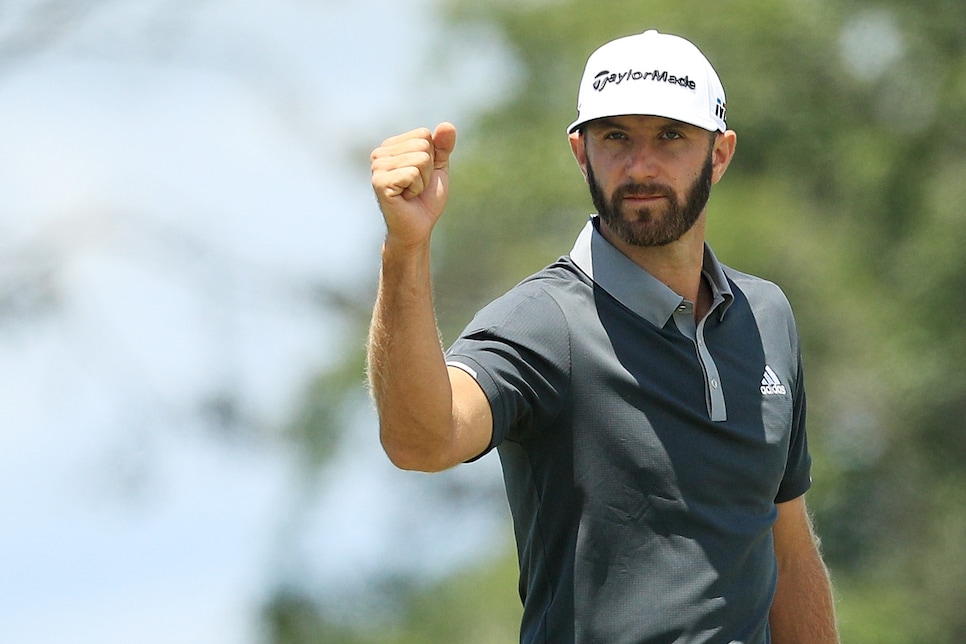 SOUTHAMPTON, N.Y. — Neither rain, nor wind, nor dark of day can stop Dustin Johnson from his appointed rounds right now—and an excellent chance to win a second U.S. Open in three years.
On Thursday, Johnson was one of four players to break par as 20 to 25 mile-per-hour winds howled through Shinnecock Hills. On Friday morning, the round began in breezy overcast conditions before it became cold, rainy and miserable. Only on the final five holes did the sun come out and shine on the threesome of Johnson, Justin Thomas and Tiger Woods.
Johnson was resolute, regardless of the conditions. There weren't a lot of birdies to be had on the golf course on either day for anyone, but Johnson stayed patient, didn't make many mistakes and signed his scorecard after 36 holes at four-under-par 136, which gave him a four-shot lead on the field as he headed back to his rented house to put his feet up for the afternoon.
"He's just playing, 'DJ golf,'" said Thomas after seeing it up close and personal for two days. "He's not doing anything spectacular. He's just in control of his swing. He's keeping the ball in front of him. Everything he's doing right now is really, really good."
Woods, who knows something about dominating on a golf course, shook his head when asked about what he had just witnessed.
"Dustin's in complete control of what he's doing out there," he said. "When it got rainy and blustery out there, he just played right through it. He's hitting everything flush. Every putt he hit looked like it was going in."
Already, even with two rounds to play, golf people are talking about just how dominant Johnson has become—and maybe become during the next four years. A week shy of turning 34, Johnson now has 18 PGA Tour wins—including the 2016 Open at Oakmont. He briefly lost the No. 1 spot in the Official World Golf Rankings recently to Thomas, but snatched it back a week ago with a runaway win in Memphis.
"If he wins here and has two Opens in the last three years, I think there's a chance he goes on a run and wins multiple majors the next few years," said Ken Schofield, the former director of the European Tour. "A few years ago I liked to say that when Rory [McIlroy] was at his best, that was the best golf could be in the world. Now, without question, DJ's best is the best there is."
As Thomas pointed out, Johnson doesn't have to be spectacular to dominate. He has made four birdies each day at Shinnecock, but only four bogeys—total, including just one on Friday. He's only birdied two of the four par 5s he's played, unusual for him.
"He reminds me of Ernie Els 20 years ago," said Chubby Chandler, who was Els's agent in those days. "Everything looks easy for him. He's got a long, easy swing and nothing seems to bother him out there. He's looks laconic, but it's obvious he's very competitive."
Johnson's ability to not get too high or too low has clearly helped him navigate the lows that have befallen him. In 2010, he led the Open at Pebble Beach by three shots after 54 holes before a meltdown 82 on Sunday knocked him down to a tie for 8th.
He insisted he'd be able to bounce back from that debacle and, two months later he did, missing the playoff at the PGA at Whistling Straits by one shot because of a two-shot penalty incurred when he mistakenly ground his club in what the PGA of America had somehow deemed a bunker on the 18th hole.
"It may have been a bunker once," David Feherty said that day. "But by the time Dustin played that shot it was a sheep pasture."
There were off the golf course issues after that and injuries and it began to look as if Johnson was going to be one of those great talents who never quite lived up to his potential. Then came the three-putt on the 72nd green at Chambers Bay in 2015 when he went from looking at a 12-foot eagle putt to win the Open, to missing a four-foot birdie putt that would have tied Jordan Spieth.
"I honestly thought after that he might be done," Schofield said. "Not that many players bounce back from that kind of disaster once. Dustin's done it three times now—Pebble, Whistling Straights, Chambers Bay. That's pretty remarkable."
When Johnson plays "DJ golf," it is difficult to find much wrong with his game. His short game has become one of the best in the sport, to go along with his often stunning ball-striking. He's also matured mentally, as the first two rounds have proven. He hasn't tried to overpower the golf course. In fact, he's played it with a good deal of finesse, often laying back off of tees to make sure he finds fairways.
Johnson's description of his round Friday was—as Chandler would put it—typically laconic.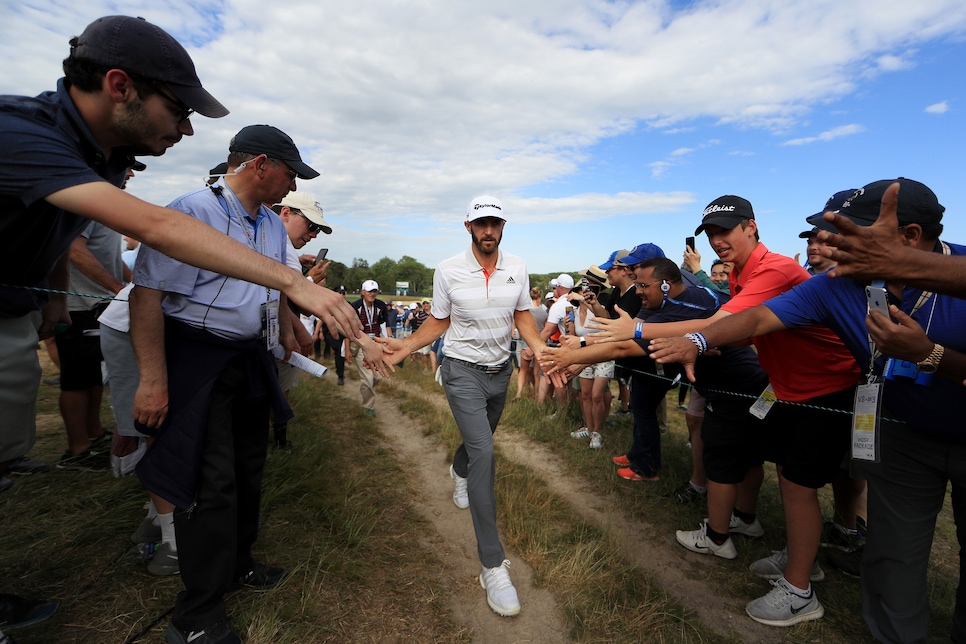 Mike Ehrmann/Getty Images
"The first seven or eight holes it was breezy and overcast," he said. "I thought the golf course was really difficult. Then the rain came and it got a little cooler and the golf ball wasn't going very far. I thought I did a good job hanging in there, then it got nice for the last 5 or 6 holes."
Johnson sounded more like a weatherman than a golfer, but his description was accurate. His only bogey came at the first—his 10th of the day—when he missed the green left. The innocent-looking 1st proved treacherous for a lot of players. Woods made six there Friday, an improvement on the seven he made to begin the championship on Thursday.
Woods then bogeyed the second, the long par 3 that played 234 yards today. Johnson made par there, but birdied the par-4 fourth and the torturous seventh, rolling in a 30-foot putt that hung on the edge for several seconds before dropping in—eliciting a rare fist-shake from Johnson.
During his description of "DJ golf," Thomas said he thought Johnson was "an underrated bunker player."
When someone repeated that comment to Johnson, he shrugged his shoulders (laconically, of course) and said: "I think I'm a good bunker player. I really don't care what anybody else thinks."
Unlike many athletes who insist they don't care what other people care about them but clearly care very much, Johnson clearly DOESN'T care.
That may be the most impressive weapon in his arsenal.