News
Tiger Woods 'not very happy the way I played,' misses the cut in the U.S. Open for third time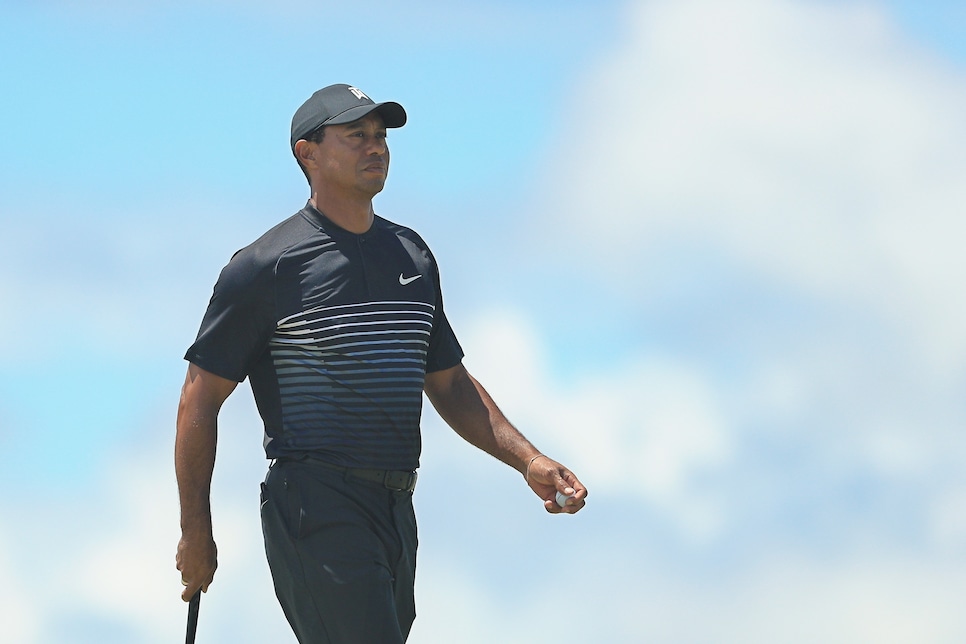 SOUTHAMPTON, N.Y. – With birdies on his final two holes Friday in the second round of the 118th U.S. Open, Tiger Woods saved a little face, even if he didn't save himself from the 36-hole cut.
It was too little too late – and of little consolation – for the three-time U.S. Open winner, who never appeared comfortable or confident on the cantankerous estate known as Shinnecock Hills Golf Club.
Woods salvaged a 2-over-par 72 on a cool, cloudy and mildly breezy morning on Long Island, but his highlights were as intermittent as the drizzle that spritzed the bumpy and unforgiving turf. Combined with his opening 78, Woods submitted a 10-over 150 aggregate score, not his worst effort in a major, but not good enough to prevent missing his third cut in 20 U.S. Open appearances – and second in a row after his struggles in 2015 at Chambers Bay, the last time he was healthy enough to compete.
"I'm not very happy the way I played and the way I putted," said Woods, who must feel like eons have passed, and not a decade, since his epic playoff victory at Torrey Pines in 2008. "I'm 10 over par. I don't know that you can be too happy and too excited about 10 over par."
He couldn't have been all that thrilled about how it looked in the execution, either.
For one of the few times in his career, Tiger Woods encountered a test that appeared to be too much golf course for him. Not because Shinnecock is a muscular 7,445 yards with a par of 70 – just 10 yards longer than Augusta National Golf Club but playing two strokes fewer to par – but because he lacked the overall precision the windswept grounds required. There was simply not enough in his arsenal.
He wasn't alone, granted, but no one else is Tiger Woods, either.
Woods now is 10 events into his comeback that, frankly, has to be considered nothing short of miraculous after he underwent spinal fusion surgery 14 months ago. Without many reps he nearly won the Valspar Championship in his fourth start, and he gave himself a chance the following week at the Arnold Palmer Invitational.
But lately his game seems to have receded. Perhaps some staleness has set in. Or perhaps some mental fatigue has seized him, erecting an invisible wall that has retarded his progress. Perhaps there is nothing wrong except re-acclimating himself to the rhythms and the texture of the game.
Making him look more ineffectual was striding alongside world No. 1 Dustin Johnson, the 2016 U.S. Open winner, who bashed his way around in a punctilious 3-under 67 and was four ahead of the field – and 13 ahead of Woods – as the afternoon wave began its assault on Shinnecock.
Johnson was playing a game with which Tiger used to be familiar.
"Dustin was in complete control of what he's doing," Woods assessed. "He's hitting the ball so flush and so solid. I know it's windy, it's blustery, it was raining early, but he's hitting right through it. … He's got beautiful speed on the greens. Every putt looked like it was going to go in. Even though it didn't, just had that look and that pace."
Owner of 14 majors, Woods easily could have been describing his own game in his prime. He knows better than anyone playing today what it takes to win them. And he also knows that what he has done thus far reflects his current level of proficiency.
"I've won a few of them over the course of my career, and they're the hardest fields and usually the hardest setups," he said before prosecuting his own performance. "They're meant to be testers, and … you don't win major championships by kind of slapping all around the place and missing putts. You have to be on. You just can't fake it at a major championship."
Woods placed most of the blame for his struggles on his putting, which, supposedly, he had addressed after a poor performance on the greens scuttled a high-grade ball striking at the Memorial Tournament two weeks ago. In truth, however, he encountered myriad problems in all facets.
The hole most responsible for damaging his scorecard was the par-4 first, the same hole that inflicted pain right out of the gate in round one.
On Thursday Woods suffered a triple bogey from the middle of the fairway after he airmailed the green with a 6-iron and flubbed a chip and a putt. This time, again from the fairway, he took a double bogey after turning in a hopeful even-par 35 on inward nine, his first nine holes. Woods flared his approach right of the right greenside bunker – a truly hideous shot for one of the game's all-time great iron players – and watched his ball dive into the high fescue. From there he hacked out across the green, pitched to 14 feet and then missed the bogey try.
When he bogeyed the next hole, too, his bid for making the cut took a serious hit. He has played those first two holes in seven over par combined.
"He definitely didn't have it," said the third member of the group, world No. 2 Justin Thomas, "but, really, he didn't play that poorly. He just had, obviously, a couple bad holes for as hard as it played. And then today, again, he just kind of had a couple hole stretch there that he struggled a little bit. I don't think you need me to tell you he's not pleased, but I'm sure he's closer than the score shows."
Or just maybe the score shows how far away he remains.