News
U.S. Open 2018: Despite bizarre two-stroke penalty, DeMorat in contention in his professional debut (and on his birthday, no less)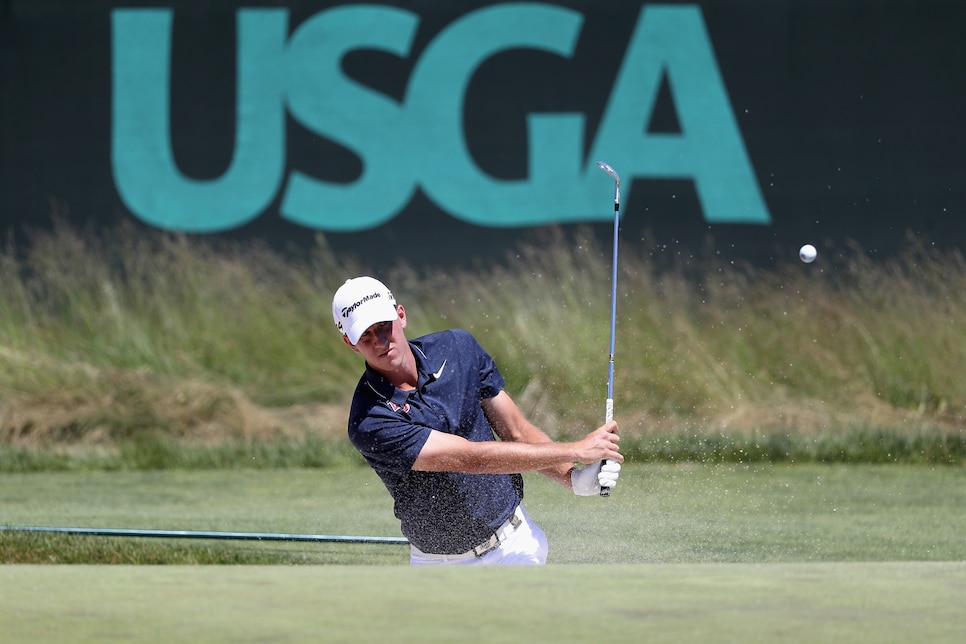 SOUTHAMPTON, N.Y.—Mickey DeMorat encapsulates golf's fine line between the haves and have nots. The difference in play between the sport's upper echelon and those laboring in the minor leagues is minuscule, yet the gulf in lifestyle and bank accounts is infinite. Opportunities to infiltrate the game's top level don't come around that often, and if you don't make the most of them, you may never get on center stage. It's why someone like Ted Potter, Jr. can spend a decade struggling on mini-tours, then beat the world's best at Pebble Beach.
But the U.S. Open is a meritocracy of the highest degree. Which explains why DeMorat is just three shots off the lead at Shinnecock.
There's no "a" designation next to DeMorat's name, but you're forgiven for thinking one belongs. DeMorat is wearing his team uniform from Liberty University, where he was a three-time all-conference selection. The 23-year-old, who is making his professional debut, doesn't have any sponsors, so he decided to rep his alma mater.
There was nothing amateur about his game, however, with DeMorat turning in one of the best rounds of Day 1 with a two-over 72. Really, it should have been 70, for DeMorat was assessed a two-shot penalty for hitting the wrong ball on the 14th hole.
"But I was able to rebound after that with a couple of birdies, got a couple nice putts to drop for me," DeMorat said. "Yeah, I was really happy with the day overall."
Thursday was also DeMorat's birthday, and he could think of no greater gift than sticking around for Saturday.
"I have to have another good day tomorrow to make the weekend," DeMorat said. "I haven't taken myself out of it, which is nice. Good spot."
An understatement, as he beat a host of golf's best like Justin Thomas, Jordan Spieth, Rory McIlroy, Patrick Reed, Tiger Woods and Phil Mickelson. DeMorat, who played a practice round with Spieth and Reed on Tuesday, sounded grateful just to be on the property.
"It's just great to be able to compete out here against these guys," DeMorat said. "Just walking the same fairways as Rory and Jordan Spieth and Tiger is pretty cool. I'm just trying to enjoy the experience."
With three more rounds like Thursday, it could be a life-changing one.