News
U.S. Open 2018: Celebration of Champions proves a fun curtain call for the USGA's 2017 champions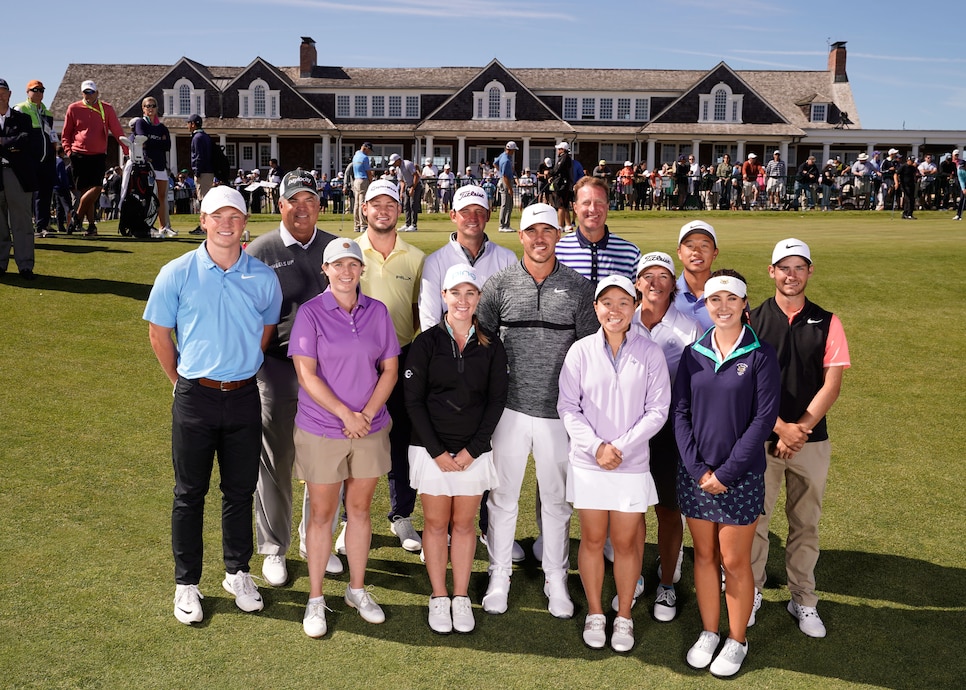 Copyright USGA/Darren Carroll
SOUTHAMPTON, N.Y. — There was really just one thing lacking about the inaugural Celebration of Champions: the golf itself. The winning two-player teams of Taylor Totland/Frankie Capan and Judith Kyrinis/Matt Parziale tied with a two-over 17 score. Blame it on Shinnecock Hills, where the wind began to howl on Tuesday afternoon and the course showed its brutish side.
Then again, for USGA officials it was never really about the competition. It was about giving the association's winners from the previous calendar year a unique event to honor their accomplishments.
And from that standpoint the first edition of the four-hole alternate-shot team event was a genuine success.
"It surpassed my wildest dreams," said Kyrinis, the reigning U.S. Senior Women's Amateur champion. "Getting to practice on the range and being around the players [in the U.S. Open]. It was once of a lifetime experience."
"It was a blast," Parziale said. "To have an event like this, it's pretty special."
Joining the winning teams were the pairings of Alice Chen (Women's Amateur Four-Ball) and Kenny Perry (Senior Open), Noah Goodwin (Junior Amateur) and Sean Knapp (Senior Amateur), Sophia Schubert (Women's Amateur) and Ben Wong (Men's Amateur Four-Ball), and Kelsey Chugg (Women's Mid-Amateur) and Doc Redman (men's Amateur).
Perry, Goodwin and Parziale are all playing in the Open. The others jumped at the chance to come to the event.
"It was so much fun," Chen said. "A few nerves out there, but just to play in front of folks like this was a treat."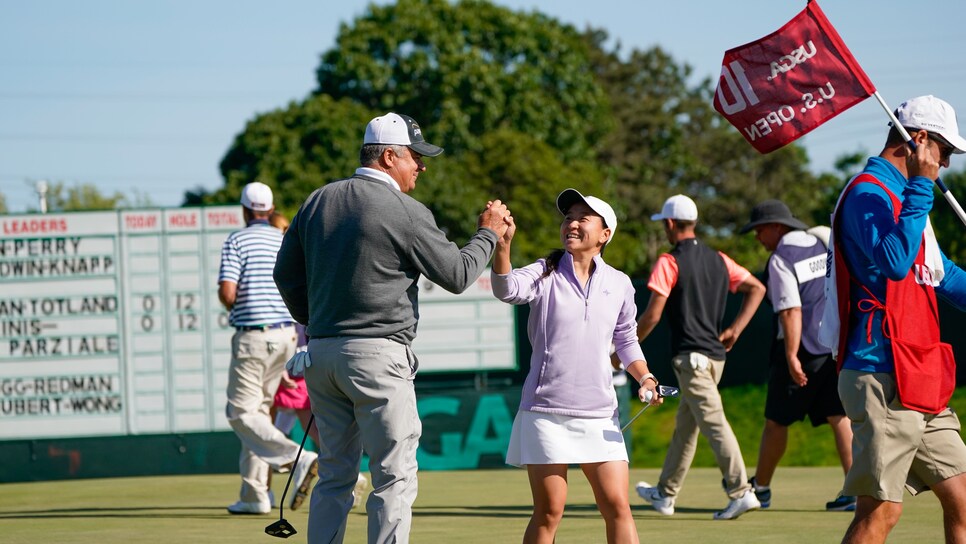 Copyright USGA/Darren Carroll
Redman could have been a U.S. Open participant this week as well, thanks to his U.S. Amateur triumph, but he decided to forgo the exemption to get a jump on his professional career. While no longer having a Thursday tee time, he didn't want to give up his Tuesday one.
Capan, who along with Wong won the U.S. Amateur Four-Ball, had been excited to get a look at Shinnecock Hills ever since he found out about the event in early April. The 18-year-old who'll play at Alabama in the fall, got into town on Monday and hung out with Wong and Goodwin the previous evening before getting to the course on Tuesday.
"It was cool seeing the test out here," Capan said. "It's really just a neat honor. And I'm excited to watch a little of the Open, too. It's such an incredible environment."
Adding to the pomp and circumstance of the event was the presence of Jack Nicklaus, an eight-time USGA champion, greeting players off the tee, along with reigning U.S. Open winner Brooks Koepka. And when play ended, the participants gathered once more for a reception in the Shinnecock Hills clubhouse.
"I've never played in a pro event my whole life," said Kyrinis, who'll officially play in her first at next month's inaugural U.S. Senior Women's Open at Chicago Golf Club. "So I wasn't really sure what to expect. This has been a really good experience to try and manage how I'm going to feel playing in that event."
Said Parziale: "It's something that I think future USGA champions are going to look forward to."