News
U.S. Open 2018: Brooks Koepka goes from cut line to contention with Friday run at Shinnecock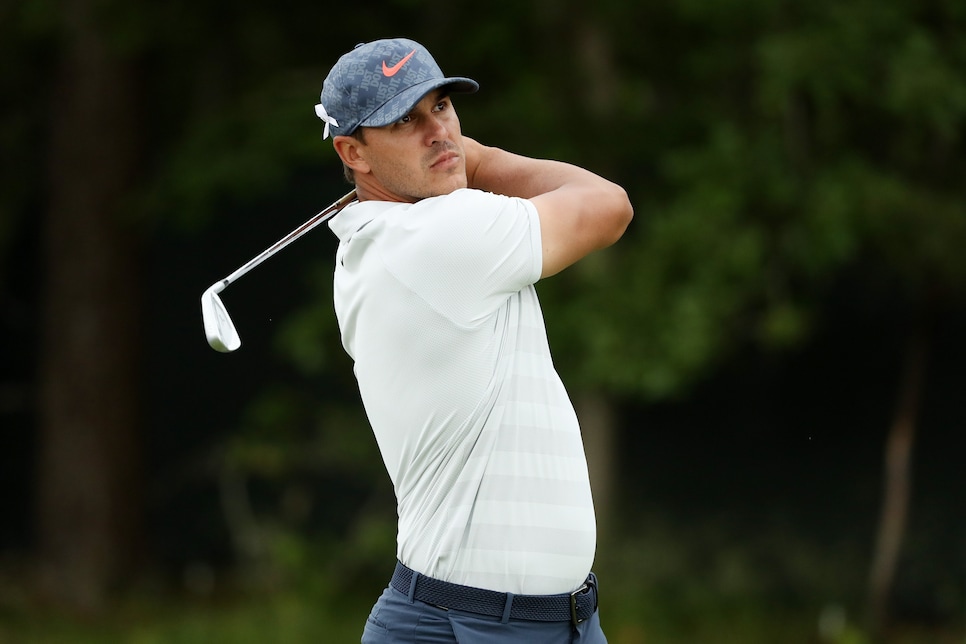 SOUTHAMPTON, N.Y. — It was Friday afternoon at Shinnecock Hills, and, truth be told, the place was dead. The course was claiming more victims in the second round, and while this satisfied the sadists—excuse me, "traditionalists"—who believe the U.S. Open leader board should be painted in black, it sucked the energy out of the crowd. Only so much excitement you can muster for a tricky three-foot bogey putt, after all. The only real drama was not what marquee names would miss the cut, but how many.
Through 25 holes, Brooks Koepka seemed to be on the wrong end of that stick. The 28-year-old posted an opening-round 75, and his play through seven holes didn't inspire much belief in a turnaround. The Open, it appeared, would go to its third decade without a repeat winner.
But Koepka is more than the reigning champ. He's a major maestro, submitting T-13 or better in eight of his last nine major outings. It's tough to tell what he's thinking—the man has mannerisms like a mannequin—but on the 17th hole (his eighth), he had enough with Shinnecock's bullying. Koepka proceeded to rip off three consecutive birdies on a course where "birdie" is not in the vernacular, and added three red figures at the third, fifth and eighth. After tiptoeing the cut line at seven over, Koepka will head to the weekend at one-over par, his second-round 66 propelling him into a tie for fourth.
"I felt like I was playing solid," Koepka said Friday night. "My iron play was pretty good. The putts were going in. I felt like I hit good putts yesterday. Nothing went in.
"But it was nice to see some go in, and I think I've got these greens a little more figured out today."
To be fair, a better understanding of Shinnecock's green complexes were not the only facilitator Friday. For the first time since Thursday morning, the wind died deep into the afternoon, bestowing a window of providence on the day's second wave. That the leader board is inundated with players from this time should not be a surprise.
Conversely, the course and conditions have delivered their share of unlucky breaks to the entire field, and no one need apologize for taking advantage of the hand they've been dealt. (And if you're seeking one, well, deliver that news to Koepka yourself.) Besides, there are 36 holes to play, and the golf gods only know what type of terrors await.
"There's not many birdies. Like I said, there's a disaster around every corner," Koepka said. "I mean, all it takes is one shot in the fescue, and you could be in there for a while."
There will be a multitude of contenders coming after leader Dustin Johnson. Scott Piercy and Charley Hoffman sit in second at even par, the one-over ranks feature major winners in Justin Rose and Henrik Stenson, and the games of Tommy Fleetwood and Ian Poulter are conducive to this grind-it-out configuration. Conversely, in all due respect to the aforementioned names, Koepka might be the most formidable of the bunch. He operates with the same dispassionate, or at least controlled, temperament that fuels DJ, and he's not exactly known to back down from a tussle. (Just ask that beleaguered R&A official at the 2015 Open Championship how that worked out.)
Perhaps most promising was the forecast from Koepka himself. Not one for self-promotion, Koepka was confident in his Saturday's outlook.
"I feel like I've got some momentum on my side," Koepka said. "Obviously, with finishing with, what, six birdies, I played really solid. Obviously, you need a good round tomorrow just to give yourself a chance. You know, anything within three shots of the lead on the back nine Sunday, anything can happen."
A Sunday showdown between Johnson and Koepka? Now that would liven up this joint.