News
U.S. Open 2018: Amateur misses U.S. Open cut, but shoots 72 at Shinnecock on Saturday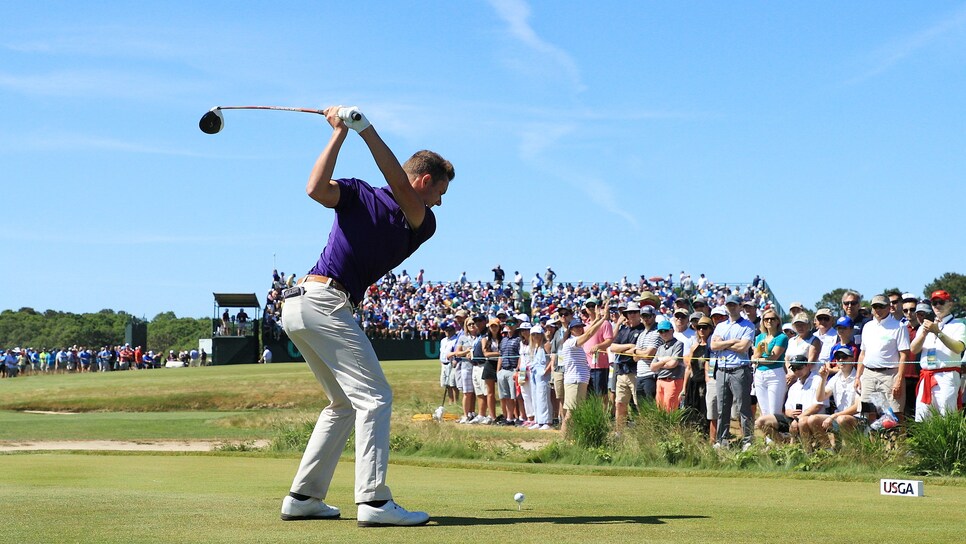 SOUTHAMPTON, N.Y. — On Friday afternoon at Shinnecock, amateur Ryan Lumsden salvaged his last round of the 2018 U.S. Open with a birdie at the par-4 ninth, his final hole of the day, giving him a round of 76 to pair with his opening 82. It was a nice way to end his Open debut, but the 21-year-old Northwestern junior was still disappointed he wouldn't be playing on the weekend.
Lumsden's phone rang around 8 p.m. The call was from the USGA, and before the person on the other end of the phone could even finish the question, Lumsden answered with an emphatic yes.
"The guys (the USGA) called up and said 'Would you like to play (on Saturday)?'," said Lumsden, who hails from Scotland. "And it took maybe half a second to think. It was a very easy decision."
Thanks to an odd number of players making the cut, 67 in total, the USGA need a playing marker to tee it up alongside Australia's Tim Wilkinson at 9:07 a.m. Lumsden was the beneficiary, doing his best Jeff Knox impression and taking advantage of his third crack at a course that gave him fits over the first two days. For some, this would seem like punishment after watching how Shinnecock beat up the field on Thursday and Friday. Lumsden didn't see it that way. Instead, he opted to soak it in.
"It was an absolute joy, incredible to play," Lumsden said with a beaming smile. "Couldn't be more fun, I had a great round today. Played with Tim (Wilkinson), who I got to play with in the practice round, great guy. It's not a punishment at all, it's an absolute joy to be out here. It was just brilliant fun, great fun. I wasn't expecting this at all, it was such an extra bonus.
Lumsden qualified for the Open in Columbus against one of the toughest fields in Sectional Qualifying. With 10 spots up for grabs in a field of 120 that featured names like Keegan Bradley, Adam Scott and Shane Lowry, the little-known Lumsden fired rounds of 68 and 70 at Brookside Golf & Country Club and Lakes Golf & Country Club to earn his place at Shinnecock. Going toe-to-toe with the big boys gave him reason to be optimistic about this week, but he couldn't recover from Thursday's opening round.
"I was obviously disappointed with how I played the first two days," he said. "I came in and my game was feeling good and I came in with decently high expectations. To come out and fall a little flat the first day was disappointing, first major round, it was tough."
But just like he salvaged his final round with a birdie at the last, he rebounded in a big way on Saturday, shooting a 72 with a double at the 18th.
"It was interesting, I didn't really feel much pressure in the first few rounds," he said. "I was just going out and having fun and for whatever reason I played a little quicker today I think and got off to a decently hot start, which was fun."
Lumsden and Wilkinson played in just over three hours, with Wilkinson carding an eight-over 78. Lumsden won't be able to back up that 72 on Sunday, as his week has come to an end, but at least he got to extend it by one more day.
"Incredible, best week I've had in probably my life, to be honest with you," he said. "It was brilliant, got to play with some amazing people, golfers and guys just in general. Learned a lot about my game and what I need to do to get better if I want to take the next step in professional golf. And then from there we've got some stuff to work on. I think I've got a good enough game to do it."