The Loop
U.S. Open 2017: How long is 7,800 yards at Erin Hills? Believe it or not, not *that* long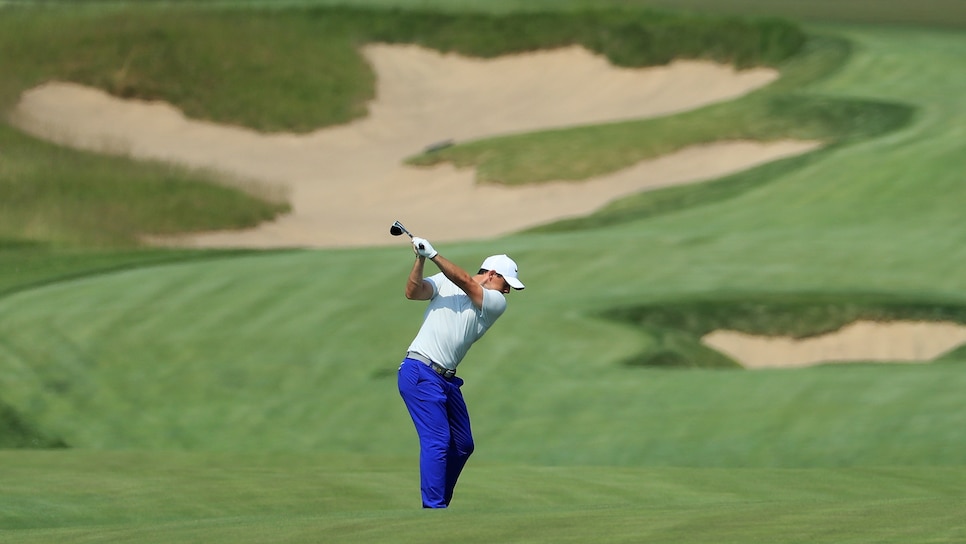 ERIN, Wis. -- Just how weak and pathetic are you? Golf fans are being treated to an exciting tournament with lots of birdies, but the golfers of our nation may be feeling somewhat disheartened. The official yardage for today's setup is 7,839 yards, just a few paces more than yesterday when a record 44 players shot under par—the most ever in the first round of a U.S. Open. If you regularly wage battle (and lose) against a 6,000-yard course at home, watching red numbers pile up at Erin Hills may make you wonder if you're even playing the same sport. Or if you should take up a different one and finally put an end to the posturing.
Despair not. Or at least a little less. Certain numbers, while staggering, don't tell the whole story. Like that the longest golfer in their world yesterday was the amateur Cameron Champ, a senior at Texas A&M, whose two measured drives yesterday averaged 349 yards to lead the field. Should we assume DJ, Bubba, and Jason Day must've necked theirs a little when the USGA was watching? "The course really doesn't play that long," said 2016 Masters champ Danny Willett about Erin Hills. "There are a lot of big downslopes in the fairway that you'll catch at 270 or 280 [yards]."
"It's only going to get firmer as the course dries out, and the ball is going to run out even farther," said Ryan Palmer, who ranks 24th on the PGA Tour with a driving average of 300 yards. With all the elevated tees at Erin Hills, the longest club Palmer had into any par 4 yesterday was a 5-iron. "Honestly, I don't even look at [total course] yardages. Especially out here, the holes can all play so different depending on what the wind does and how much bounce you're getting."
Even Gene Sauers, whose gray hair tops out at 5-foot-8 and is here as the current U.S. Senior Open champion, got it around OK. Despite cracking the face of his gamer two weeks ago and not being totally comfortable with his replacement, the 54-year-old didn't have to hit 3-wood into any par 4. His playing partners, Stewart Hagestad and Chez Reavie, were outdriving him by 50 and 20 yards, respectively, but Sauers wasn't intimidated. "I still got a little spunk left in me." With club technology, Sauers estimates he's 10 yards longer now than he was in his prime.
Viewed another way, length is really only about what club you're hitting into a green. At Erin Hills, a 270-yard carry could ultimately travel 330, leaving most of these guys a 7- or 8-iron into a hole like the 508-yard par-4 12th. The stat-tracking app Game Golf tells us the average 80-85 shooter hits a drive 222 yards. Add a 140-yard 7-iron to that, and that means a comparable hole for the weekend player is a hair over 360 yards.
A golf course's total yardage can't be considered in a vacuum. The elevation, condition, location, and even the weather are major factors. As Ryan Palmer said, "Put this same [yardage] in the northeast, and it'd be disastrous."
So if you live in New York or nearby, hopefully that makes you feel a little better.