U.S. Junior winner Michael Thorbjornsen overcomes more than just his opponent to win at Baltusrol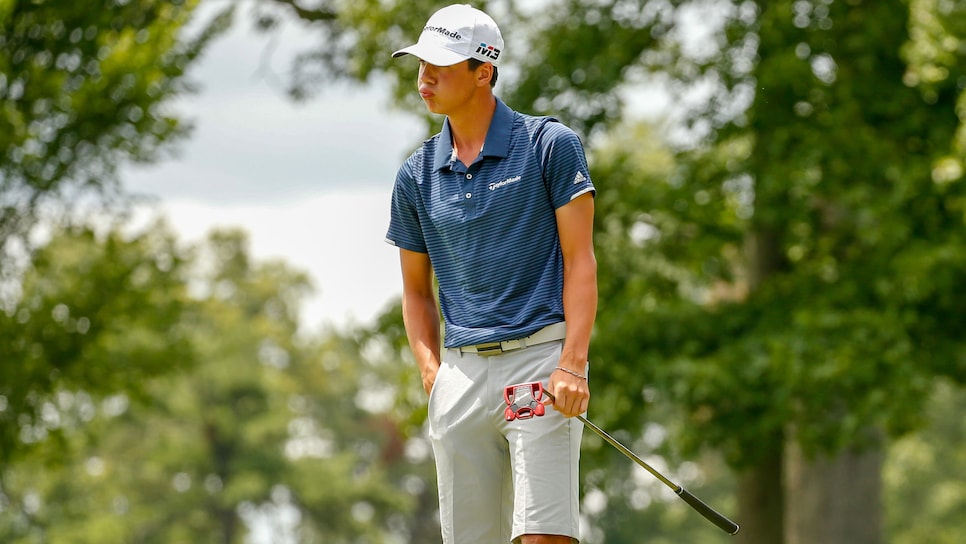 Copyright USGA/Darren Carroll
Michael Thorbjornsen already had a challenge on his hand in facing Akshay Bhatia, the top-ranked high school golfer in the country, in the final of the U.S. Junior Amateur on Saturday. Needless to say, spotting Bhatia three holes over the first six of the scheduled 36-hole championship match wasn't part of the original plan for the 16-year-old from Wellesley, Mass.
Yet Thorbjornsen hung tough, eventually squaring the match on the Upper Course at Baltusrol Golf Club in Springfield, N.J., after 24 holes, and then taking the lead for good with a birdie on the 32nd hole to eventually pull off the upset victory, 1 up.
Coming with the title are a few significant spoils. Thorbjornsen, 16, a rising high school junior, gets an exemption into next month's U.S. Amateur at Pebble Beach, and then will get the chance to return to the course next June and play in the U.S. Open.
"It feels amazing," Thorbjornsen said. "Personally for myself I feel like this is probably the biggest junior event you can win and I somehow managed to win it. It just feels amazing because I haven't won a tournament in around just over a year now, so this is the perfect tournament for me to win."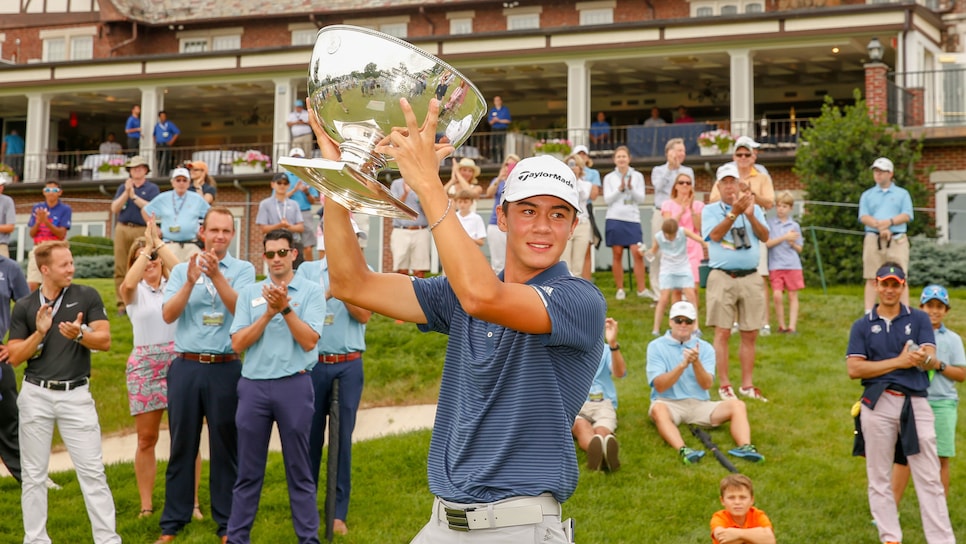 Copyright USGA/Darren Carroll
That Thorbjornsen even managed to play in the championship was a story in perseverance. A few days ahead of the event, he got sick, recording a 104 degree fever that necessitated a visit to the hospital.
"I couldn't stand up," he said. "The ambulance had to get me. I was at a golf course actually at the moment. An ambulance had to get me, and then they had to like give my IVs and everything."
He arrived in New Jersey a day later than expected, and was still taking antibiotics early in the stroke-play portion of the event. And yet he earned the No. 7 seed with rounds of 70-67.
Once in match play, Thorbjornsen managed to dispatch his first four opponents with relative ease, never having to play the 17th or 18th holes. But he need 21 holes to knock off Cameron Sisk in the semifinals.
He then had to face Bhatia, a 16-year-old lefty from Wake Forest, N.C., who has spent the past year winning nearly every significant junior tournament in the country, most in record fashion. Victories at the Junior PGA late last summer, and at Sage Valley in April preceded taking the title at the AJGA Polo Junior Classic late last month and claiming the No. 1 spot on the Rolex Junior Rankings.
Friends from when they first played together at the U.S. Kids Junior World Championship in 2012, Thorbjornsen wasn't necessarily intimidated by Bhatia's record. "I just knew what his game was like and what it would take to beat him," Thorbjornsen said.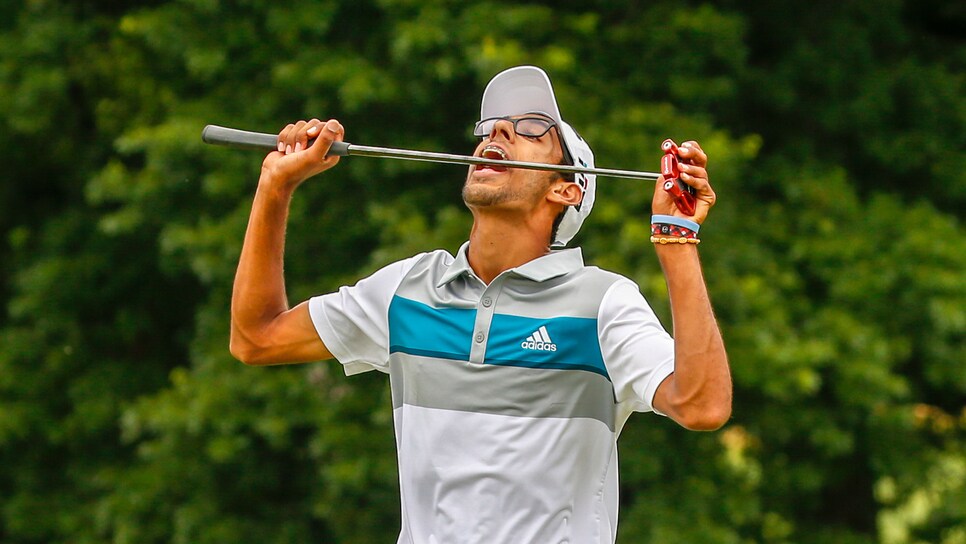 Copyright USGA/Darren Carroll
The equivalent of five over on his morning 18, Thorbjornsen tightened up his ball-striking in the afternoon to play the second 18 in the equivalent of two under, including a birdie on the 30th hole that squared the match and another on the 32nd to give him the lead for good. He then halved the final four holes with pars to seal the victory.
"I played great for a lot of holes; he just played a little better," Bhatia said. " I had a couple of opportunities to square the match and I didn't execute it. But I'm really happy that Michael won. He really deserved it. He played great golf. He stayed very patient and very confident the whole match."
Thorbjornsen can add this victory to his own impressive resume, which includes a victory at the Drive, Chip and Putt National final at Augusta National in 2016.
"This is by far the biggest win I've had, and just everything that comes along with it is above everything else," Thorbjornsen said. "Just the rush of emotion and just the thrill of it, just like realizing when I won far exceeds every other tournament I've played in and won. It's really something special."
You are using an unsupported version of Internet Explorer. Please upgrade to Internet Explorer 11 or use a different web browser.