U.S. Junior Amateur
Nick Dunlap embraces the pressure to win U.S. Junior Amateur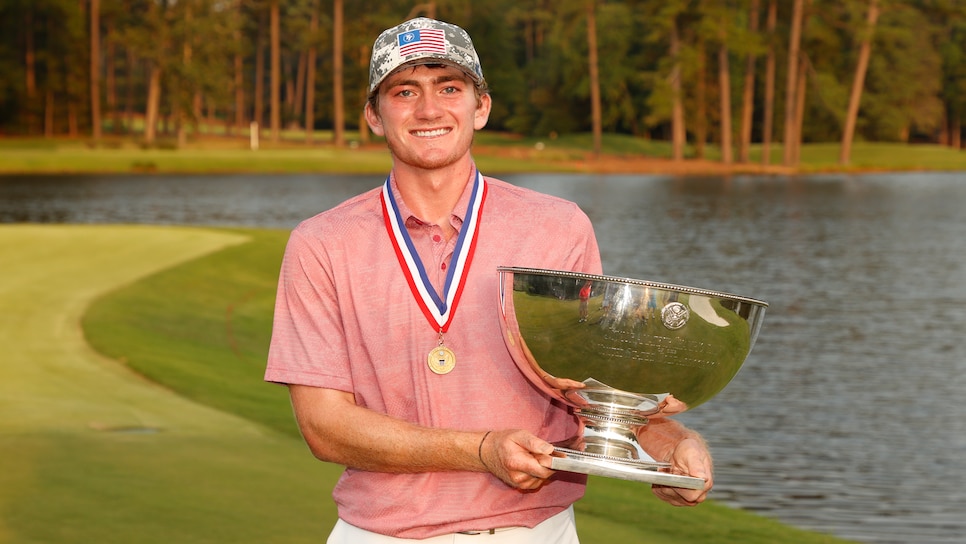 Nick Dunlap poses with the winner's U.S. Junior Amateur trophy.
"The hours and hours that nobody sees ... it's finally paid off."
Those were the words of 17-year-old Nick Dunlap, the 3-and-2 winner against Cohen Trolio in this year's U.S. Junior Amateur at the Country Club of North Carolina, after being subjected to the most intense pressure of his very young career and emerging from each test undaunted, unscarred, and finally triumphant.
To win a championship like the Junior Am, which consists of two stroke play rounds followed by a 64-man match play bracket, requires a few obvious elements like great skill and good luck, and a few less obvious ones, like equanimity and resilience. Dunlap, a Huntsville, Ala., native, displayed his undeniable talent in securing the No. 3 seed with a 68-68 stroke-play showing, but his greatest act of resilience and even sangfroid came after blowing a 4-up lead to Matthew Comegys in Thursday's round of 16. That match went to extra holes, where Dunlap finally prevailed on the 20th hole.
On Friday, he scored a clutch birdie on 18 to hold a 1-up lead against Robbie Higgins in the quarters, and despite a two-hole deficit to Luke Potter at the turn of his semifinal, put on a scintillating display to roar back and close out the California high school state champion at the 16th. Those victories earned him a spot in the 36-hole final against Trolio, a semifinalist at the 2019 U.S. Amateur in Pinehurst who will start his freshman year at LSU in the fall.
On paper, Dunlap's chief advantage over Trolio is his length—he was a national finalist in the NFL Punt, Pass & Kick contest, and his athleticism was on clear display as he routinely bombed 300-yard drives at CCNC's Dogwood Course. Troglio vowed to play his kind of golf, through 24 holes on Saturday, it was good enough to take a 1-up lead. On the 25th hole, Dunlap, dressed in a mauve Adidas shirt and camouflage pattern hat, faced a long putt to avoid going 2-down. This was the stage for the first of what would be a slew of clutch shots:
Having survived that landmine, he won the 27th and 28th holes to reverse the momentum and establish a lead. He found himself in the thick rough on the 29th—no picnic at CCNC, take my word for it—and did what great match play golfers always seem to do, which is to turn a seeming disadvantage into a surprise advantage with a brilliant scramble:
"Great shot, bro," said his caddie, Jeff Curl, son of Rod Curl, the first Native American to win a PGA Tour event. He knew how important it was, and Trolio may have too, as he made bogey from the fairway to give Dunlap a 2-up lead. Two holes later, he extended the lead to 3-up with five to play, and though Trolio clawed one back when Dunlap missed his lengthy par putt after finding trouble off the tee on the 33rd, it came to an end with this fantastic sand shot at the par-3 16th hole, the 34th of the day.
The par was conceded, and when Trolio's own par rolled past the hole, Dunlap nearly collapsed in tears. He hugged his caddie, and his parents, Jim and Charlene, who had driven through the night on Thursday, arriving at 5 a.m. Friday morning to see him play. A few minutes later, he had the gold medal around his neck.
"I've made putts like that," he said of his effort on the eighth to stay within striking distance. "Whether it's your home putting green or tournaments like this, it's just one more, it really is."
It's the latest and greatest triumph for Dunlap, who also won this year's Dustin Johnson Junior World Championship, qualified for the U.S. Amateur as the medalist in the Decatur, Ala., qualifier, and has notched several top-fives in national junior events. His next stop will be Oakmont for the U.S. Amateur in early August, and as his opponent Trolio proved in 2019, there's nothing to say a junior amateur can't go deep there, too.
The larger golf world may not have known Dunlap's name before this week, but his breakthrough has been brewing for a long time; perhaps since he was 12 years old and he shot a 59 at the Highland Course in Birmingham, Ala. His long game comes as naturally as his athleticism, but Saturday proved that the endless grinding on his short game has paid dividends, arming him with the ability to score and to scramble even under the heat of his age group's most important championship. He earned his afternoon of glory, and he earned the gold medal that will commemorate it forever. The fleeting moments and the lasting trophy both exist because of the invisible but unyielding bedrock: the hours and hours that nobody sees.