Picking On Pops
U.S. Amateur semifinalist casually daggered his own dad/caddie's green-reading abilities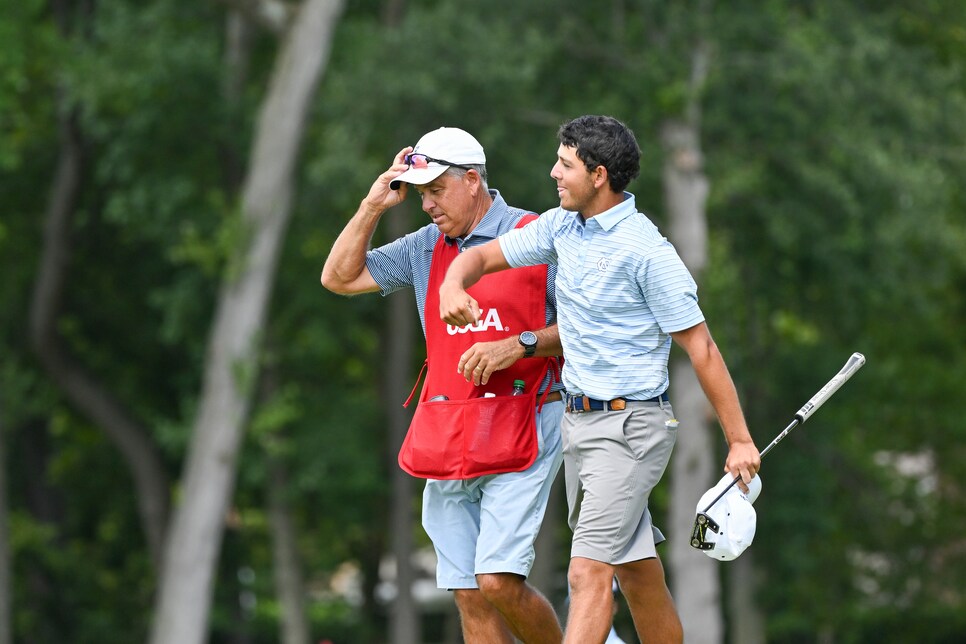 PARAMUS, N.J. — While all four semifinalists at the U.S. Amateur are having a special week, Dylan Menante has a case for his week being the most special. That's because he's got his father, Dean, on his bag.
The team of Dylan and Dean won their quarterfinal match over 15-year-old Nicholas Gross 4 and 3 on Friday at Ridgewood Country Club, allowing Dylan to advance to the semis for the first time in four U.S. Amateur appearances. In fact, this is the first time he's made it into the match-play bracket. It's been a remarkable run, and dad has been a huge help. He was a college golfer himself, playing at the University of Nevada in the 1980s and even competing in the 1984 U.S. Amateur.
You can't put a price on that type of experience (we doubt Dylan is paying his dad, anyway). Having said that, that does not make Dean immune to a little criticism from his 21-year-old son. Dylan was asked how much of a help dad has been as his caddie this week, and he casually daggered his poor pops.
"I would think he helps me a lot," Menante said. "But today like on a couple reads I was very mad with him because it was going the other way."
Jeez, Dylan, that man put you on this here earth. Take it easy on him!
Of course, the reads couldn't have been that bad considering Menante's dominant win. And he quickly made sure he did give his father some props after the green-reading dig.
"It's good to have someone with experience on the bag who knows my game, knows my swing," he said. "So I was hitting it kind of whatever bad in the beginning and he was like, 'use your legs more,' and that's what got me going. I was really thankful for him to be on the bag.
"Sometimes it doesn't look like we get along but we do, and it's great to have him there."
Good recovery, kid. Dads are a wealth of knowledge, just maybe not so much on the putting surfaces of Ridgewood Country Club.