The Loop
A photographer is suing Texas football mascot Bevo, a bull, for 2019 Sugar Bowl love tap
Well, here's one that doesn't come across your desk every day. According to Ken Herman of the Austin-American Statesman, Nick Wagner, a former photographer and colleague at the paper, has just filed a lawsuit against Bevo—as in Texas football's bovine mascot—for an incident at the 2019 Sugar Bowl, in which Wagner was caught in the crossfire as Bevo charged Georgia's canine mascot Uga in what was believed to be a charming, victimless mishap until now, some 21 months later. Is this darkly funny? Is this infuriating? Is this completely, unabashedly college football? The answer is yes.
If it sounds like we're being flippant about this, that's because we are (the man is suing a cow, for christ's sake). For what it's worth, here is the "grossly negligent" "rampage" by a spooked animal that was on the premises at the behest of the University of Texas allegedly inflicting grievous, lasting damage to Wagner's life and livelihood.
That's Wagner front and center in the gray hat and blue vest getting a love tap from Bevo. At some point, Bevo's horn does strike Wagner's back, goring him clean through. Jk, jk. Here's the scrape.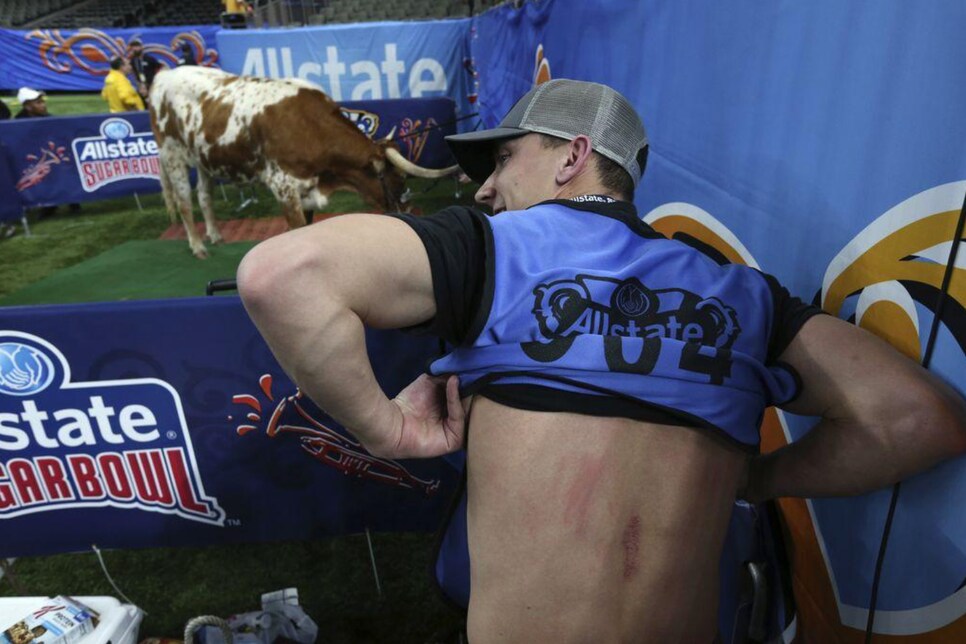 Not sure if that qualifies as a "permanent injury." Also not sure how tweets joking around afterward, saying "Hi mom. I'm still alive" and referring to a Uga as a "cute pupper" hold up in a civil court. We also don't know if Wagner later slipped a disk or if John and Betty Baker, Bevo's owners, are insured against this kind of thing (you would think so.) But boy, oh boy. If this is the steer-less mascot world the snowflakes want, we say no thank you very much.