unforgettable
My dad has dementia and cannot remember my name, but he hasn't forgotten the game he loved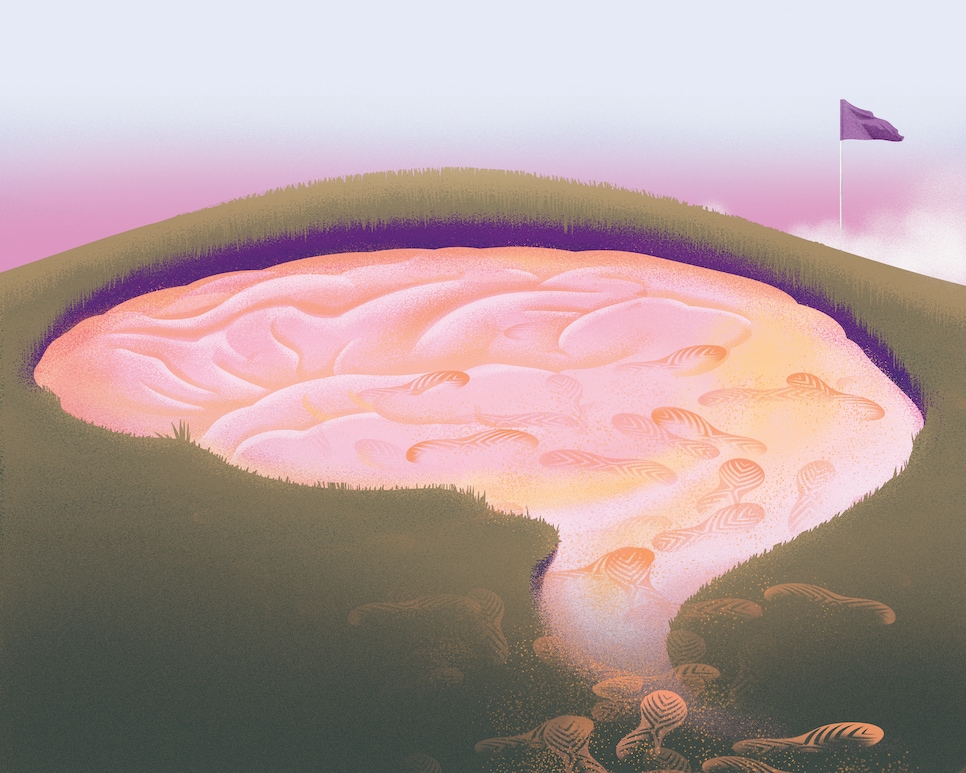 Illustration by Sam Green
When I call my 90-year-old father at his assisted-living complex in Peterborough, N.H., he greets me with his usual refrain. "I'm alive," he cracks, his favorite one liner ever since his wife, Jonna, called in 2017, urging me to get to New Hampshire quickly. "Come now—it might be the last time you speak to him while he still remembers who you are."
My father suffers from vascular dementia, brain damage caused by a loss of blood flow to the brain that impairs a person's memory and ability to think and reason. He has lost all short-term recall but has some familiar and motor memories more reliant on the brain's cortex and deeper structures, which survive longer. My father cannot remember my name or that he fathered six children and later directed the Public Works Department in Nashua, N.H., his hometown. What he can recall is playing golf.
His introduction to the game came as an adolescent looper during World War II, caddieing at Tedesco Country Club in Marblehead, Mass. "I carried doubles on the weekends," he boasts from his wheelchair in the dining room at his assisted-living complex. "I can't tell you what I made caddieing, but it was better after the war when the soldiers came back and hit the courses," he says.
My dad hit them hard, too. His prophecy in the 1950 Marblehead High yearbook read, "Pete Benet" will "card a record 56 on the links." In the 1960s, when he was on military leave, he would come home from local tournaments, victorious in his classic Arnold Palmer-style, black V-neck sweater, carrying a new golf bag and umbrella, inevitably.
An Air Force pilot, he volunteered for a tour of duty in Vietnam in 1967 when I was 8. He flew reconnaissance missions at 30,000 feet over the DMZ, a relatively safer task than his earlier assignments—piloting airdrops from low-flying C-130s over the same dangerous turf. My parents divorced after he returned from the war. My father remarried and was stationed abroad for several years before retiring to Nashua. After college, I moved to California and started playing golf in my late 20s. Separated by 3,000 miles, we played about a dozen rounds together in all, but we talked about the game constantly.
Growing up, connecting with my father was never easy. He was always far away, and our relationship endured lots of painful arguments and disagreements. As the years went by, golf helped us heal and form a bond.
In 2005, when he was 72, he was driving with Jonna to their vacation home on Tybee Island in Georgia and suddenly got confused and lost, panicking behind the wheel. Later, he had trouble swinging his custom Warrior woods; his mental health steadily declined, along with his memory. "Just like that, he didn't want to play anymore," Jonna says. "He was a proud man."
Twelve years later, when I flew to Nashua at Jonna's urging, his memory was fading fast. Conversations became a struggle. "Hi, it's Lorenzo, your son from Los Angeles." I'd ask about the weather or what he was having for lunch, and then he would interrupt, "What's your name? And where do you live?"
"Dad, how are you feeling?"
"I'm a tired old man, and I get very confused about what I should do, could do and have done," he would say.
During the pandemic, I worked remotely and started playing golf regularly again with my son, L.J., who had moved home. One day I mentioned this to my dad.
"Golf?" he said, his voice perking up. "I used to play golf."
My game was a mess. I couldn't break 100 and had a terrible slice. "To hit a straight ball when you want that, contact the ball first, then the ground," he offered, as though he was a kid looper again giving advice on the fairways of Tedesco. "You may still hit a slight draw, but it will be straight."
He paused and declared, "There's playing golf, and then there's playing good golf—two different things."
I called again and picked his brain—how to set my stance ("back foot slightly behind the front") and what club to use to pitch from a slope before the green ("use a lower-loft club"). His favorite club was a 7-iron because "when you get closer to the green, you can use it for your approach and use it for chipping."
His voice is gravelly and somewhat disjointed, but these conversations gave me chills and drew tears, reminding me of talks we had when I started the game. "I was a fair putter," he explained, mimicking a wrist stroke from his wheelchair on my recent visit to Peterborough. "Read the greens and the surface, and adjust to the needs of the break on the green. Putting is the biggie; it ain't easy."
In September 2021, my father was hospitalized with a severe back injury. I flew in from California and drove to Nashua with my sister to meet Jonna before we went to the hospital to see him. We all knew he wouldn't be returning home. I slipped into the den and rifled through his golf bag, pulling out a dusty, vintage Wilson 4300 driver. I went outdoors and swung mightily, tears filling my eyes as I tried to drive away decades of frustration, disappointment and anger down a long, make-believe fairway.
Back in L.A., I sometimes play with the vintage Patty Berg signature Wilson putter I stole from his bag that day. When I play nine holes, I carry my bag like the Marblehead looper I know, knew and love, his missives echoing through my head: "Putting is the biggie; it ain't easy. Swing through the ball."
My father is always in the moment now, just like he tells me to be on the course.
"The secret to golf is to play a lot," he says. "The more you play, the better you will be."
Something else, Dad: It makes me feel alive.